EMax Veneers in Turkey are convenient and affordable veneer treatment for people from abroad that comes to Turkey for smile makeover treatment.
EMax skins are the world's most advanced skins. In Turkey, people who want to look natural prefer EMax. Emax veneers are comprised of porcelain with a translucent shine, resulting in absolutely white teeth.
Although eMax coatings appear to be sensitive, their longevity far outweighs that of conventional coatings. Your eMax veneer procedure in Turkey can be completed in only one visit; full mouth eMax veneers require only 5 days.
The average cost of EMax Veneers in Turkey is 5.720 USD (4.150£) which is the most affordable option for patients compared to other countries. We are doing EMax Veneers in Istanbul, Antalya and Izmir, you can choose best option for you.
Here you can find out and discover more information about EMax Veneers journey in Turkey. Check all the details about EMax Veneers costs, our clinic's patients reviews, before & after photos from the best doctors, all-inclusive packages for EMax Veneers in Turkey.
You can get in touch with us for EMax Veneers makeover in Turkey via WhatsApp or options below.
Treatment Details
Placement
Teeth will be covered with e-max laminate veneers.
Eligibility

It is applied to patients who have lost their dental aesthetics and are not satisfied with their teeth.

Processing time
4-5 hours
Surgical procedure
Yes
Anesthesia type
Local
Prosthesis
No
Durability
10 years
Warranty
5 years
Recovery time
7 days
Appearance
Like natural teeth
Cleaning
Can be cleaned like normal teeth
Accommodation
10 days

E-max veneers are less expensive in Turkey than in Europe for a variety of reasons. Most importantly, operating a dental clinic in Turkey is less expensive. The raw ingredients are plentiful. Dental clinics that provide quality, safe, and reliable services do not have to raise their fees because they are highly desired due to their minimal operating costs.
Furthermore, the fact that dental treatment in Turkey is so inexpensive in comparison to nations like the United Kingdom or the United States is largely due to the government's support and encouragement of medical tourism. So, Turkish dental prices are 80% lower than those in Europe and America.
E-max Veneers Cost In Turkey
GBP
USD
EURO
x20 E-max Veneers
£4150
$5720
€4.850,00
Our Clinic in Istanbul, Turkey
Emax veneer, a top model of empress veneers is a further improved veneer type. Emax is lithium desilicated. Zirconium dioxide is also present in the content of some of its species, and therefore the resistance value of emax teeth varies from 360 Megapascal to 1000 Megapascal. Thanks to this, they can be used in any way in the oral area. 
It is a very durable and aesthetic type of veneer that is successfully used in all treatments, such as back areas, front areas, as a bridge and as an implant top. Emax veneers are completely glass ceramics that are very transparent, have very high light transmittance, and also have higher refractive resistances than empress veneers. 
Emax veneer is attached to the tooth with an adhesive system, so it is very slightly abraded from the tooth and gives the opportunity to apply it. In this way, the resistance value also increases more. 
It is necessary to stay in the enamel layer of the tooth in order to be able to perform aggressive bonding. So much etching should be. The resistance value of emax veneers applied by making a small etching can reach up to 500 Megapascal.
What are the EMax Veneers Risks?
Every operation has a certain risk. We will tell you about the risks of this operation shortly. After the procedure, you'll have your wonderful smile back, along with the confidence that comes with it.
Maintain Their Cleanliness: You must care for your veneers almost as much as you do your natural teeth. Brushing at twice a day and flossing are excellent ways to maintain optimal dental health.

Proper Toothpaste and a Soft Toothbrush: If you have e-max veneers, make sure to brush your teeth with a soft toothbrush. The polish on someone veneers can be damaged by using a hard bristled toothbrush. Some toothpastes may contain ingredients that are too abrasive for your teeth and veneers.

Never bite into very hard objects: Everyone knows that teeth can be used for more than just eating; they can also be used as tools, such as opening bottles. It's no secret that this type of behavior is harmful to both your teeth and your veneers. Hard objects, such as metal caps but instead glass bottles, can cause porcelain to chip.

Avoid teeth grinding and clenching: Teeth tensed muscles can be a problem for many people who can't seem to stop themselves. If you grind your teeth while sleeping, talk to your doctor about how to solve the problem. You will almost certainly be ordered to wear a mouth guard while sleeping.

Lasting Appearances: An eMax dental crown has a lifespan of up to 15 years. The longevity of a crown is determined by the treatment and care you give to all of your teeth. A good dental hygiene routine, as well as regular checkups, are advised. Remember that even if your natural tooth has a crown, it is still likely to be exposed to gum disease, so take care of your entire mouth.
Turkey is the most renowned and greatest location for e-max veneers and is regarded as one of the favorite destinations to in the world. Because of its mixture of knowledgeable dentists and great healthcare centers, the nation is a European and Asian center for high-quality dental treatment. 
Furthermore, Turkey is quite near to other nations, so even if you reside in a faraway country, you can find an affordable airfare to Turkey at any moment. The most crucial reason for Turkey's ranking as the best is that it will save you money if you travel there. For the best E-max Veneers, you can choose Turkey.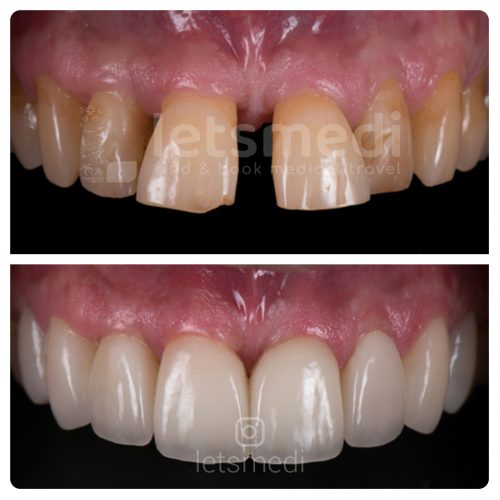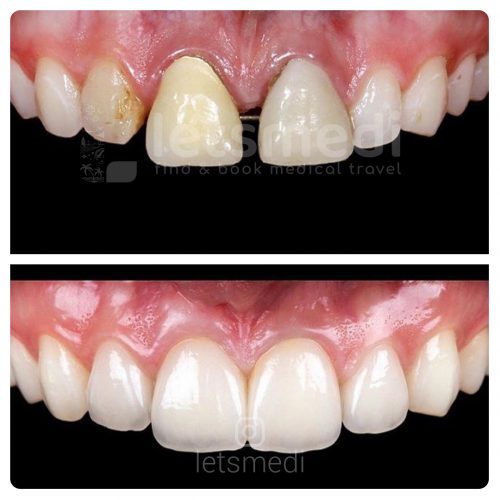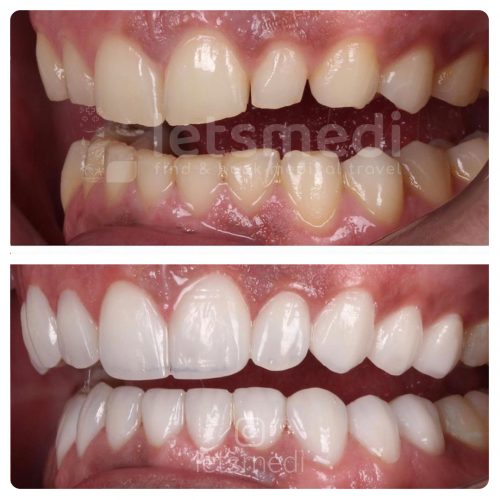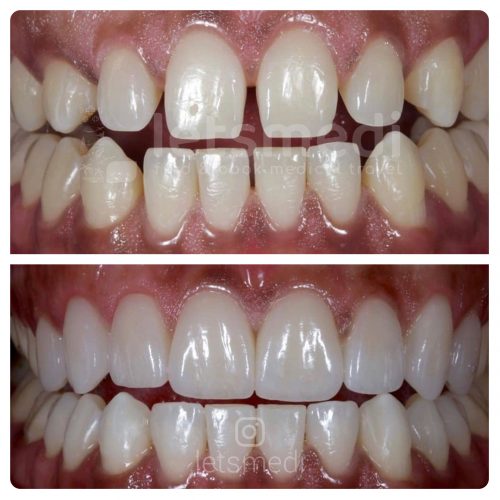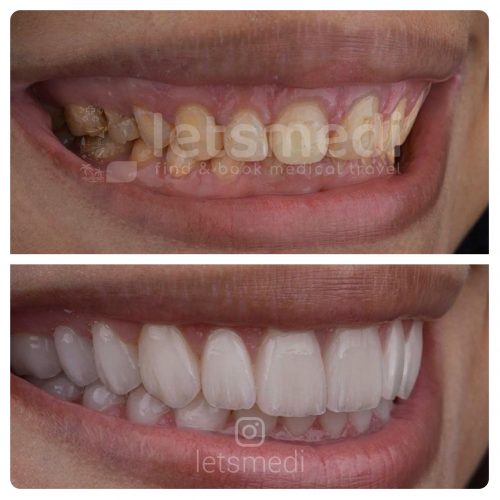 How much emax does veneers cost in Turkey?
You do not need to look for other countries for Emax veneer treatment. Because Emax veneer prices in Turkey are the best in Europe. You can complete the emax veneer treatment, which starts at only €4850, in Turkey as soon as possible. For this, you can call us and get information. 
The fact that this treatment is slightly more expensive than other veneer treatments is that the emax material is an expensive material. This veneer treatment may not be suitable for everyone. Your dentist will make the final decision.
How Much eMax Veneers Cost in Turkey Vs UK
You might wonder how much eMax Veneers Cost in Turkey. However, there are many benefits of undergoing dental treatment in Turkey. The country is known for offering top-notch dental services at affordable prices.
Its low cost of living ensures that all facilities, technologies, and essential services are easily available. Furthermore, the Turkish government invests in a number of high-potential sectors, including the medical industry, which translates to competitive prices.
The Turkish government is a major factor in the lower price of dental services. Medical tourism is supported by the Turkish government, so the cost of veneers is considerably lower.
The country's low operating and laboratory costs allow dentists to offer affordable prices. And because the government is supporting the dental tourism industry, prices in Turkey are considerably lower cost as 4.150£ than those in UK and Europe. And, because Turkish dental clinics employ highly skilled and experienced dentists, the procedure is remarkably affordable.
Another difference between the cost of veneers in Turkey and the UK is the method of fabrication. In the UK, traditional veneers cost 9.000£ require grinding down tooth structure and removing enamel. Both of these procedures are painful and require the use of a local anesthetic.
In Turkey, though, the procedure is relatively painless and provides a beautiful result. However, UK dentists charge more than those in the Turkey.
Best Emax Veneers Dentists in Turkey
E Max Veneers Reviews in Turkey

Harry Cox
I had 20 zirconium crowns, the overall service was 10/10, the clinic is nice, clean and professional. All the staff from the patient coordinators, the driver, the dentist, assistants were very helpful and friendly. If you are thinking to come here don't think about it just come!

Robert Cow
Everyone at the clinic is very helpful and makes you feel comfortable as you are at hometown. They really do their job very well and professional. Now I have amazing teeth and not embarrassed anymore to smile. So pleased and grateful! Great price great holiday I couldn't ask for more!

Allison Erik
Perfect service from start to finish! I had 4 dental implants, sinus lift, root canal treatment on my first visit. Every single tooth was covered with zirconium crowns for a complete smile design. I'd highly recommend this place! In the UK prices are way out of my range, here you get the affordable prices and the best service!
Paula Entwistle
I had 12 implants and complete new top and bottom teeth, price and quality of service was amazing! Be sure that you will get the best treatment here. So far I had no problem with my new teeth. Thank you all guys!
Fatima Abdjul
I got my dental implant work done through Letsmedi Group and although I was extremely nervous for the procedure, my worries pretty much fade away shortly after arrival. They take me from airport directly to the hotel. After 1 day resting they took me to the dental clinic for my zirconium crown treatment. Everything was quite perfect, i had 2 extra tooth to be extracted. They done it for free. I was so glad about it. They are so clear about the price, there is no hidden costs. I'm very grateful to the team and would highly recommend them.
If you also want to have high-quality dentures from Emax Veneers Turkey, then you should choose Turkey, which is a leader in the field of dental health. Turkey has the best materials from Emax Veneers, the most experienced dentists and the most fully equipped clinics, using the most advanced treatment techniques in this regard.
Just because Turkey Emax Veneers are affordable does not mean that inferior materials are used. Even on the contrary, use the best quality materials and treat in the most fully equipped clinic. Turkey's affordable labor and the production of many dental materials in Turkey have had a positive impact on prices.
The average is 2-3 sessions, which are completed in about 1 week. First, measure the size of the teeth and make a suitable smile design for the patient. Use a laugh design method called mock up to show the patient a rough appearance after treatment in advance.