Breast Lift in Turkey is one of the most popular and preferred aesthetic surgery for people that comes to Turkey for cosmetic surgeries.
Many women value a young, natural breast form. Breastfeeding after pregnancy, weight gain, heredity, or advanced age can all contribute to a reduction in breast volume and projection. 
Turkey is an excellent choice for this venture. It's even better than the finest. Because both the price and the quality are excellent. In this regard, it is a heaven for you. All of the specialists have arrived. Therefore, this is the best place.
The average cost of Breast Lift in Turkey starts from 2.550 USD (2.100£) which is the most affordable price compared to other European countries. We are doing Breast Lift in Istanbul, Antalya and Izmir, you can choose best option for you.
Here you can find out and discover more information about Breast Lift surgery journey in Turkey. Check all the details about Breast Lift costs, our clinic's patients reviews, before & after photos from the best doctors, all-inclusive packages for Breast Lift in Turkey.
You can get in touch with us for Breast Lift in Turkey via WhatsApp or options below.
Breast Lift In Turkey
Candidates

if the brown part around the nipples is looking downwards, it is deformed and enlarged to a degree

Procedure:
lift and modify breasts
Duration:
2 hours
Stay:
1 day
Anesthesia:
General
Recovery:
8 days
Side Effect:
Scar tissue, pain, numbness in the nipple
Exercise:
After 3 weeks
Scars:
Yes
Pain:
Minimal
Results:
6-12 monthhs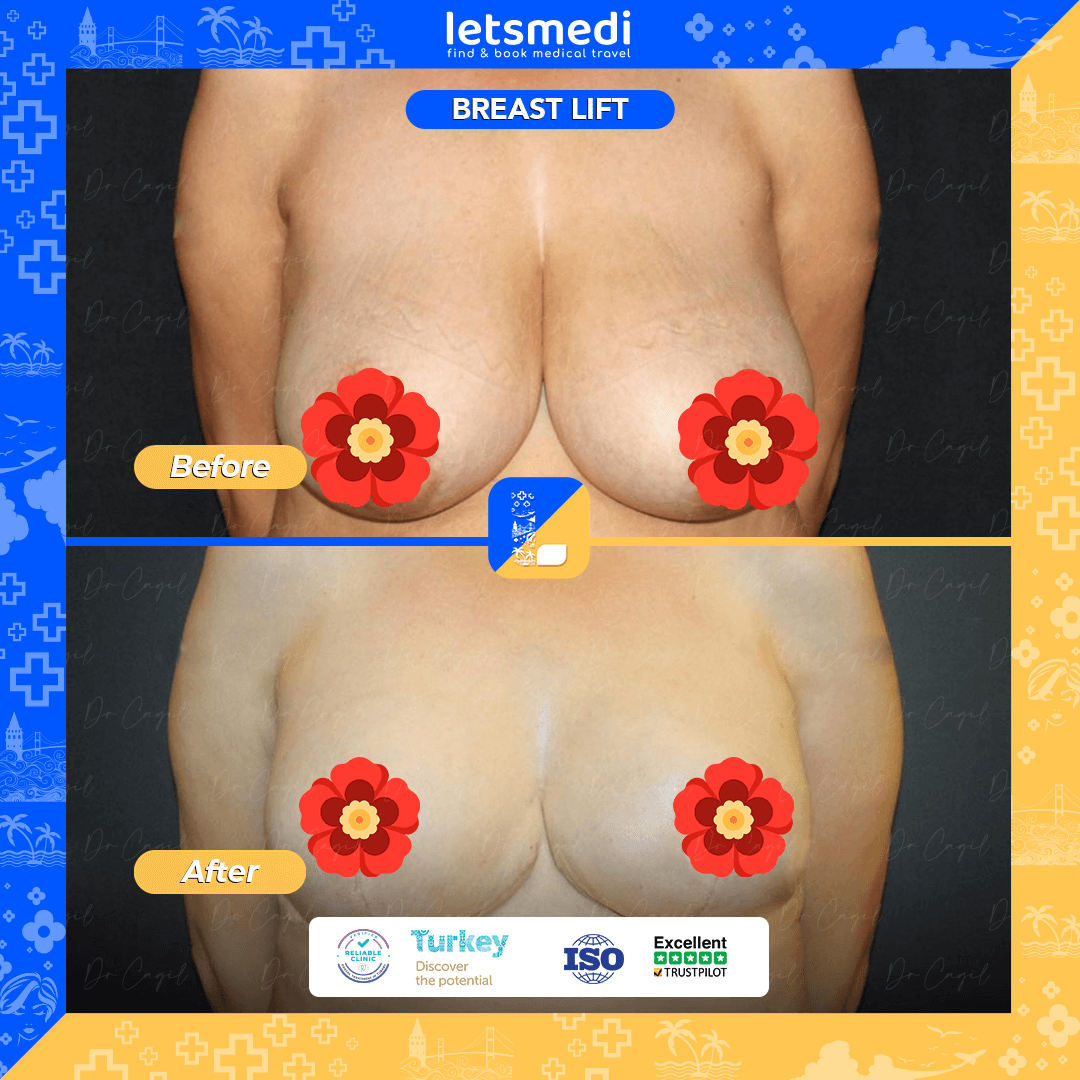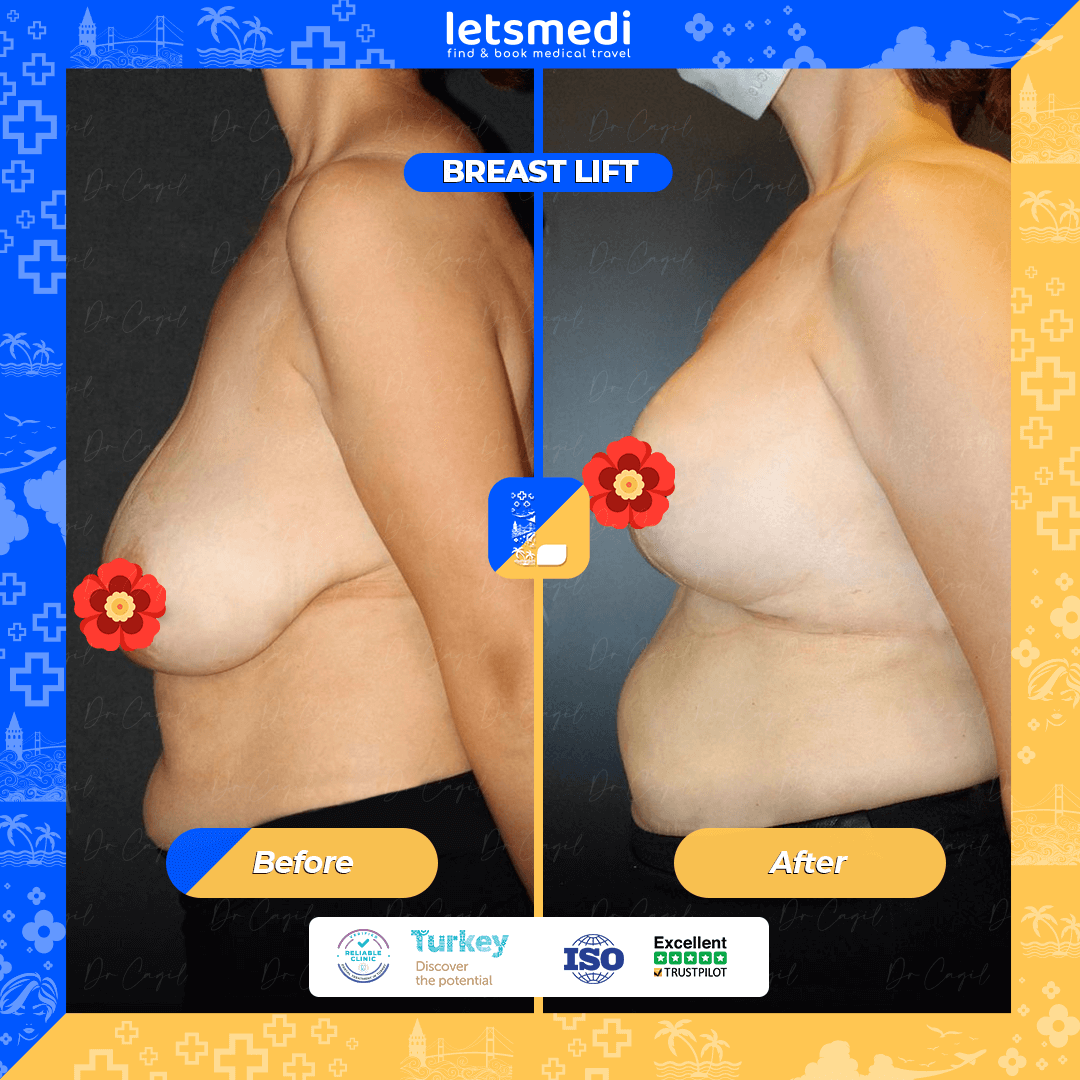 While breasts have been known to lose firmness over the years, breast sagging isn't a problem unique to women. Age, pregnancy, childbearing, and significant weight loss all affect the firmness of the breasts. 
Fortunately, there are procedures that can restore firmness and increase breast size without the risks and side effects of traditional surgery. Here are some of the benefits of a Breast Lift Turkey procedure.
In Istanbul, Turkey, the cost of a breast lift is roughly $2,550, with other cities being a little bit higher. However, Turkey's healthcare system requires strict procedures and a high standard of plastic surgeons. 
The procedure is safe, and the cost is less than half of what it would be in the UK, where the average price for a breast lift operation is around PS6000. Turkey offers a variety of advantages over the UK.
One of the main benefits of undergoing a breast lift procedure in Turkey is the lower cost of the Turkish Lira, which is used in the procedure. Unlike Euro and US dollar prices, the Turkish Lira is significantly more affordable than other major currencies. 
This also means that the procedure is more affordable and the surgeons have a greater degree of experience. Turkey is a popular destination for plastic surgery because of its low cost of labor.
How does a Breast Lift works?
In order to lift the breasts, plastic surgeons make incisions in the breast. The first incision makes a circle around the area. The second begins under the nipple and continues until the bottom of the breast. 
The third and final incision is along the crease of the breast. Each of these incisions helps the surgeon identify the areas where the excess skin is removed. This new location for the nipple allows for a new shape and size around the nipple.
To help determine whether a patient should undergo a breast lift, a plastic surgeon will look at her medical history. The results of previous mammograms and biopsies are also important.
 During your consultation, the doctor will evaluate your breasts and look at the overall shape and tone. If the breasts are firm, then the surgeon can move them to a more flattering position. If you have sagging skin, it is possible that a lift will not be necessary.
The primary goal of a breast lift is to restore a woman's youthful-looking breasts. The surgeon will remove excess skin and tighten underlying breast tissue to restore your breasts' shape and appearance. 
The nipples will also be repositioned so that they will look younger. This procedure can also help you fit into swimsuits without sacrificing comfort or shape. When done correctly, a breast lift can restore your youthful appearance and feel more confident.
Our Clinic in Istanbul, Turkey
During your consultation, you'll learn the risks associated with the procedure. It is best performed on healthy women who are in reasonably good health and have realistic expectations about the outcome. 
If you smoke, you must stop six weeks before surgery and for six weeks after. Smoking interferes with the healing process and can increase the risk of complications. Your doctor will discuss how to minimize these risks before the surgery. Afterward, you'll receive detailed postoperative instructions.
The best way to decide whether a nonsurgical breast lift is right for you is to meet with a board-certified plastic surgeon. Prof. Dr. Birol Civelek, a master aesthetician, will thoroughly examine your lifestyle and medical history to determine which treatment is best for you. 
She will then suggest a treatment plan that will best meet your needs. A breast lift is a common procedure for women who want to enhance their appearance.
Breast lift surgery can improve the appearance of your breasts, if you have little or no breast tissue. Breast implants, on the other hand, can improve your shape and cleavage. 
In many cases, breast implants will be necessary after a breast lift, as they restore breast volume and serve as a foundation for the breast. Prof. Dr. Birol Civelek believe that breast lift surgeries that include an implant are more effective and longer-lasting.
If you've been considering having a breast lift, you may be wondering what to expect during and after the procedure. Your surgeon will perform various techniques to lift the breasts, depending on your desired results and the size and shape of your breasts. 
In addition, your surgeon will advise you to stop smoking four weeks prior to your procedure, as this decreases blood flow to your body and can slow the healing process. To protect your body during this time, you should avoid heavy lifting, and alcoholic beverages, as well as consuming too many carbs and other sugary foods.
When you go to your surgeon for the procedure, your doctor will look for the crease in your breasts, as well as the position of your areola and nipple. To help you understand your own anatomy, your surgeon may slide a piece of paper along the crease to determine the height of your nipple and areola. If they sit below the edge of the paper, your breasts are sagging.
While a breast lift will correct the sagging of your breasts, the procedure does not stop the natural aging process. Your breasts will continue to change, and may sag for years to come, but with proper care, they should stay youthful for many more years. 
A breast lift may not be the right procedure for you if you plan to have more children or lose weight. You may also want to postpone the procedure if you plan to have more children or lose weight before the surgery.
What are the Breast Lift Risks?
A breast lift carries a number of risks, including:
Scarring. While scars are irreversible, they will soften and fade over the course of 1 to 2 years. Bras and bathing suits can usually conceal scars from a breast lift. Scars can become thick but rather wide due to poor healing in rare cases.

Alterations in nipple or belly sensation usually returns within a few weeks. However, some crushing defeat of feeling may be permanent. Erotic sensation is typically unaffected.

Breasts with an irregular shape and size. This could be due to changes that occur during the process of healing. Furthermore, surgery usually does not change the size of breasts which were different before surgery.

Nipple or areolae loss, either partial or complete. During a breast lift, the blood supply towards the nipple or areola may briefly stop. This can cause breast tissue damage and the partial or complete loss of the nipple or areola.

Breastfeeding difficulties While breastfeeding is feasible after a breast reduction, some women may experience difficulty producing enough milk.

A breast lift, like any major surgery, carries the risk of bleeding, infection, and a side effect to anaesthesia. An adverse response to the surgical tape and other materials used either during or after the procedure is also possible.

Bleeding is uncommon, but it is possible, and you may require a blood transfusion or another implementation (or both) to prevent bleeding. Any bleeding usually occurs immediately or shortly after surgery. Before the surgery, your surgeon will go over any medications that increase your probability of bleeding, and it is critical to keep your blood pressure under control.

Swelling, bruising, and discomfort Following the operation, there will be some swelling and bruising of the breasts, which can take weeks to resolve. Long-term pain is possible, but it is uncommon.
Breast Lift recovery time?
You can typically resume most of your daily activities within four to six weeks of your breast lift, though recovery times vary. You should avoid strenuous activity or activities that require heavy lifting for six weeks after the surgery. 
After four weeks, you may resume lower-leg exercises and lift your arms above your head. After that, you may resume work. You should also avoid wearing a bra that rests on your breasts for the first couple of weeks.
After a breast lift, you may have to refrain from sex for a couple of weeks and should avoid a lot of strenuous activities. Your doctor may also instruct you to wear a support bra for a few weeks. 
Your doctor will remove the stitches at regular intervals. You may also experience a loss of sensation in the nipple or areola areas. After this period, you should be able to stop wearing the support bra.
Following surgery, you may be required to take two weeks off from work and daily activities. Your surgeon will explain specific instructions to help your recovery go smoothly. It is common for bandages to be replaced with a larger, clear dressing after ten days. 
Your surgeon will provide you with detailed instructions on how to use your new breasts as soon as possible after surgery. Your incisions will likely be covered with bandages for the first two weeks but will come off in a few weeks. You may also be asked to take a bath once your surgeon says it is okay.
Why is Breast Lift affordable in Turkey?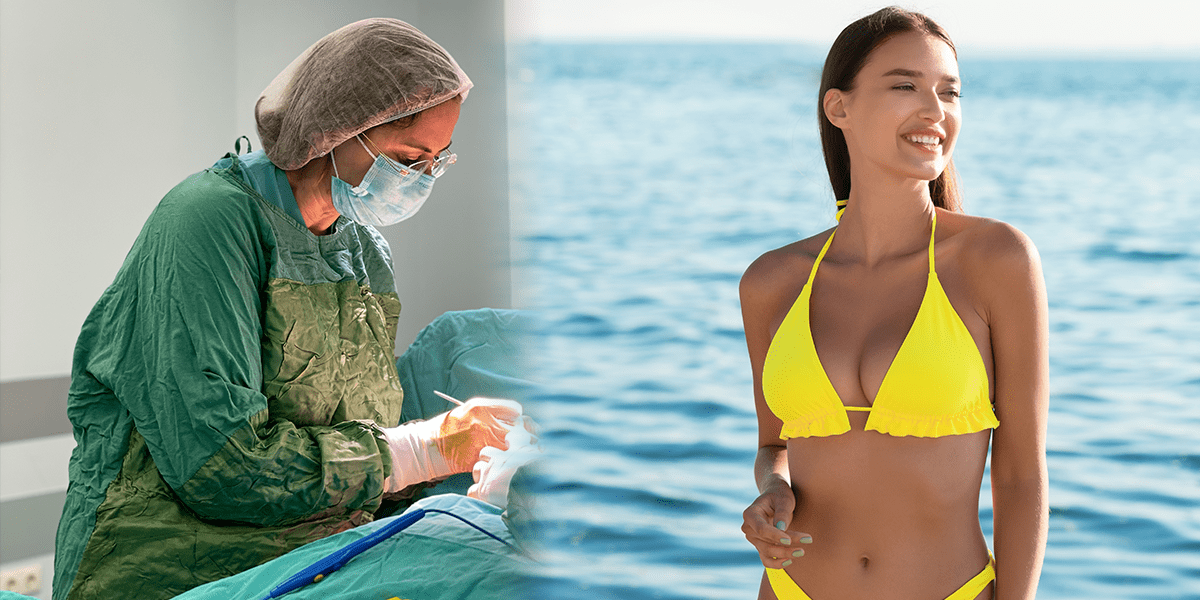 Compared to the UK, cosmetic surgery in Turkey is considerably more affordable. The cost of a breast lift in the UK can range from 4,000 euros to 7,500 euro, whereas the cost in Turkey is as low as PS150. Some cosmetic procedures, such as rhinoplasty, are ninety percent more affordable than their equivalents in the US or Asia.
The low exchange rate is one of the primary reasons why patients choose Turkey for their operations. Additionally, Turkey's healthcare system is regulated and ensures the quality of the health care provided. The government provides subsidies for health care in Turkey, which makes the cost of your surgery even lower.
The fact that plastic surgery in Turkey is more affordable than in the United States means that patients can find the best surgeons at an affordable price. Choosing the right plastic surgeon and clinic is important.
Turkey is home to many skilled plastic surgeons and advanced clinics, which contributes to the country's low-breast lift cost. With affordable boob lift prices, many women are considering this procedure to restore their firm, lifted breasts.
Breast Lift Cost in Turkey vs UK
The difference between the cost of breast lift surgery in the UK and Turkey is quite remarkable. Although the UK generally offers high-quality medical care, its breast lift cost is around 3.500£ – 6.500£. However, high cost does not necessarily mean poor quality.
Turkey offers excellent medical care at a more affordable cost around 2.500£, and the country has a world-class reputation for its surgeons. To learn more about the differences between the UK and Turkey, read on.
The procedure itself is relatively simple. Breast uplifts in Turkey are usually performed in two stages. The first stage involves the removal of excess fat and skin from the breast.
The second phase focuses on tightening the surrounding tissue. Surgical recovery time for breast lift surgery varies depending on the procedure. It may take up to three weeks to reach final results. Patients should avoid alcohol, smoking, and caffeine two weeks before the surgery.
After completing pre-surgical exams, patients are then given general anesthesia. The operation typically takes between one and three hours. The average patient stays in the hospital for a day and recovers for four days.
The procedure can be performed the same day. Depending on the procedure, patients may need multiple surgeries to correct the problem. For many women, breast augmentation surgery may be the solution they've been searching for.
How much does breast lift surgery cost in Turkey ?
The average cost of n breast lift  surgery in İstanbul, Turkey is 3000 EURO , minimum price is 2700 and  maximum cost is 3300 EURO. Prices may differ for different cities such as Istanbul, Antalya and Izmir.
Package Prices
Breast Lift and Reduction
6,545€
Breast Lift and and Augmentation
6,800€
Breast Lift and Tummy Tuck
6,588€
Breast Lift and BBL
6,375€
Breast Lift Reviews in Turkey

Harry Cox
I've recently had my surgery with Çağıl Meriç and his team, i must admit I am very pleased and i will highly recommend them. Absolutely amazing experience. From start to finish I felt safe and comfortable in everyone's hands. I would highly recommend this to anyone. I am almost 2 weeks post op and I feel great!

Robert Cow
Everything went well. I had liposuction surgery, they took very good care of me. The doctor speaks great English and put me in ease. The hospital staff are really friendly and the room was really comfortable and clean. Hotel and vip transfer was perfect. Thanks Letsmedi.

Allison Erik
I had gastric sleeve operation with you 1.5 years ago and I have lost 60 kg. It changed my life, as expected I had saggy skin which needs operation. I wanted to continue with this team. Its been already 2 months, I had a breast reduction, tummy tuck and liposuction, I cannot express enough how happy I am with my results after having my procedures. I got rid of from the saggy skin and finally have the good body shape. I want to say a huge thanks.
Paula Entwistle
I had tummy tuck and 360 liposuction in December. I am satisfied with the results. Everytime i need something they did their best to help. I was sore first couple days as I have been told but after the third day I started to feel better and after 3 weeks I was ok to get back to normal.
Fatima Abdjul
The clinic with the Doctors and there nurses are excellent I have done a tummy tuck Lipo 360 and breast lift and they were very supportive and had a excellent team my results were looking good from day 1 I would recommend this clinic to everyone.
Breast Lift Doctors in Turkey