Gynecomastia in Turkey is one of the most popular surgery for among man that comes to Turkey for cosmetic surgeries.
Gynecomastia surgery, also known as male breast reduction, is a type of plastic surgery used to treat gynecomastia, a condition in which males have overly big breasts. It is accomplished by eliminating breast fat, tissue, and skin as improving the appearance of the chest outlines. Doctors or plastic surgeons who perform these surgeries in Turkey attach great importance to their work. Because in these surgeries, there is never a place for ignorance.
The average cost of Gynecomastia in Turkey is 3.800 USD (3.100£) which is an affordable option compared to other European countries. We are doing Gynecomastia in Istanbul, Antalya and Izmir, you can choose best option for you.
Here you can find out more information about Gynecomastia surgery journey in Turkey. Check all the details about Gynecomastia costs, our clinic's patients reviews, before & after photos from the best doctors, all-inclusive packages for Gynecomastia in Turkey.
You can get in touch with us for Gynecomastia in Turkey via WhatsApp or options below.
Gynecomastia Surgery in Turkey
Candidates
men who are ashamed of their oversized breasts can have this surgery
Procedure:

a plastic surgery type for treating gynecomastia – a condition of excessively large breasts in men

Duration:
2.5 to 4 hours
Stay:
for 1 day
Anesthesia:
General anesthesia or intravenous sedation
Recovery:
between 1 to 2 weeks
Side Effect:
Bruising, bleeding, fluid collection, nipple numbness
Exercise:
After 3 weeks
Scars:
Minimal scars and fade over time
Pain:

Minimal pain and swelling and bruises can be observed for 1 week after the surgery.

Results:
3-6 months
How is gynecomastia done?
The surgery or procedure called as gynecomastia is the medical help that you should get. The most typical method of it, on the other hand, includes making an incision around the black area around the nipple, which is called as areola. Then, one another incision is made to match the natural contour of the crease beneath the breasts. Lastly, excess fat and glandular tissue are removed. 
Liposuction, either alone or in combination, is frequently done to remove fat and gland tissues. If the weight of excess breast tissue causes sagging of the breasts and stretching of the areola, your plastic surgeon will reposition and resize the areola at the same operation.
The complete treatment usually takes approximately two hours and is done under anaesthesia. It may be conducted at an outpatient ambulatory surgery centre or need an overnight stay. In addition , it would be better for you to know that a second surgery may be required to further tighten skin and achieve optimal cosmetic outcomes.
How is the healing process?
On average, the preliminary male breast reduction recovery time is 1-14 days. Throughout this period, individuals will still want to rest and avoid physical activities in order to assist recuperation and avoid problems. During the first few weeks, a compression vest will be worn to assist the skin in retracting and preventing fluid collection. 
Significant swelling and bruising should be expected during this time, and any pain can be managed with prescription medicines.On the other hand, patients may continue some typical activities, such as returning to work and modest training, after the first one or two weeks, though each surgeon will give advice according on each patient's specific circumstance. 
Bruising and swelling will gradually subside until final effects are visible in the months after surgery. The final effects should be seen 6 months after surgery.
What are the Gynecomastia Risks?
We have listed some risks that may occur in this operation.
A hematoma is a collection of blood under the skin (between skin and the muscle) caused by bleeding after surgery. A surgeon's goal during surgery is to stop all bleeding. Unfortunately, small bleeders can occasionally start and stop as a result of vessel spasms caused by the rubbing of the snatching clot off the vessel.

Infections are extremely unlikely following gynecomastia surgery. In general, we prescribe antibiotics as a preventative measure to reduce that risk even further. It is critical that any abscesses or seromas (fluid collections) are drained as soon as possible, as undrained collections increase the risk of infection.

Your surgeon will go over the expected scars with you. Scarring that is more than expected may occur at times. This can occur at the initially schedule incision site or at an unplanned site of skin loss that results in scarring. This risk is quite low. Scars usually heal predictably well.

The nerves that travel to the nipple must pass through the breast tissue after leaving the deep laters. As the gland is removed, many of these nerves are cut and injured. This will result in less nipple sensation.

This is a tricky explanation, and an experienced physician can help minimize it. And here's the deal: the nipple/areola and also the surrounding skin must be the same thickness/plane for a smooth contour. On all chests, there is a fat layer beneath the skin that is thinner in skinny girls and thicker in fat people.

This is extremely unusual. The gland cell remnants will not regenerate unless there is a hormonal stimulus, which can be caused by endocannabinoid natural hormones and exogenous injected/injested substances. In over 1000 cases, I've only seen repeat in a handful of patients.
Our Clinic in Istanbul, Turkey
Why should you choose Turkey for gynecomastia?
Cosmetic surgery, whether acknowledged or not, is a subtype of plastic surgery that improves a person's physical appearance and boosts self-confidence. 
After years of dedication and devotion, Turkish doctors and dermatologist have earned a high recognition among their patients and are now expanding their patient service and care overseas.Hundreds of patients travel to Turkey for aesthetic procedures each year. Recent research indicates a rising trend both among men and women.
If you are going to be one of those men who get surgery in Turkey, you may be asking why to choose? 
The solution is simple: with all of these clinics and hospitals outfitted with cutting-edge technology and expert doctors, Turkey should be the only destination. Because the cost of living in Turkey for medical tourists is quite low, including lodging, food, transportation, and sightseeing, you will be able to enjoy both a vacation and a medical trip at the same time.
Furthermore, medical groups such as the International Medical Association and the Turkish Society of Aesthetic Plastic Surgery (TSAPS) are constantly on the lookout for Turkish hospitals and clinics, implying that the discipline gives the ideal conditions for an individual to dream. To sum up, the best and most successful choice that you could do will be buying a ticket to Turkey, to get a gynecomastia surgery.
Why is gynecomastia more affordable in Turkey?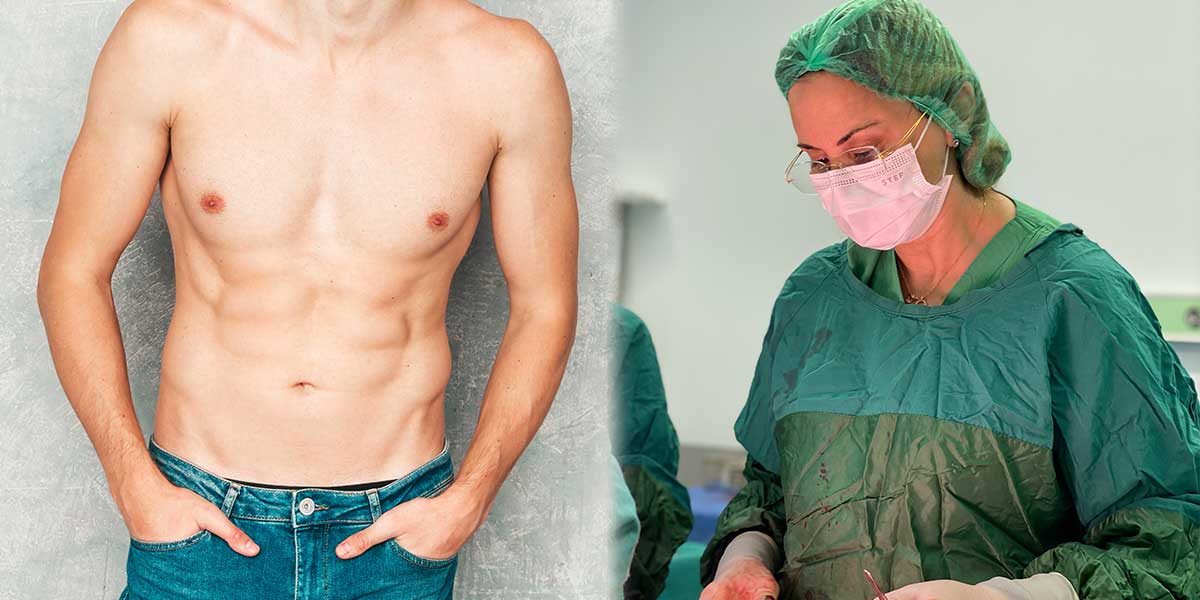 There are various reasons for the low cost of cosmetic operations in Turkey, including the gynecomastia surgery. The first and most important reason for this goodness, though, is the currency exchange rates. 
If you go to Turkey today with a thousand dollars in your pocket, the currency will be 13 times stronger. On the other hand, clinics in Turkey employ domestic materials in each procedure, lowering costs. 
How much does a gynecomastia cost in Turkey?
Although there is no definitive answer to this issue, the average cost is $3800. Because the experience of the surgeon who will execute the male breast surgery and the categorization of the hospital where the procedure will be performed are some of the elements that determine the cost of this surgery, please conduct your own research to obtain accurate pricing.
In Turkish clinics, on the other hand, you may be certain that no examination cost will be paid prior to gynecomastia surgery. Control can be achieved through the use of ultrasound and examination. 
Following your assessment, the average pricing for gynecomastia surgery is determined. In the case of exceptionally large breasts, the price may occasionally rise. If the breast is smaller, the cost will be reduced pro rata. 
Gynecomastia Cost in Turkey Vs UK
While Gynecomastia costs in UK are similar the Turkey, you should be aware of the differences in the quality of care and cost of the surgery. While Turkey has a small number of clinics, many of them are known for their excellent surgical techniques and care.
In Turkey, the quality is always guaranteed with many clinics offer high-quality services. Some clinics may require you to wait weeks or even months for your surgery, while others offer a quick procedure.
The difference in prices is the result of the cost of labor and operational fees. Labor is more affordable in Turkey and Europe, while operational fees cover hospital-related expenses.
These lower costs allow physicians to perform more surgeries and gain more experience. The difference in cost between Turkey and the UK is about a third as much in Turkey. And patients don't have to worry about paying for hotel rooms or transportation.
The cost of Gynecomastia surgery in Turkey is the lowest in the world, according to the American Plastic Surgeons Association. The procedure will cost you around 3.100£.
If you are willing to spend two to three days in the hospital, this cost should not be a barrier to undergoing the procedure. Turkey's hospitals are fully equipped for high-quality medical procedures and use state-of-the-art equipment and facilities.
Gynecomastia Reviews in Turkey

Harry Cox
I've recently had my surgery with Çağıl Meriç and his team, i must admit I am very pleased and i will highly recommend them. Absolutely amazing experience. From start to finish I felt safe and comfortable in everyone's hands. I would highly recommend this to anyone. I am almost 2 weeks post op and I feel great!

Robert Cow
Everything went well. I had liposuction surgery, they took very good care of me. The doctor speaks great English and put me in ease. The hospital staff are really friendly and the room was really comfortable and clean. Hotel and vip transfer was perfect. Thanks Letsmedi.

Allison Erik
I had gastric sleeve operation with you 1.5 years ago and I have lost 60 kg. It changed my life, as expected I had saggy skin which needs operation. I wanted to continue with this team. Its been already 2 months, I had a breast reduction, tummy tuck and liposuction, I cannot express enough how happy I am with my results after having my procedures. I got rid of from the saggy skin and finally have the good body shape. I want to say a huge thanks.
Paula Entwistle
I had tummy tuck and 360 liposuction in December. I am satisfied with the results. Everytime i need something they did their best to help. I was sore first couple days as I have been told but after the third day I started to feel better and after 3 weeks I was ok to get back to normal.
Fatima Abdjul
The clinic with the Doctors and there nurses are excellent I have done a tummy tuck Lipo 360 and breast lift and they were very supportive and had a excellent team my results were looking good from day 1 I would recommend this clinic to everyone.