Tummy Tuck in Turkey is one of the most prefered aesthetic surgery for among woman that comes to Turkey for cosmetic surgeries.
Tummy tuck is a procedure that is performed on the abdomen to treat sagging and cracks that have developed over time. Stretch marks and sagging might occur as a result of fast weight fluctuation during pregnancy. 
Tummy tuck is a surgical procedure in Turkey where we have made a significant effect. This is particularly common in women who have just given birth. Because the abdominal muscles are divided or strained. As a result, women have image issues like as sagging and cracking.
The average cost of Tummy Tuck in Turkey starts from 4.000 USD (3.250£) which is a great price compared to other countries. We are doing Tummy Tuck in İstanbul, Antalya and İzmir, you can choose best option for you.
Here you can find out and discover Tummy Tuck surgery journey in Turkey. Check all the details about Tummy Tuck costs, our clinic's patients reviews, before & after photos from the best doctors, all-inclusive packages for Tummy Tuck in Turkey.
You can get in touch with us for Tummy Tuck in Turkey via Whatsapp or options below.
Tummy Tuck In Turkey
Candidates

people with smooth skin and oil in the abdomen, who have no effect on diet and exercise

Procedure:
a major plastic surgery operation used for excess skin and belly fat removal
Duration:
2 hours
Stay:
at least one week
Anesthesia:
General
Recovery:
3 weeks
Side Effect:
bleeding, and infection
Exercise:
4 to 6 weeks
Scars:
leaves a permanent scar, but this scar is hidden under the underwear
Pain:
Minimal
Results:
about six weeks
How is a tummy tuck done?
First, liposuction is used to remove fat from the whole stomach and waistline during the tummy tuck process. To stay in the undergarments, a large cut is created at the bottom of the belly. The abdominal tissue is taken to the lower ribs, the belly button is detached from the tissue, and the abdominal wall is tightened by suturing lax abdominal muscles firmly. 
The whole skin beneath the belly is then excised. The overlying skin is pushed down, and a new abdominal hole is created. The top and lower sections of the belly button are extended after a full tummy tuck, the waistline is slimmer, the abdominal muscle is smoothed, and the belly button appears straight and youthful.
Our Clinic in Istanbul, Turkey
How is the healing process?
Your stomach will be wrapped with medical covering immediately after a tummy tuck. In many circumstances, narrow, little tubes may be put across your incisions to evacuate any fluid that has accumulated around it. This is a regular occurrence that should not give you any further distress.
During the first few days after surgery, you will have to lay at an inclination and will be told to move around to avoid clots. It is critical to arrange for assistance for at least the first day or two after the operation. You will be given painkillers and will experience restricted movement, so you won't be capable of driving yourself home.
Antibiotics and blood thinners are usually prescribed for a certain timeframe, and some people are prescribed topical lotions to use around the wound area.During recuperation, you will wear a stomach support garment or wrapping to aid with inflammation and pain.Because drinking and smoking might sabotage your healing, you should refrain from doing so for at least 3 months after the operation.
 The majority of individuals choose to take a month off work to recuperate. If you work in a highly demanding profession, it's even more critical to take lots of time off to avoid endangering your recuperation. For the same purposes, you should avoid exercising during this period.
What are the Tummy Tuck Risks?
You will have a scar across your lower tummy and a scar around your belly button so if you had a full abdominoplasty.
It may be difficult to stand up straight because your tummy is being pulled (this will improve over time)

Have bruising and pain

For a few months or years, you may experience numbness in your stomach.

Above the scar, there is a temporary fluid filled swelling

Have red, elevated scars for the first 6 weeks that fade

It is possible that incisions will take to heal longer than usual.

It is feasible that you will experience irritated or inflamed incisions.

Infection – If this happens, it usually happens within a few days of procedure. Antibiotics will be prescribed by your surgeon to reduce one's risk of infection, and it is critical that you take them as directed.

You may experience swelling that lasts longer than anticipated.

You may be bothered by large scars or gashes that do not fade as expected.

It is possible that you will lose sensation from around incision.

Under skin fatty tissue necrosis (death)

Fluid buildup beneath the skin's surface (seroma). Leaving irrigation tubes in venue after surgery can help to reduce excess fluid. Your doctor may also use a needle and syringe to remove fluid after surgery.

Wound healing is inadequate. Areas near the incision line may heal shoddily or begin to separate. Antibiotics may be administered during and after surgery to avoid infection.

Scarring that was unexpected. The cut scar from a tummy tuck is stable, but it is usually hidden along the bikini line. The length and visibility of the scar differ from individual to individual. 

Tissue harm. Fatty tissue deep within the skin in the abdominal area may be damaged or killed during a tummy tuck. Tobacco use raises the risk of tissue damage.
Why should you choose Turkey for a tummy tuck?
Medical tourism in Turkey is on the rise, due to a growing population of aesthetic surgery patients from all over the globe who fly to Turkey for lower-cost operations. 
There are numerous reasons to choose Turkey for a tummy tuck surgery, the most important of which are the country's abundance of educated, skilled, and experienced cosmetic surgeons, as well as the fact that the tummy tuck processes are conducted at a much more affordable price than in the United Kingdom and the rest of Europe. 
It should be noted that the tummy tuck operation in Turkey is very safe, and this is another reason why you should choose Turkey for a tummy tuck. The explanation for this is that Turkey has a strong medical system with properly trained medical professionals performing in the finest surgical units in the world.
So, if you want to have a safe and healthy tummy tuck procedure with highly experienced and caring health care personnel and save your money, you should definitely choose Turkey!
Why is tummy tuck more affordable in Turkey?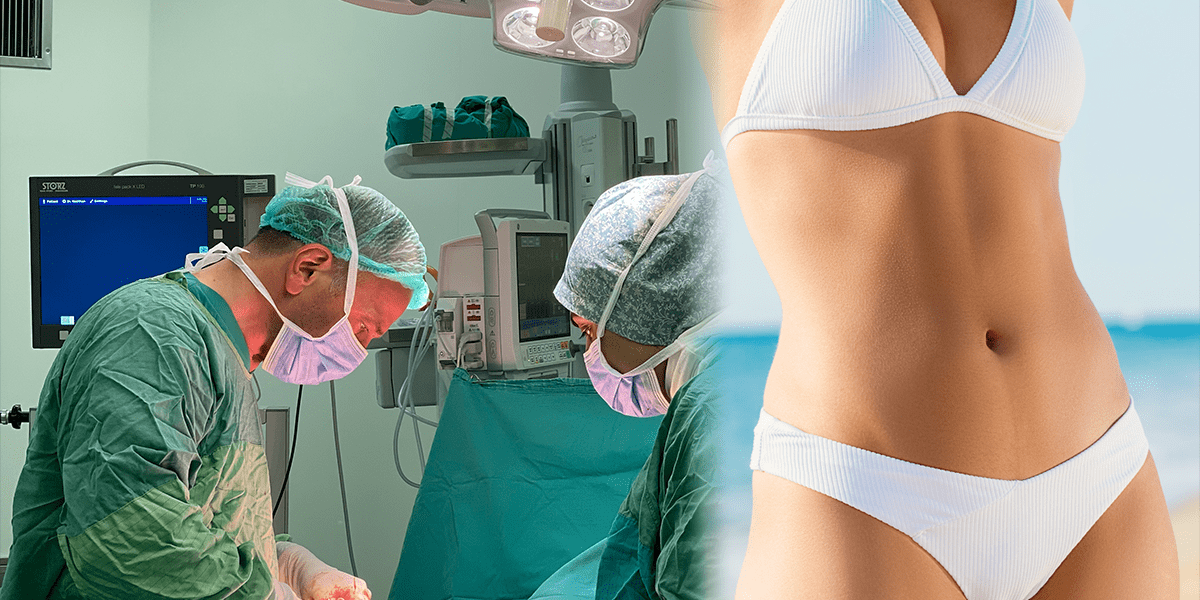 Because Turkey's overall wage expenses are less than those in Europe, reconstructive and cosmetic surgeries may be provided at a very minimal price. Facts such as the monthly average income of Turkish people, lodging expenses, and the usage of locally made surgical supplies may help to explain why tummy tucks are so inexpensive. 
Rivalry amongst clinics might also be cited as a valid factor. As a result, the affordable charges are solely attributable to economic concepts and have nothing to do with the effectiveness of the procedures provided by qualified cosmetic surgeons.
How much does a tummy tuck cost in Turkey?
Turkey is one of the greatest places to go for a tummy tuck since the doctors are among the greatest in the world, and the cost is fairly affordable. The estimated price of a belly tuck in Turkey is 4000 USD, which is a great price, especially in comparison to other countries. What is better than having a dream look and paying a minimal price?
Tummy Tuck Cost in Turkey by Types
Full Tummy Tuck
4,500€
Mini Tummy Tuck
3,900€
Extended Tummy Tuck
5,250€
Fleur-De-Lis Tummy Tuck
5,250€
Tummy Tuck with Liposuction
4,250€
Classic Tummy Tuck
3,900€
Package Prices
Tummy Tuck and Lipo
6,503€
Tummy Tuck and BBL
6,588€
Tummy Tuck and Breast Augmentation
7,013€
Tummy Tuck and Breast Reduction
6,758€
Tummy Tuck Cost in Turkey vs UK
The difference between a tummy tuck cost in UK and Turkey depends on a few different factors. First, Turkey has low labor costs and anesthesia, making it a far more affordable place to get a tummy tuck this can cost you 3.250£. This is not to say that the quality is less than in the UK or Europe, however. Both countries have excellent plastic surgeons who offer the same procedure for a lower price.
In UK this procedure can cost you around 5.000£ – 9.000£.
The surgeons at Turkey are experienced and have achieved international recognition. Their training, expertise, and experience all contribute to a positive result for patients.
A top-quality surgeon will also be able to provide excellent post-op care and deliver the results you're looking for. Surgeons will then create a bespoke treatment plan for each patient. Upon receiving the consultation form, a surgeon will send a free medical quote to the patient.
During the recovery process, you'll be required to stay in a hunched position for a few days. You should drink plenty of fluids and avoid heavy lifting.
You should avoid engaging in sex for the first two weeks after your tummy tuck. You should also avoid heavy lifting, exercise, and straining for at least two weeks. Surgical results last for several years in Turkey. The results may fade if you gain weight or have another pregnancy.
Tummy Tuck Doctors in Turkey
Tummy Tuck Reviews in Turkey

Harry Cox
I've recently had my surgery with Çağıl Meriç and his team, i must admit I am very pleased and i will highly recommend them. Absolutely amazing experience. From start to finish I felt safe and comfortable in everyone's hands. I would highly recommend this to anyone. I am almost 2 weeks post op and I feel great!

Robert Cow
Everything went well. I had liposuction surgery, they took very good care of me. The doctor speaks great English and put me in ease. The hospital staff are really friendly and the room was really comfortable and clean. Hotel and vip transfer was perfect. Thanks Letsmedi.

Allison Erik
I had gastric sleeve operation with you 1.5 years ago and I have lost 60 kg. It changed my life, as expected I had saggy skin which needs operation. I wanted to continue with this team. Its been already 2 months, I had a breast reduction, tummy tuck and liposuction, I cannot express enough how happy I am with my results after having my procedures. I got rid of from the saggy skin and finally have the good body shape. I want to say a huge thanks.
Paula Entwistle
I had tummy tuck and 360 liposuction in December. I am satisfied with the results. Everytime i need something they did their best to help. I was sore first couple days as I have been told but after the third day I started to feel better and after 3 weeks I was ok to get back to normal.
Fatima Abdjul
The clinic with the Doctors and there nurses are excellent I have done a tummy tuck Lipo 360 and breast lift and they were very supportive and had a excellent team my results were looking good from day 1 I would recommend this clinic to everyone.