Liposuction in Turkey is one of most popular and known aesthetic surgery for people from all around the world that comes to Turkey for cosmetic surgeries.
Liposuction is a cosmetic surgery that eliminates fat that diet and exercise have failed to remove. In Turkey, we reduce fat in troublesome regions so you can wear better fitting garments and have options for a wider body shape.
After liposuction, you can enjoy shopping for new clothes or simply strolling through your closet knowing that your clothes will enhance the appearance of your physique. It only has one position, which is Turkey.
The average cost of Liposuction in Turkey starts from 3.000 USD (2.500£) which is a great price compared to other European countries. We are doing Liposuction in İstanbul, Antalya and İzmir, you can choose best option for you.
Here you can reach out Liposuction surgery journey in Turkey. Check all the details about Liposuction costs, our clinic's patients reviews, before & after photos from the best doctors, all-inclusive packages for Liposuction in Turkey.
You can get in touch with us for Liposuction in Turkey via Whatsapp or options below.
Liposuction In Turkey
Candidates

anyone who has no health problems and is under a certain age without a systemic health problem

Procedure:

a cosmetic procedure that removes fat that you can't seem to get rid of through diet and exercise.

Duration:
1 to 2 hours
Stay:
least five days
Anesthesia:
General
Recovery:
7 days
Side Effect:
bruising, swelling, pain
Exercise:
After 2 weeks
Scars:
Minimal
Pain:
similar to that of a muscle soreness
Results:
after six months
Liposuction Packages in Turkey
Liposuction in Turkey is one of the most popular procedures for aesthetic surgery, with comparatively low prices compared to other countries. 
Many patients who are prepared to travel to Turkey choose this method over other countries for its reasonable costs, state-of-the-art technology, and highly experienced plastic surgeons. Read on for more information. This article will give you an overview of liposuction in Turkey. It is a safe, effective way to remove fat from various areas of the body.
Liposuction costs vary from country to country, as well as the region of the body to be treated. The average cost of liposuction in Turkey is EUR2900 – EUR3400, although the price may vary depending on the specific surgeon and body part to be treated. 
A typical "traditional" procedure will cost between EUR2,000 and EUR5,000 compared to up to GBP6,000 in the United Kingdom. Liposuction in Turkey is about 50% more affordable than in many other countries.
Liposuction Turkey is one of the most popular branches of plastic surgery, with more than 700,000 medical tourists each year. Some of the more common procedures performed in Turkey include dental and cosmetic procedures, bariatric surgeries, and reproductive procedures. 
The country's climate, rich culture, and historical heritage make it an excellent medical tourism destination. Turkey has a number of clinics for both liposuction and other cosmetic surgery.
Package Prices
Liposuction and Tummy Tuck
6,503€
Liposuction and Fat Transfer
6,120€
Liposuction and BBL
6,290€
How does a Liposuction works?
While you'll be given anesthesia for your procedure, the recovery from liposuction is generally a short, but uncomfortable, process. Depending on the extent of your surgery, you should plan to take a few days off from work, exercising, and driving, and you'll need to avoid strenuous activity until at least a week after surgery. However, the soreness around the treatment site is usually gone within a week or two and you can go back to your normal activities.
The technique uses a hollow tube attached to a powerful suction device. After making small incisions in the skin, your surgeon will insert a tiny fiber-like tube into the surgical area. 
The fiber liquefies the fat cells, which the cannula then extracts. The procedure takes from one to two hours. Many patients return to work a day or two after their procedure. How liposuction works depends on the surgeon's experience and expertise.
After a consultation and evaluation of your overall health, liposuction involves a tiny incision. Once the cannula is in place, the surgeon uses controlled movements to break up fat cells and collect them into a vacuum flask. The fat cells will then be suctioned out of the body with a syringe or surgical vacuum. 
Liposuction is a quick and safe process, and patients typically return home the same day. Often combined with other surgical procedures, liposuction can help you achieve the perfect body contour.
Our Clinic in Istanbul, Turkey
Although liposuction can be life-threatening, the procedure is most often performed to improve the shape and appearance of problem areas of the body. It removes excess fat from problematic areas and is usually the last resort for people whose diets and exercise are not producing the desired results. Liposuction can be used to reshape the face, abdomen, back, or under the chin. Liposuction uses various techniques to break down fat cells.
The first step in getting liposuction is a consultation with your surgeon. Your surgeon will discuss the benefits and risks of the procedure and what to expect during the recovery period. 
He or she will also explain any restrictions you need to follow before the procedure, including diet and alcohol intake, and the medications you must take beforehand. Liposuction is a major surgical procedure, so be sure to discuss the procedure with your doctor before scheduling it.
Depending on which type of liposuction you need, you may undergo a general or local anesthetic. A general anesthetic will prevent pain and discomfort, and can last anywhere from an hour to four hours. 
Local anesthetic will help you avoid discomfort during the procedure, and it may even allow you to remain awake. Most patients experience temporary swelling and bruising. Afterward, you can go home and resume your normal routine.
Before deciding on how to perform liposuction, consider the requisites. Liposuction is a surgical procedure, and it can be performed by a qualified plastic surgeon with additional training in head and neck surgery. 
Several factors should be considered when selecting the appropriate anesthesia, including the type of patient, the location of the surgery, and the cost. The first consideration is the type of anesthesia. General anesthesia is a risky choice for liposuction.
A plastic surgeon with advanced training in this procedure will be able to perform liposuction on patients with various conditions, including lipedema. Although tumescent techniques are considered the safest method, many doctors are now performing liposuction on patients while awake. 
While plastic surgeons generally perform liposuction under general anesthesia, not in tumescent techniques, there is an increasing number of physicians who specialize in awake liposuction.
After liposuction, a patient should expect to recover from the surgery with a month or two. Liposuction recovery time varies from patient to patient. 
The procedure typically takes longer than other body areas, and the pain and swelling can be severe. The patient should not return to work for several weeks after the surgery. If they remain within the prescribed weight range, the fat will not return to the treated area.
What are the Liposuction Risks?
Liposuction, like any major surgery, carries risks such as bleeding and anesthesia reaction. Liposuction specific complications may include:
Inconsistent contours Because of uneven fat removal, poor skin elasticity, and unusual healing, your skin may appear bumpy, wavy, or withered. These modifications could be permanent. Damage beneath the skin caused by the thin tube (cannula) used during liposuction may leave the skin permanently spotted.

Accumulation of fluid: Under the skin, temporary wallets of fluid (seromas) can form. A needle may be required to drain this fluid.

Numbness: In the affected area, you may experience temporary or permanent numbness. It is also possible to experience temporary nerve irritation.

Infection: Skin infections are uncommon, but they do occur. A skin irritation infection could be fatal.

Internal piercing: A cannula that enters too deeply may occasionally puncture an internal organ. This may necessitate emergency surgical intervention.

Embolism of fat: Pieces of loosened fat may become trapped in a blood vessel, accumulating in the lungs or traveling to the brain. A fat embolism is a life-threatening medical condition.

Kidney and heart issues: Fluid level changes as fluids are injected and suctioned out can result in potentially fatal kidney, heart, and lung problems.

Toxicity of lidocaine: Lidocaine is a pain reliever that is frequently combined with fluids infused during liposuction. Although lidocaine is generally safe, it can cause serious heart and nervous system problems in rare cases.

The ultrasound device used to liquefy fat cells may cause a thermal burn or other heat injury to the surface or deeper tissues. This can happen with ultrasound-assisted rhinoplasty designed to make it easier toxicity (if the solution contains too much lignocaine).

This can happen with priapic and super-wet liposuction fluid collection in the airways (if too much fluid is given). Excessive fluid loss during tumescent and super-wet tummy tucks can result in shock.
Liposuction recovery time?
If you're considering undergoing liposuction, you'll be concerned about recovery time. After the procedure, you'll experience soreness and swelling around the surgical site. Antibiotics may be prescribed for this purpose, so you'll need to stick to your post-surgery regimen. 
You can also take over-the-counter pain relievers, such as ibuprofen, to ease the discomfort. Afterward, you can return to work. To reduce the swelling and pain, you'll want to change your linens often. Using a plastic sheet will prevent the area from leaking.
The recovery time for liposuction varies widely, depending on the patient, the areas treated, and the technique used. However, if you had a small amount of fat removed, you can usually return to work in as little as five to seven days. A full recovery time can take up to four weeks. You should also refrain from heavy lifting and strenuous exercise for at least four weeks after your procedure.
After the surgery, you must wear compression garments to help reduce swelling and promote skin contraction. The surgeon will provide you with specific recovery instructions. 
You should follow them strictly. You should not drive for at least 24 hours. You should also take anti-inflammatory medications as directed by your doctor. You can also ice the affected areas after they've been treated. During this time, you should wear loose clothing over the compression garment.
Why is Liposuction affordable in Turkey?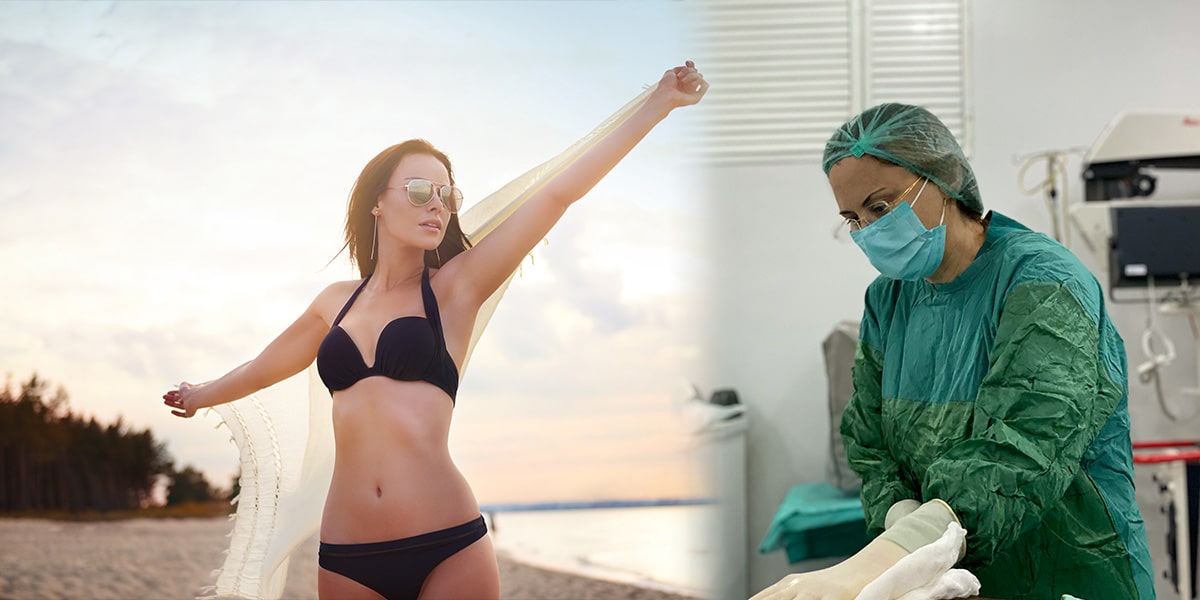 Liposuction in Turkey is much more affordable than in the European Union. The process starts by making small incisions in the areas of concern. A cannula is inserted into the body through these incisions and begins to suction out the fat.
Some types of this procedure include Laser-Assisted Lipo, SmartLipo, and Ultrasound-Assisted Liposuction. Some procedures require pre-injection of a saline solution to separate fat cells from the blood.
Liposuction prices vary according to the size of the area being treated. Liposuction procedures are also effective for preventing skin sagging and reduce the risk of skin sagging. Turkey has low living costs and the cost of cosmetic surgery is very affordable.
Turkey's government promotes the health sector and provides high-quality services and facilities to its citizens. Cosmetic surgery in Turkey is made more affordable by competition among plastic surgery clinics.
Liposuction is a highly effective procedure to reduce unwanted fat. Because it's affordable in Turkey, patients can save up to 50% on their surgery costs compared to other nations. Turkey's experienced plastic surgeons use the most advanced technology to create a great result for every patient. They apply the best liposuction technique for each individual, while keeping the costs low.
Liposuction Cost in Turkey vs UK
Medical tourism in Turkey has increased competition between clinics and the costs of liposuction are lower than in other parts of the world. Medical costs are lower in Turkey due to a reduction in the cost of living.
In addition, costs of logistics and shipping are removed from the final quote. The price of a single procedure in Turkey is lower than that in the UK, but this may not be the case for all procedures.
Liposuction in Turkey is the most effective method for removing stubborn fat deposits from body areas. It is performed by inserting a small cannula under the skin through tiny incisions.
In addition, traditional liposuction has lower costs than the VASER method, which uses ultrasound waves to make fatty tissues liquid. Liposuction in Turkey is more affordable than other liposuction procedures, including the more expensive Plasma J procedure.
The cost of liposuction in the UK and Europe is much higher than in Turkey. At reputable hospitals in Turkey, the cost of liposuction starts at around 2.500£. It is also possible to get liposuction in multiple areas and save a considerable amount of money.
In the UK, liposuction costs are usually between 4.000£ and 8.000£ Liposuction in Turkey costs 50% to 70% less than in the UK, and patients traveling from the UK can save up to 70 percent of their total expenditure.
Plastic surgery in Turkey is an effective and popular aesthetic procedure. Turkey has many medical facilities offering liposuction for both domestic and foreign patients. Most of these hospitals have international recognition and are accredited by leading organizations.
Global accreditation is a landmark for quality and standard of care. Several of them are affiliated with national medical institutions. As a result, they offer world-class liposuction for less than UK and European standards.
How much does liposuction cost in Turkey ?
The average cost of an liposuction in İstanbul, Turkey is 2700  EURO , minimum price is 2500  and  maximum cost is 2900 EURO. Prices may differ for different cities such as Istanbul, Antalya and Izmir.
Liposuction Cost in Turkey by Area
Abdominal liposuction
from 3500€
Love handles liposuction
from 3000€
Calf liposuction
from 3000€
Knee liposuction
from 3000€
Buttocks liposuction
from 3000€
Back liposuction
from 3000€
Neck liposuction
from 3000€
Upper arm liposuction
from 3000€
Liposuction Doctors in Turkey
Liposuction Reviews in Turkey

Harry Cox
I've recently had my surgery with Çağıl Meriç and his team, i must admit I am very pleased and i will highly recommend them. Absolutely amazing experience. From start to finish I felt safe and comfortable in everyone's hands. I would highly recommend this to anyone. I am almost 2 weeks post op and I feel great!

Robert Cow
Everything went well. I had liposuction surgery, they took very good care of me. The doctor speaks great English and put me in ease. The hospital staff are really friendly and the room was really comfortable and clean. Hotel and vip transfer was perfect. Thanks Letsmedi.

Allison Erik
I had gastric sleeve operation with you 1.5 years ago and I have lost 60 kg. It changed my life, as expected I had saggy skin which needs operation. I wanted to continue with this team. Its been already 2 months, I had a breast reduction, tummy tuck and liposuction, I cannot express enough how happy I am with my results after having my procedures. I got rid of from the saggy skin and finally have the good body shape. I want to say a huge thanks.
Paula Entwistle
I had tummy tuck and 360 liposuction in December. I am satisfied with the results. Everytime i need something they did their best to help. I was sore first couple days as I have been told but after the third day I started to feel better and after 3 weeks I was ok to get back to normal.
Fatima Abdjul
The clinic with the Doctors and there nurses are excellent I have done a tummy tuck Lipo 360 and breast lift and they were very supportive and had a excellent team my results were looking good from day 1 I would recommend this clinic to everyone.
Liposuction patients need to wait at least four to six weeks before engaging in physically demanding exercises. This is because the incisions need to heal, and overexertion can lead to complications.
If you're interested in swimming, talk to your plastic surgeon before you do. Swimming too soon after your liposuction will not only stretch the incisions, but it can also lead to infection in your healing tissues.
If you want to know if liposuction is right for you, there are some things you need to consider. For example, you will have to be over the age of 18. You must also be in good health, free from any medical conditions that could interfere with the surgery, and have realistic expectations.
Generally, the ideal candidate is someone who is in excellent general health and is within about 30% of their ideal weight. They should also have healthy diets and a regular exercise routine.
Here is a list of items you may need to pack for a liposuction surgery in Turkey:
Comfortable clothing for after the surgery (loose-fitting pants and shirts)

A compression garment to wear after the surgery.

Medications prescribed by your surgeon.

Personal hygiene items such as toothbrush, toothpaste, and shampoo.

Any special needs items, such as glasses or hearing aids.

A book, magazine, or tablet to pass the time during recovery.

A notepad and pen to keep track of your recovery and any questions you may have for your surgeon.