Breast Reduction in Turkey is one of the most preferred aesthetic surgery for people that comes to Turkey for cosmetic surgeries.
Breast reduction aesthetics entails surgically reducing your breasts that are too large for your body shape and resizing them in proportion to your body by lightening them. It is an aesthetic procedure performed by our skilled plastic surgeons in Turkey. 
Choose a plastic surgeon who specializes in breast reduction surgery. Large breasts are extremely weighty and wearing them creates posture problems as well as psychological issues over time.
The average cost of Breast Reduction in Turkey starts from 3.450 USD (2.800£) which is most affordable price compared to other countries. We are doing Breast Reduction in İstanbul, Antalya and İzmir, you can choose best option for you.
Here you can reach out and discover more information about Breast Reduction surgery journey in Turkey. Check all the details about Breast Reduction costs, our clinic's patients reviews, before & after photos from the best doctors, all-inclusive packages for Breast Reduction in Turkey.
You can get in touch with us for Breast Reduction in Turkey via Whatsapp or options below.
Breast Reduction In Turkey
Candidates

if it is not breastfeeding and is physically healthy, it also has a back, shoulder, or neck pain.

Procedure:

the removal of the skin-breast tissue that is weightlifting and drooling from the breast and the remaining breast being shaped in a more upright and esthetically improved condition.

Duration:
between 90 minutes and 3 hours
Stay:
8 days
Anesthesia:
General
Recovery:
1-2 days
Side Effect:
Pain
Exercise:
3-4 weeks
Scars:
Yes
Pain:
mild to moderate pain
Results:
2-3 months
Breast Reduction in Turkey
One of the greatest benefits of undergoing breast reduction surgery in Turkey is its affordable price. Plastic surgery costs in Turkey are between three and four times less expensive than in other countries. 
Compared to the UK or the Euro, breast reduction in Turkey is a bargain. In addition to the low price, breast reduction in Turkey comes with other benefits such as free surgical garments, aftercare tips, and a guarantee of the lowest price. Read on to find out more about breast reduction Turkey prices.
Aside from offering relief from back and neck pain, breast reduction surgery also helps improve one's self-image and general physical health. It's important to note that breasts change with age, gravity, weight fluctuations, and hormonal factors. Because of this, breast reduction surgery can help restore confidence and self-esteem. 
There are many advantages to having surgery, but the price may be the deciding factor. For this reason, Letsmedi offers an affordable breast reduction procedure, and also offers a complete package, including breast reduction Turkey prices.
The cost of a breast reduction procedure varies, and the exact cost depends on the process used to reduce the size of the breasts. Surgical breast reduction removes excess fat, skin, and tissue from the chest area. 
The patient's new breasts are shaped and have less volume. Patients often report an improvement in their overall health and feeling of self-confidence after the procedure. These benefits can be lifelong, especially when combined with a change in lifestyle.
How does a Breast Reduction works?
The surgery involves making incisions on pre-marked lines and removing excess fat and skin from the breast. The remaining tissue is reshaped and the nipple-areola complex is raised. Sutures are used to close the incisions, which go from deep tissue layers to the skin. A surgical drain is often placed in each breast to collect excess fluid during the healing process.
The procedure usually involves three incisions: the first starts at the areola and extends under the nipple. The third incision follows the natural curve of the breast base. The incisions help the surgeon determine the areas where the breast can be reduced in size and the new location of the nipple. This surgery is considered a medically necessary procedure and may be covered by your health insurance plan.
The recovery time for a breast reduction surgery depends on the extent of the procedure and the patient's natural healing process. Depending on the size of the breasts, patients may be able to walk around the same day as their procedure. 
However, they will need to be accompanied by someone they trust for the first few days after surgery. Some women may require a nursing assistant or a friend to help them get dressed for the first few days.
Our Clinic in Istanbul, Turkey
What is Breast Reduction?
A breast reduction, also called a reduction mammaplasty, is a surgical procedure to reduce the size of a woman's breasts. The purpose of breast reduction surgery is to improve the appearance and ease the physical burden of overly large breasts. Moreover, this procedure can reduce back and neck pain as well as improve breathing. 
Women who are self-conscious about their overly large breasts can also benefit from breast reduction. It is important to note that breast reduction surgery is not suitable for all types of women. 
Smokers should not undergo the procedure as it can adversely affect the effectiveness of the surgery. In addition, patients should have realistic expectations about the results of the surgery. This is so that they can be aware of the limitations of the procedure.
Before undergoing a breast reduction, patients are asked about their health and any allergies. The surgeon will also check their general health to determine if they need to take any medications before the surgery. Anti-inflammatory drugs, aspirin, or any supplements should be avoided by patients. 
They should also stop smoking as this can hamper the healing process. Smoking can also cause nipple and areolar damage, which can result in tissue necrosis. Patients are also required to discuss their medical history with the surgeon and provide written consent before the surgery.
How to do Breast Reduction?
When you are planning to have breast reduction surgery, you may be wondering how to prepare for the surgery. To begin, it is important to know what to expect. This yoga pose aims to reduce the size of your breasts by reshaping them and firming the front upper torso. In order to achieve this, you must have good balance. 
To start, bend your left knee forward and point your right toes in front. Next, raise your right arm and hand over your head. Continue this as many times as possible until your body is able to do so.
There are many different breast reduction techniques, which differ in size and shape. These techniques are also based on the surgeon and the patient's preferences. 
For the nipple reduction, the surgeon will make two small incisions around the areola and under the nipple. The surgeon will then remove tissue, fat, and excess skin from the underside of your breasts. This type of breast reduction leaves minimal scarring.
Recovery time depends on your natural healing and the extent of your surgery. Most patients can walk around the same day of the procedure, but a trusted adult should accompany them for the first 24 hours. A few days after the surgery, you may be able to shower but will need assistance getting dressed. 
Additionally, you will not be able to fully move your arms. You will likely have to sleep for a few days after surgery. This is because the swelling and bruising may stay in your body for a few days.
What are the Breast Reduction Risks?
Breast reduction surgery carries the same risks as other major surgeries, including bleeding, infection, and a side effect to anesthesia. Other potential hazards include:
Breast feeding difficulty or inability

Distinctions in the size, shape, and symmetry of the disfigured left and right breasts, which may necessitate additional surgery to improve your appearance.

Pain: The distress from this procedure is usually not severe. Painkillers are required in varying amounts by different people (analgesia). For the first few days, you may experience some discomfort, particularly as you walk around and cough. There could be additional discomfort for another week or more.

Deep vein thrombosis (DVT): This is a blood clot there in veins of the legs that can occur after surgery and bed rest. People who use the oral contraceptive pill and hormone replacement therapy, as well as those who smoke, are most at risk. A pulmonary embolus occurs when clots break off and travel to the lungs.

Transfusion of blood: A blood transfusion is not usually required after this procedure, but it may be necessary on occasion. Discuss this with your practitioner before surgery if you have strong feelings or religious beliefs about it. If you are found to have a poor blood count (anaemia) after your surgery, you will be given iron tablets.

Haematoma: This is a blood collection beneath the skin that can occur following surgery. A small drainage cylinder may be placed in each abdomen to allow any blood and fluid to drain into a tightly sealed bottle in an attempt to prevent this. Even with this care, blood can accumulate, causing a breast to be painful and swollen.

Drains: During the operation, a wound drain may indeed be inserted into each breast to allow any blood and fluid to drain. The drainage tube is connected to a vacuumed bottle, which collects and measures the fluid.
Breast Reduction recovery time?
Post-operative instructions include following a strict post-surgery diet, avoiding strenuous physical activity for three to four weeks, and limiting activities. A few days before surgery, patients are advised to rest at home or have someone care for any young children. 
Patients are not allowed to drive or lift anything more than five pounds for two weeks. Housework and laundry should be performed by someone else. The recovery time varies depending on the type of procedure.
While most women feel fine after a breast enhancement procedure, the recovery process can take months to complete. Many patients experience some numbness and swelling for the first two weeks, and some require a full 12-14 weeks of rest. 
A scar is also expected after surgery, which will fade over time. Depending on the type of procedure, a woman may be limited in their ability to move her breasts, although they should be comfortable enough to be able to shower.
The breast reduction recovery time depends on the procedure and the extent of tissue removed. Patients may be able to walk the day after surgery, but they should be supervised by a responsible adult for the first 24 hours. Several days after surgery, patients may be able to shower, but they should avoid heavy lifting or strenuous activities. 
They will also need someone to take them home. After surgery, they will receive a prescription for pain medication and will be unable to drive for up to six weeks.
Why is Breast Reduction affordable in Turkey?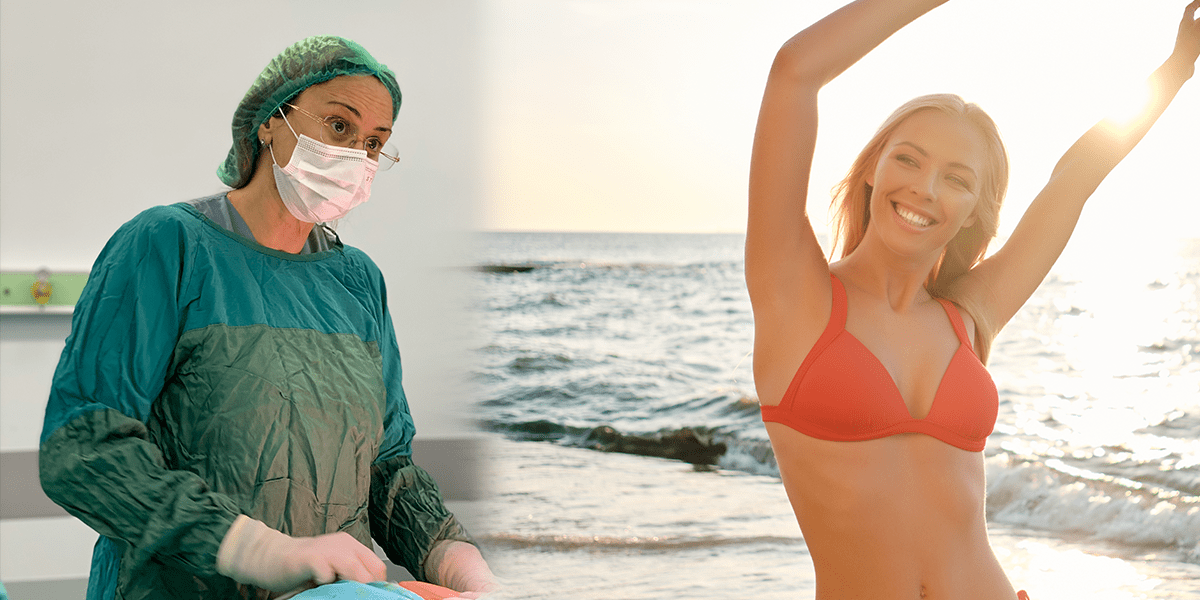 Turkey has a growing medical tourism industry and offers low-cost procedures and good standards of care. Turkey boasts well-trained, English-speaking doctors and medical staff.
Prices differ between countries, so you shouldn't base your decision solely on price. You should speak to several clinics and consider all costs. Reading patient reviews of Breast Reduction Turkey will also give you a better idea of what to expect.
The size of breasts is determined by genetics, age, body weight, and hormonal factors. Women with disproportionately large breasts may experience pain and discomfort.
Thankfully, breast reduction Turkey can help women achieve more proportional breasts. During the surgery, excess fat, glandular tissue, and skin are removed to achieve the desired shape and size. Patients can expect to see dramatic changes in their confidence and physical appearance after the procedure.
The procedure can be combined with a breast uplift. Breast uplift is another popular cosmetic surgery in Turkey. This surgery helps lift the boobs, and uses sutures to prevent scarring.
Afterward, you must stay in the hospital for 1 day to ensure your safety and recovery. Although the costs for breast reduction in Turkey vary, the process itself is generally affordable, ranging from two thousand to three thousand dollars.
Breast Reduction Cost in Turkey vs UK
You can save 50 to 70% on breast reduction surgery in Turkey. The Turkish economy, which makes healthcare affordable for foreigners, subsidizes the sector with taxes and lowers surgical fees, anaesthesia, and equipment. These savings are reflected in the low cost of the surgery. Here is an example of the difference in cost between the UK and Turkey:
Prices of breast reduction surgery in Turkey vary widely depending on the area. The average cost is about 2.800£ in Turkey. However, you should keep in mind that these prices are subject to change, due to the quality of the clinic and competition. In addition to affordable plastic surgery, Turkey also offers a variety of packages, including airport transfers, translation, and an English-language interpreter.
You may also want to consider the cost of breast reduction in UK. This can cost you around 5.500£ – 6.500£ Breast reduction in Turkey is performed by highly qualified surgeons in Turkey. The quality of the procedure is comparable to that of surgery in the UK. You can also expect to receive better care and a faster recovery. This procedure can dramatically improve your overall health and confidence.
After the surgery, the recovery time in Turkey is shorter. Depending on the size of your breasts, you may need an overnight stay. During this time, you should stay in Turkey for at least two weeks for post-surgical follow-ups. You will also need to wear a medical bra after surgery. During this time, you should avoid physical activities, including exercise, for a week or two.
How much does breast reduction surgery cost in Turkey ?
The average cost of a breast reduction surgery in İstanbul, Turkey is 3000  EURO , minimum price is 2700 and  maximum cost is 300 EURO. Prices may differ for different cities such as Istanbul, Antalya and Izmir.
Package Prices
Breast Reduction and Lift Surgery
6,545€
Breast Reduction and Tummy Tuck
6,758€
Breast Reduction and Liposuction
6,460€
Breast Reduction Doctors in Turkey
Breast Reduction Reviews in Turkey

Harry Cox
I've recently had my surgery with Çağıl Meriç and his team, i must admit I am very pleased and i will highly recommend them. Absolutely amazing experience. From start to finish I felt safe and comfortable in everyone's hands. I would highly recommend this to anyone. I am almost 2 weeks post op and I feel great!

Robert Cow
Everything went well. I had liposuction surgery, they took very good care of me. The doctor speaks great English and put me in ease. The hospital staff are really friendly and the room was really comfortable and clean. Hotel and vip transfer was perfect. Thanks Letsmedi.

Allison Erik
I had gastric sleeve operation with you 1.5 years ago and I have lost 60 kg. It changed my life, as expected I had saggy skin which needs operation. I wanted to continue with this team. Its been already 2 months, I had a breast reduction, tummy tuck and liposuction, I cannot express enough how happy I am with my results after having my procedures. I got rid of from the saggy skin and finally have the good body shape. I want to say a huge thanks.
Paula Entwistle
I had tummy tuck and 360 liposuction in December. I am satisfied with the results. Everytime i need something they did their best to help. I was sore first couple days as I have been told but after the third day I started to feel better and after 3 weeks I was ok to get back to normal.
Fatima Abdjul
The clinic with the Doctors and there nurses are excellent I have done a tummy tuck Lipo 360 and breast lift and they were very supportive and had a excellent team my results were looking good from day 1 I would recommend this clinic to everyone.