Dental Crowns in Turkey are one of the most popular treatments for people from all around the world that come to Turkey for smile makeover treatment.
The average cost of full Dental Crowns in Turkey ranges between 1.500 USD (1.220£) – 3.550 USD (4.000 £) which is the best option for patients compared to other countries. We are doing Dental Crowns in İstanbul, Antalya and İzmir, you can choose the best option for you.
Here you can reach out and discover Dental Crowns journey in Turkey. Check all the details about Dental Crowns costs, our clinic's patients reviews, before & after photos from the best doctors, all-inclusive packages for Dental Crowns in Turkey.
You can get in touch with us for Dental Crowns in Turkey via Whatsapp or options below.

A dental crown is a restoration placed on your tooth to replace lost aesthetics and function. It also protects your teeth from breakage. First, the tooth is prepared to be applied to the crown.
Then, using a special in-mouth digital camera, the teeth are measured. Then it is transferred to the machine that will prepare your crown by making a digital design of your crown with CAD/CAM technology and engraving full ceramic or zirconia blocks.
Another feature of our in-mouth digital cameras is that they offer you the opportunity to see your teeth at any time during the treatment process. So you can follow every step towards your dream smile. In dental deficiencies that occur in the mouth, the teeth move towards the cavities over time.
The movement of the tooth is that it comes over the tooth that comes after it and closes the gap. Over time, chewing disorders occur in the patient. Disorders that also adversely affect digestion also lead to damage to the gums and bone loss.
For this reason, treatment that is not performed on time becomes no longer applicable. Loss of teeth, dental perplexity and speech disorder in patients lead to problems such as loss of self-confidence in society, socialization. One of the main tasks of us physicians is to eliminate these problems of our patients.
Dental Crown Cost In Turkey
GBP
USD
EURO
x20 Porcelain Veneers
£ 4200
$ 6000
€5.000,00
x20 Laminate Veneers
£ 4200
$ 6000
€5.000,00
What are the Dental Crown Risks?
There are also some risks in dental operations.
Pain or sensitivity: A new king tooth may be attentive immediately following the methodology as the anesthesia wears off. You may discover some heat and cold sensitivity if the crowned toenail still has a nerve in it. Your dentist may advise you to brush your teeth to toothpaste formulated for sensitive teeth. When you bite down, pain or sensitivity usually indicates that the monarchy is too high on the tooth.

Crown chipping: Crowns made entirely of porcelain can chip. Small particles can be repaired, and the crown can be kept in place. If the microprocessor is large or numerous, the crown would need to be supplanted.

Loose crown: The cement that retains the crown in place can sometimes wash out from under the crown. Not only does it allow its crown to become loose, but it also allows bacteria to enter and cause decay to the remaining tooth. 

Crown comes off: A damaged tooth can come off. This is usually caused by an improper fit or a lack of concrete. If this actually occurs to you, contact your dentist's office right away. Until you can come in for an appointment, your dentist will give you specific guidance on how to feel for your tooth and crown.

Allergy: The metals that used make dental crowns are frequently a combination of several metals. An adverse response to the metal or porcelain used in the dental crown is possible. This is, however, extremely rare.

A dark sentence next to the gum line on a crowned tooth: You may notice a dark line adjacent to the gum line of your coronation tooth. This is completely normal, especially if you have a styrofoam crown. This shadowy line is simply the metal of the crown displaying through.
Our Clinic in Istanbul, Turkey
Dental crown treatment is one of the oldest and classical dental treatments. It is suitable for many patients. But to get best results of Dental Crown, your mouth and jaw structure must also respond to it. 
It may not be suitable for much damaged teeth. But don't worry! There are many treatment methods as an alternative to dental crown treatment. Your dentist can easily decide this. The success rate of dental crown treatment is high and the treatment period is very short.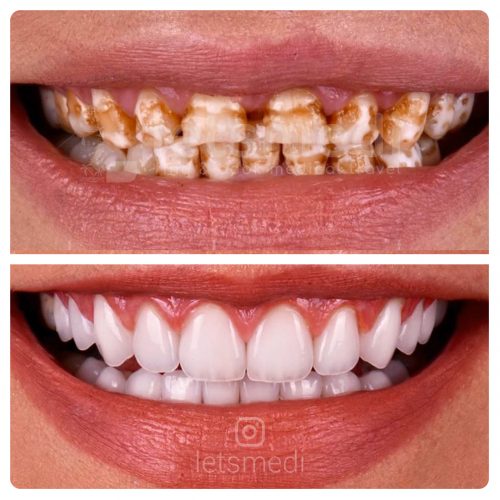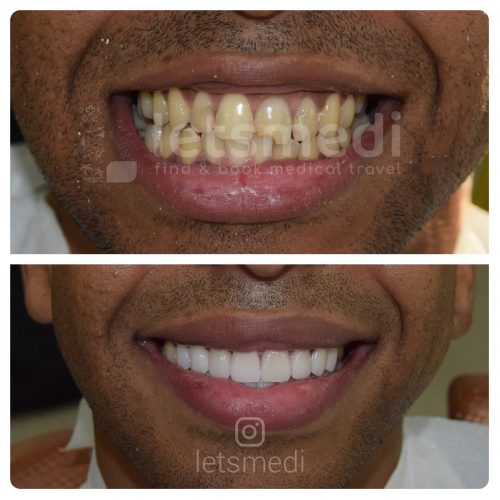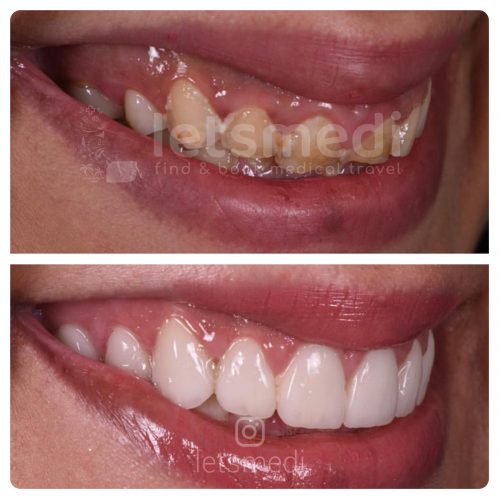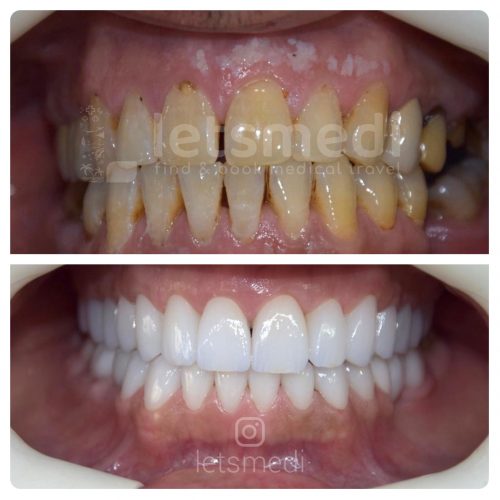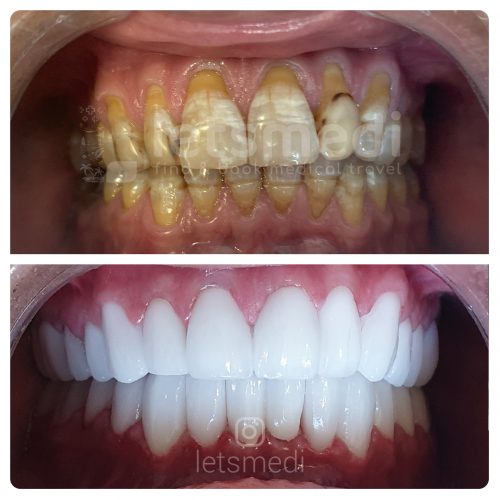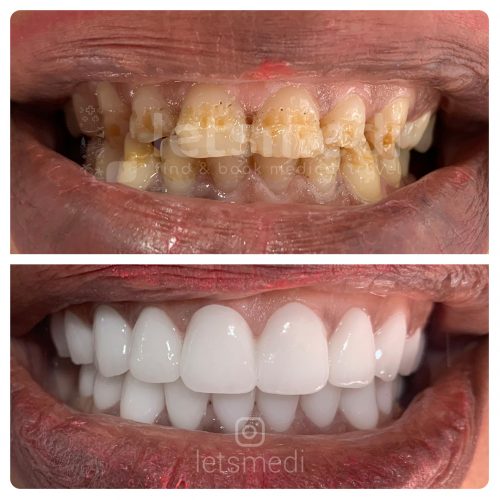 How much do dental crowns cost in Turkey?
Dental crowns prices in Turkey range from $1,500 to $3,550. The fact that it is zirconium or metal porcelain causes changes in prices. You can have a crown treatment in Turkey by choosing the most suitable crowns for your budget. Prices are valid for 2022. You and your dentist can decide which material is right for you. 
When you compare Turkey and European countries, you will see that dental crowns prices are very affordable in Turkey. The material quality is also the best. Pricing is done as a package. You can contact us to learn about all-inclusive prices.
Dental Crown Cost in Turkey Vs UK
If you're thinking about getting a dental crown but don't want to pay a fortune for it, you should look at the Dental Crown Cost in the UK versus Turkey. Prices in Turkey are more affordable due to the support that the government provides for private health care. Turkey's low taxes mean that costs are low, but this doesn't mean that the quality is lower. Materials used in dental crowns are the same as those used in other countries.
The first step is to find a clinic you trust. Whether you decide to go with an established clinic or a new one, you need to feel comfortable in your decision. If you're planning on having multiple crowns placed, you'll need to stay in Turkey for a certain period of time to let the materials set in. During this time, you'll likely have to travel a little to get your crown.
Another difference between the two countries is the cost of porcelain crowns. These non-metal orthopaedic structures are extremely durable, and are ideal for restoring chewing function. Porcelain is a biocompatible material that is also tintable, and matches the color of natural tooth enamel.
They cost around 1.220£ in Turkey and 4.000£ in the UK. The cost of porcelain crowns in Turkey is lower than that of the UK, so there's no need to worry about aesthetics. A dentist in Turkey can arrange a full dental holiday package for you – complete with a trip to the UK and even a flight to your preferred destination.
A dental crown in Turkey can be a life-changing procedure for you. Not only can it improve your overall appearance, but it can also protect your teeth from damage. It is not expensive, and Turkish clinics offer top-notch quality at lower prices than those in other countries. You can even use dental insurance in Turkey! So don't miss this opportunity – get a dental crown in Turkey today. You won't regret it!
Best Dental Crown Dentists in Turkey
Dental Crown Reviews in Turkey

Harry Cox
I had 20 zirconium crowns, the overall service was 10/10, the clinic is nice, clean and professional. All the staff from the patient coordinators, the driver, the dentist, assistants were very helpful and friendly. If you are thinking to come here don't think about it just come!

Robert Cow
Everyone at the clinic is very helpful and makes you feel comfortable as you are at hometown. They really do their job very well and professional. Now I have amazing teeth and not embarrassed anymore to smile. So pleased and grateful! Great price great holiday I couldn't ask for more!

Allison Erik
Perfect service from start to finish! I had 4 dental implants, sinus lift, root canal treatment on my first visit. Every single tooth was covered with zirconium crowns for a complete smile design. I'd highly recommend this place! In the UK prices are way out of my range, here you get the affordable prices and the best service!
Paula Entwistle
I had 12 implants and complete new top and bottom teeth, price and quality of service was amazing! Be sure that you will get the best treatment here. So far I had no problem with my new teeth. Thank you all guys!
Fatima Abdjul
I got my dental implant work done through Letsmedi Group and although I was extremely nervous for the procedure, my worries pretty much fade away shortly after arrival. They take me from airport directly to the hotel. After 1 day resting they took me to the dental clinic for my zirconium crown treatment. Everything was quite perfect, i had 2 extra tooth to be extracted. They done it for free. I was so glad about it. They are so clear about the price, there is no hidden costs. I'm very grateful to the team and would highly recommend them.