Porcelain Crowns in Turkey are a safest and most affordable treatment for European people that comes to Turkey for smile makeover treatment.
A porcelain crown is a type of porcelain dental crown. They are generally invisible in colour and provide the patient the desired appearance. Porcelain crowns are the finest alternative for patients in Turkey, especially for cosmetic grounds. Brushing and flossing will enough to make your porcelain crown appear natural. 
Remember that attending follow up consultations after the crown has been placed is critical for us to determine how the patient's lips is responding to the crown. If there are any issues, your dentist will contact you right away.
The average cost of full Porcelain Crowns in Turkey is 2.400 USD (1.790£) which is the most affordable option for patients compared to other Europian countries. We are doing Porcelain Crowns in İstanbul, Antalya and İzmir, you can choose best option for you.
Here you can reach out and discover Porcelain Crowns journey in Turkey. Check all the details about Porcelain Crowns costs, our clinic's patients reviews, before & after photos from the best doctors, all-inclusive packages for Porcelain Crowns in Turkey.
You can get in touch with us for Porcelain Crowns makeover in Turkey via Whatsapp or options below.
Treatment Details
Placement

Teeth will be trimmed and crowns will be placed on upper and lower jaw.

Eligibility
Patients with shape, color, bite and size problems in their teeth.
Processing time
7-10 hours
Surgical procedure
Yes
Anesthesia type
Local
Prosthesis
No
Durability
Minimum 10 years
Warranty
10 years
Recovery time
7 days
Appearance
Like natural teeth
Cleaning
Can be cleaned like normal teeth
Accommodation
7 days
 
Porcelain Crowns Cost in Turkey
 
GBP
USD
EURO
Zirconium Porcelain Crowns
x20
From £2.650,00
From $3.550,00
From €2.990,00
Metal Porcelain Crowns x20
From £1.100,00
From $1.500,00
From €1.275,00
Our Clinic in Istanbul, Turkey
Porcelain Crown Procedure
First of all, if there is caries on the teeth, they are cleaned, neighboring teeth are prepared. After the teeth are corrected and ready, the measurement process is started. It is specially prepared in a laboratory environment and the infrastructure is rehearsed. After its conformity is clarified, the crown is fixed and glued. 
The most important goal of the dentist in this process is to achieve the result closest to the natural tooth, as well as to maintain the oral health of the person. For this, all its features, such as the color and shape of the teeth, are evaluated. Taking care of oral and dental health care prolongs the life of porcelain crowns. 
The compatibility of porcelain crowns with the surrounding tissues also prolongs the process. Crowns that are incompatible with gums and teeth may need to be removed. That is why it is important that it is applied by an experienced dentist in his field. With regular control and careful dental care, the patient can use it for many years. 
It is considered easier by the patient than dentures that can be installed and removed, but a number of conditions must exist for it to be applied. After preparation and measurement of the teeth, the procedure is completed in 3-4 sessions and 1 week. 
There are many types of prosthesis, including metal-supported porcelain, Non-metal porcelain, and Zirconium-supported porcelain. The most suitable one for your mouth will be determined by your doctor.
What are the Porcelain Crown Risks?
Like any transaction, this crown is risky.
The metal component of porcelain fused to metal (PFM) crowns can sometimes be could see through the porcelain layer that covers the tooth, which poses the greatest risk. This casts a dark shadow inside the tooth.

All porcelain crowns are less resistant to cracking and chipping than PFM crowns. When eating tough foods or taking part in sports, you should exercise extra caution.

Those crowns are more prone to causing tooth sensitivity, especially to hot or cold temperature changes. Publicity to these could be severe enough to damage the crown.

Crown Detachment or Damage: The risk of complications does not end with both the treatment. Following that, your dental crown may sustain damage or even detach from your tooth. A blow to the mouth, usually caused by a sports injury or a fall, can splinter or chip the crown material.

Bite Problems: Metal crowns are pretty thin, but they do have some thickness, which may increase tooth coverage after treatment. This increase in texture may occur despite the removal of some tooth enamel.

Reactions to Allergens: Dental crowns are made from a variety of materials, including metal, zirconia (metal-free glass), porcelain, and resin. Some of these substances, particularly metal crowns, cause allergic reactions in a few people. If you receive the treatment without first having an allergy test, you might well develop severe allergies to the crown material afterward.

Recession or Gum Irritation: Your dental crown may cause gum irritation or even increase the likelihood of gum recession. Gum irritation occurs because the tiara material ends just above the gums, causing the crown to rub against your gums. Gum irritation raises the risk of tooth decay, especially if you don't practice good oral hygiene. As a result, your gums may disappear away from your tooth, exposing the tooth roots.
Different materials can be used in the treatment of dental crowns. Porcelain crown is one of them. To get best results of Porcelain Crown, it should be determined whether the tooth to be treated is suitable for this. 
Since porcelain crowns are very sensitive materials, good material quality ensures successful treatment. In addition, taking the correct measurement is very important for the comfort of the patient. Porcelain crown treatment in Turkey is one of the most ideal treatment options for you.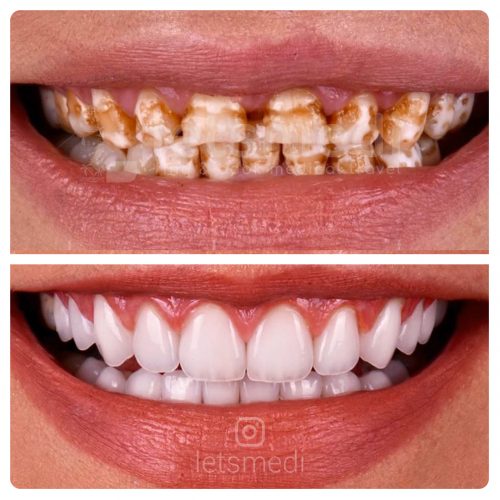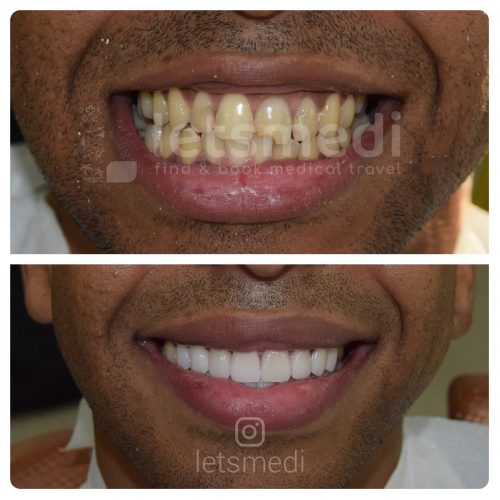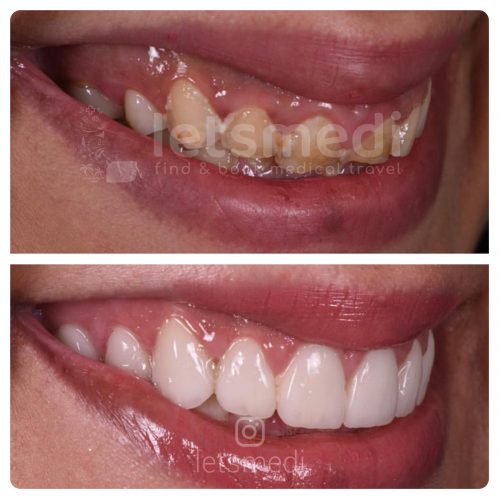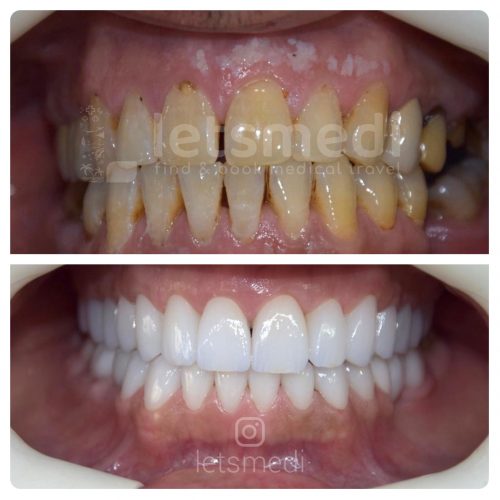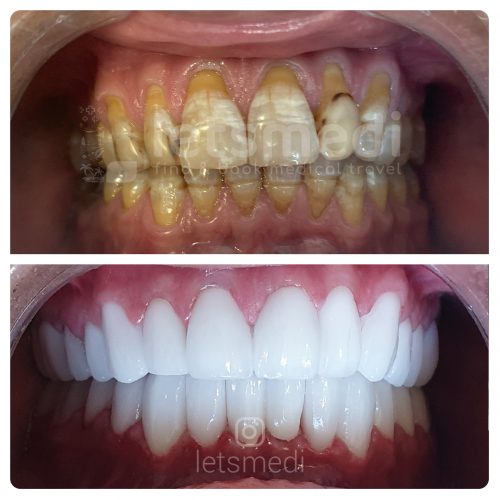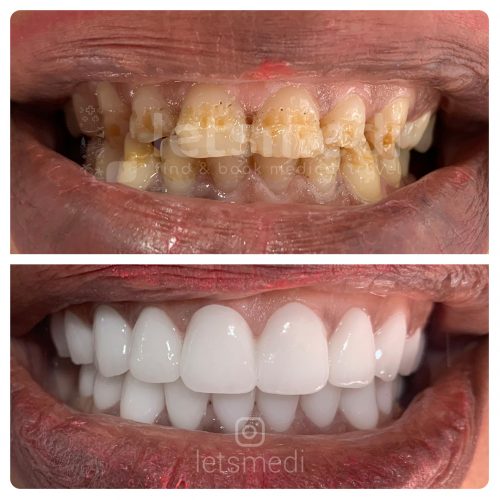 How much do porcelain crowns cost in Turkey?
With porcelain crown prices starting from 1275 Euro, Turkey is the most affordable country in Europe. As you know, porcelain is the most expensive material in crown treatment and requires a very delicate process. 
You can have perfect porcelain crowns in as little as 1 week. For this, it is sufficient to choose a budget-friendly porcelain crown treatment in Turkey. If you want to minimize your individual expenses in Turkey during your treatment, call us for all-inclusive packages. Let us present the most suitable porcelain crown treatment packages for you.
Porcelain Crown Cost in Turkey vs UK
If you're considering getting a porcelain crown, you're probably wondering how much it costs to have this procedure performed in Turkey. While costs can vary greatly between countries, Turkey's porcelain crowns are typically much more affordable than those in the UK. In fact, the average cost of a porcelain crown in the UK starts at 13.000£, while Turkey's starts at 1.790£. Here are some benefits to porcelain crowns:
First, the procedure itself is more affordable. A zirconium crown in Turkey costs around 2.650£ compared to about 15.000£ in the UK. Porcelain crowns cost around 90£ per tooth, while a zirconium crown in the UK can be up to 800£. With the cost of a ceramic crown in Turkey, you'll save up to 70% on the procedure.
Second, zirconia crowns are more durable. They are made from a zirconium core, with a porcelain enamel outer layer. Because of their strong construction, they are also incredibly attractive. 
A typical zirconia crown costs around 2.650£. Another big advantage is that zirconia crowns are much more affordable than metal crowns. If you're considering a titanium or zirconium crown, the price difference between these two countries is quite dramatic.
Third, Turkish dentists are much more affordable than those in the UK. This means that Turkish dental clinics are more accessible to international patients. Additionally, the costs in Turkey include permanent translation services and private shuttle services. The quality of care is similar, but the price may be lower in Turkey. 
You can even get a more affordable dental crown in Turkey if you're willing to compromise on quality. In general, you'll find dental crowns made of high-grade materials at Turkish clinics.
Best Porcelain Crown Dentists in Turkey
Porcelain Crown Reviews in Istanbul, Turkey

Harry Cox
I had 20 zirconium crowns, the overall service was 10/10, the clinic is nice, clean and professional. All the staff from the patient coordinators, the driver, the dentist, assistants were very helpful and friendly. If you are thinking to come here don't think about it just come!

Robert Cow
Everyone at the clinic is very helpful and makes you feel comfortable as you are at hometown. They really do their job very well and professional. Now I have amazing teeth and not embarrassed anymore to smile. So pleased and grateful! Great price great holiday I couldn't ask for more!

Allison Erik
Perfect service from start to finish! I had 4 dental implants, sinus lift, root canal treatment on my first visit. Every single tooth was covered with zirconium crowns for a complete smile design. I'd highly recommend this place! In the UK prices are way out of my range, here you get the affordable prices and the best service!
Paula Entwistle
I had 12 implants and complete new top and bottom teeth, price and quality of service was amazing! Be sure that you will get the best treatment here. So far I had no problem with my new teeth. Thank you all guys!
Fatima Abdjul
I got my dental implant work done through Letsmedi Group and although I was extremely nervous for the procedure, my worries pretty much fade away shortly after arrival. They take me from airport directly to the hotel. After 1 day resting they took me to the dental clinic for my zirconium crown treatment. Everything was quite perfect, i had 2 extra tooth to be extracted. They done it for free. I was so glad about it. They are so clear about the price, there is no hidden costs. I'm very grateful to the team and would highly recommend them.