Zirconium Crowns in Turkey are extremely advanced and affordable treatment for people that comes to Turkey for smile makeover treatment.
Before zirconium crown treatment, the roadmap of targeted therapy in Turkey is drawn by doing a complete intraoral examination and a panoramic X-ray. The tooth and gingival structures must be healthy before the zirconium coating is put. Turkish doctors look at this first, it is an important. It is impossible to discuss a healthy and long term orthodontic care for a mouth that lacks a healthy dental and gum structure.
The average cost of Zirconium Crowns in Turkey is 3.550 USD (2.650£) which is the most affordable option for patients compared to especially USA and UK. We are doing Zirconium Crowns in İstanbul, Antalya and İzmir, you can choose best option for you.
Here you can reach out and discover more information about Zirconium Crowns journey in Turkey. Check all the details about Zirconium Crowns costs, our clinic's patients reviews, before & after photos from the best doctors, all-inclusive packages for Zirconium Crowns in Turkey.
You can get in touch with us for Zirconium Crowns makeover in Turkey via Whatsapp or options below.
Treatment Details
Placement

Teeth will be prepped and crowns will be placed on upper and lower jaw.

Eligibility
Patients with shape, color, bite and size problems in their teeth.
Processing time
3-4 hours
Surgical procedure
No
Anesthesia type
Local
Prosthesis
No
Durability
Minimum 10 years
Warranty
5 years
Recovery time
7 days
Appearance
Like natural teeth
Cleaning
Can be cleaned like normal teeth
Accommodation
7 days
Zirconium Porcelain Crown Packages
Zirconium Porcelain Crowns Cost in Turkey
GBP
USD
EURO
Zirconium Porcelain Crowns x20
£2.650,00
$3.550,00
€2.990,00
Our Clinic in Istanbul, Turkey
Zirconium Crown Procedure
The preparation of zirconium teeth is the same as that of classical metal-supported porcelain, but the difference begins with laboratory processing. Zirconium can be made with devices with computer technology. In this method, the measurements taken from the patient's mouth are scanned on optical readers in a computer environment. 
Zirconium sheets are cut and shaped by computer thanks to untouched milling systems. Then the designs (CAD) are made and the production (CAM) is started. Zirconium is successfully used in single tooth crown restorations, 3-6 member bridges, implant crown – bridge studies with these technologies developed. 
For many years, clinical applications have been passed all over the world. With this new application, the aesthetic concerns caused by metal-ceramic restorations are definitely eliminated in the patient. The process of preparing zirconium crown in the mouth is the same as preparing and measuring classic porcelain teeth. 
The difference begins with laboratory procedures. The porcelain used in this system has zirconium in its substructure so that excellent aesthetic quality and naturalness are achieved and the construction period is also shortened.
What are the Zirconium Crown Risks?
Crowns are made of certain materials, and in some cases, there are risks.
Zirconium Crown Allergic Reactions: Patients frequently confuse dental crown toxicity of anaphylaxis to the materials used to create their crown. As a result, some patient claims of dental crown toxicity are due to other factors such as an allergic reaction to a specific metal alloy, an infection, or poor dental hygiene.

It is common to have increased sensitivity to heat and cold.

Crown breakage can occur as a result of teeth grinding or a strong impact.

Dental crowns have an 8-year survival rate of 94% and an 18-year survival rate of 75%.

Discomfort: After the morphine from the procedure wears off, teeth that have released new crowns may be sensitive. There is also a chance that if the reigning champion tooth still has a nerve in it, it will be more sensitive to heat and cold. Brushing with toothpaste planned for sensitive teeth is one recommended treatment.

Crown Damage: One disadvantage of porcelain but rather ceramic crowns is that they can chip. Many minor chips can be easily repaired while the crown is still in place. However, if there are larger chips, the given material may need to be replaced.

Crown, Loose: Dental crowns can occasionally fall off or break free if they are not properly fitted or given the appropriate amount of cement. Loose crowns can also occur if the adhesive cement that holds them in position is washed out from beneath the crown. Aside from the loose crown, this is a cause for concern because bacteria could enter the area and start causing further decay to the back teeth.

Crowned Tooth with Dark Lines: Porcelain fused to metal crowns can occasionally cause a dark line next to the gum line of the crowned tooth. These paths are actually the crown's metal showing through.
Zirconium crown is one of the crown treatments. Different substances are used to treat each crown. It depends entirely on the decision of the patient and the dentist. To get the best results of Zirconium Crown, your tooth must be suitable for this. Zirconium crown treatment is not performed for every tooth. For this, you must first agree. High-quality zirconium crown prolongs the period of dental use and ensures your comfort.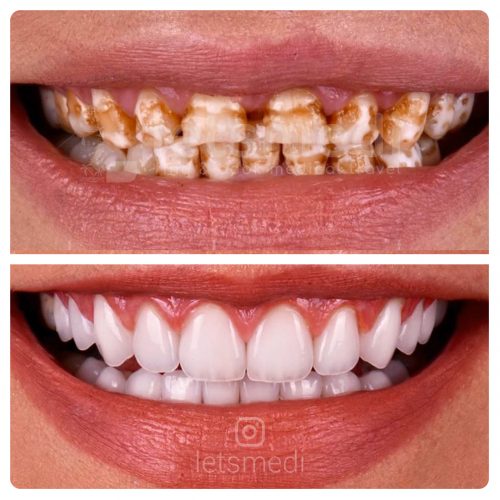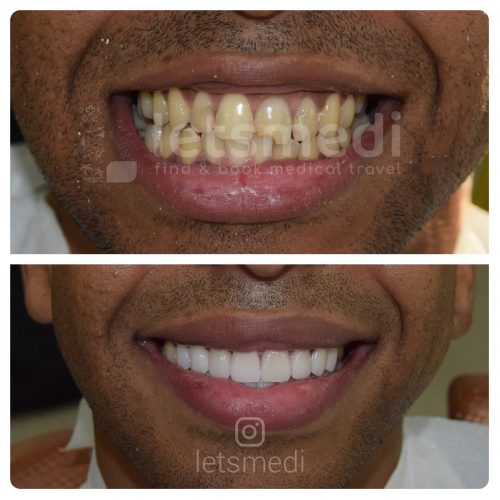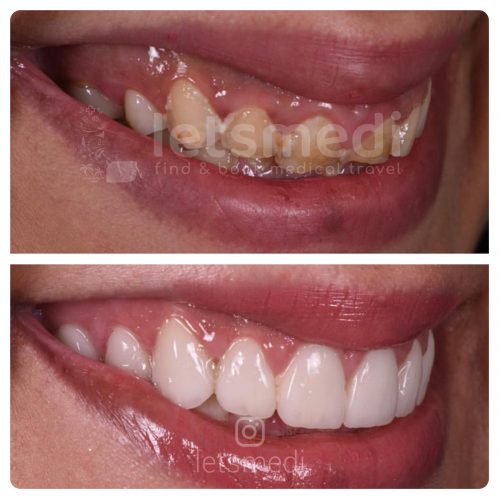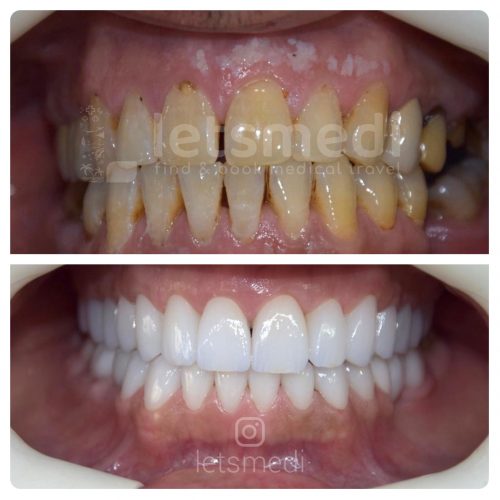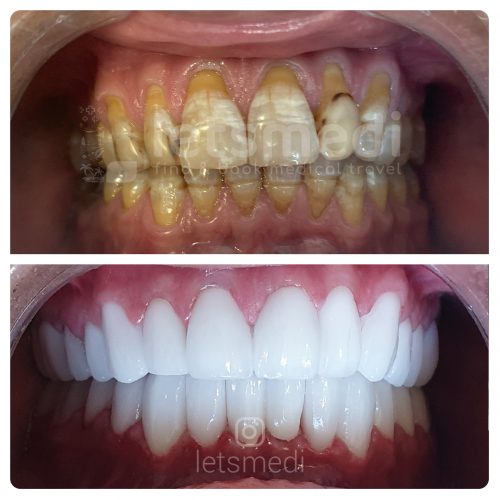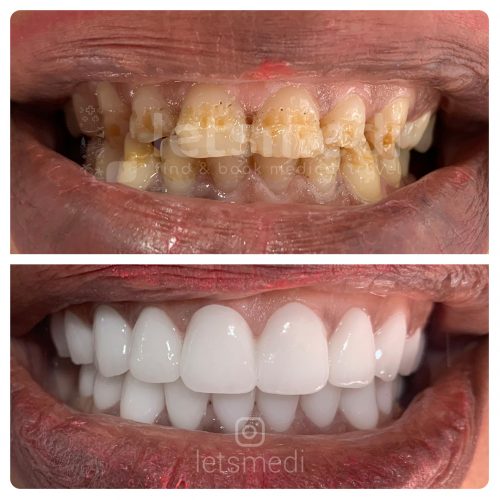 How much do zirconium crowns cost in Turkey?
Zirconium crowns prices are very affordable in Turkey. The reason for this is that the material is prepared in Turkey and this ensures that this treatment is affordable. Zirconium crown treatment, which starts at $ 3550, is the most affordable price as of now.
Both the affordable price and the extremely successful treatment make the zirconium crowns treatment very popular in Turkey. It is also an advantage that the treatment is completed in a very short time. Call us if you want to have zirconium crowns treatment in Turkey with the most affordable prices.
Zirconium Crown Cost in Turkey vs UK
The cost of zirconium crowns can be much more affordable abroad, especially in countries that have developed medical tourism. However, the price of a zirconium crown can also be affected by factors such as the clinic's location, the surgeon's experience, and the technique used to place the crown. Below is a comparison of the costs of zirconium crowns in Turkey and the UK.
First of all, porcelain crowns are less expensive than zirconium crowns. While they are less aesthetic than porcelain, they are much more durable and last longer. Moreover, they are biocompatible and therefore, healthy. Therefore, you don't need to worry about having your smile restored after the procedure. Finally, metal ceramic crowns are also less expensive than zirconium crowns.
The Zirconium Crown Cost in Turkey compared to the UK is considerably less. The cost includes the implant, abutment, and zirconium porcelain croon. In the UK, the same procedure costs between 13,000-16,00 pounds. For that matter, you will save up to 70 percent on the implant price in Turkey. And this is only the beginning! You can also save money on cosmetic dentistry by traveling to Turkey!
A single porcelain fused to zirconia crown (PFZ) costs around 132.5£ at Turkey. In addition to free VIP transfers and five-star accommodation, you can get a full set of PFZ crowns for 2.650£ in Turkey and 15.000£ in the UK. During the procedure of zirconia crown, you will be exposed to certain chemicals like Covid-19. These are potentially harmful and should be avoided if possible.
Best Zirconium Crown Dentists in Turkey
Zirconium Crown Reviews in Istanbul, Turkey

Harry Cox
I had 20 zirconium crowns, the overall service was 10/10, the clinic is nice, clean and professional. All the staff from the patient coordinators, the driver, the dentist, assistants were very helpful and friendly. If you are thinking to come here don't think about it just come!

Robert Cow
Everyone at the clinic is very helpful and makes you feel comfortable as you are at hometown. They really do their job very well and professional. Now I have amazing teeth and not embarrassed anymore to smile. So pleased and grateful! Great price great holiday I couldn't ask for more!

Allison Erik
Perfect service from start to finish! I had 4 dental implants, sinus lift, root canal treatment on my first visit. Every single tooth was covered with zirconium crowns for a complete smile design. I'd highly recommend this place! In the UK prices are way out of my range, here you get the affordable prices and the best service!
Paula Entwistle
I had 12 implants and complete new top and bottom teeth, price and quality of service was amazing! Be sure that you will get the best treatment here. So far I had no problem with my new teeth. Thank you all guys!
Fatima Abdjul
I got my dental implant work done through Letsmedi Group and although I was extremely nervous for the procedure, my worries pretty much fade away shortly after arrival. They take me from airport directly to the hotel. After 1 day resting they took me to the dental clinic for my zirconium crown treatment. Everything was quite perfect, i had 2 extra tooth to be extracted. They done it for free. I was so glad about it. They are so clear about the price, there is no hidden costs. I'm very grateful to the team and would highly recommend them.