All on 4 Dental Implants in Turkey are one of the most popular operations for American and British people that comes to Turkey for dental operations. 
All on 4 is a branded denture procedure. The name means supporting all teeth using only 4 dental implants. All On 4 dental implants provides great comfort for patients who need prosthetics. We offer the best treatments at the most affordable prices, especially with our experienced oral surgeons in Turkey. For this reason, it is very good for you to do these procedures here.
The cost of All on Four Dental Implants in Turkey starts from 4.275 USD (3.150 £) which is the most affordable option compared to abroad. We are doing All on 4 Dental Implants in İstanbul, Antalya and İzmir, you can choose best option for you.
Here you can find out and discover more information about All on Four Dental Implants journey in Turkey. Check all the details about All on 4 Dental Implants costs, our clinic's patients reviews, before & after photos from the best doctors, all-inclusive packages for All on Four Dental Implants in Turkey.
You can get in touch with us for All on 4 Dental Implant packages in Turkey via Whatsapp or options below.
Treatment Details
Placement
Attached to titanium implants in the jaw bone
Eligibility
Completely toothless,patients who cannot use removable prostheses
Processing time
3-4 hours
Surgical procedure
Yes
Anesthesia type
Local
Prosthesis
Yes
Implant brand
NucleOSS
Durability
At least 10 years
Warranty
10 years
Recovery time
3 months
Appearance
Like natural teeth
Cleaning
Can be cleaned like normal teeth
Accommodation
First visit:3 Second visit:14 days
All on 4 Dental Implant Packages
The fact that dental treatment in Turkey is so inexpensive in comparison to nations like the United Kingdom or the United States is largely due to the government's support and encouragement of medical tourism. So, Turkish dental prices are nearly 70% lower than those in US and UK.
The other reason for the more affordable prices for "All on 4 Dental Implants" is the economy itself. The Turkish lira is steadily losing value against the USD and Euro, therefore anyone with those money in his or her pocket is much wealthier while visiting Turkey. And, eventually, life would be less expensive for them!
All On 4 Dental Implant Cost In Turkey
BRANDS
GBP
USD
EURO
Zinedent
£3.150,00
$4.275,00
€3.650,00
Nucleos
£3.200,00
$4.355,00
€3.695,00
Osstem
£4.500,00
$6.125,00
€5.200,00
Medentika
£5.000,00
$6.800,00
€5.770,00
Megagen
£5.750,00
$7.825,00
€6.650,00
Straumann
£5.900,00
$8.000,00
€6.800,00
Our Clinic in Istanbul, Turkey
All on 4 Dental Implant Procedure
The All on four technique has been used for more than 20 years and has been scientifically proven to be a successful technique. In the technique, 2 implants are placed in the posterior region of the jaw at an angle of 30 – 45 degrees, while the other 2 implants are placed perpendicular to the anterior region. 
All on four patients are measured and temporary prostheses are prepared before treatment. If the patient has teeth to be pulled out under local anesthesia, they are pulled out and their implants are inserted. Temporary prostheses made by taking measurements from the top of the implants from patients are applied to these implants. 
When the bone melts in the area of large molars in the lower jaw, the lower jaw nerve passing through it, and in the upper jaw, the maxillary sinuses prevent the implant from being made in these areas. After 3-4 months, permanent dental prostheses are made. 
| | |
| --- | --- |
| Recovery Period: | 2 days after treatment stitches will be checked 1.5-2 weeks later stitches will dissolve Implant integration time: 3-6months |
| Length of Procedure: | First visit: total:4 hours Second visit total: 6 hours |
| Duration in Turkey: | First Visit: 3 days Second Visit: 14 days |
| Pain: | Numbing injections will be performed. During the process patient won't feel any pain. After process first day we advise to take painkillers and press ice bag on face to prevent swelling. |
| Average Cost: | 4650 EUR Single Jaw |
| Types: | All on 4 |
| İnsurance: | Implants Life Time Crowns 5 years |
| Finance / Payment Plan: | Cash Card Payments (%11 commission) Online Payment |
What are the All On 4 Dental Implant Risks?
There are some possible risks with such implants, of course, we will talk about them below.
Risks Associated with Anaesthesia: The type of anaesthesia used is determined by the dentist's office as well as the patient's specific requirements. There are several options available, including mild anaesthesia, which may be suitable for those who are less nervous about the procedure.
Failure of an Implant: All on 4 dental implants have the potential to fail. This occurs in approximately 5% of patients. It occurs when the implants do not splice with the tooth.
The Threat of Infection: Infection is a risk with any type of surgery. A good orthodontist will take every precaution to lower this risk. Infections do occur, however, for a diverse range of reasons. The inclusion of peri implantitis, a type of infection, is one of the more common outcomes.
Following All on 4 implants, there is a low risk of infection. However, if inflammation does occur, it is critical to treat it as soon as possible.
Maintain a clean and hygienic mouth after surgery and notify your dentist if anything seems unusual or wrong, such as loose implants, puffy mucilage's, bad breath, ramping up pain around in the implant, pus, fever, or noticeable bleeding.
Individuals who have received the treatment will undoubtedly experience discomfort, swelling, or redness in the first few days. However, once these natural symptoms have subsided, the true integrity of said implants will become apparent.
Speech: If your All on 4 dental implants are not properly placed, your speech may suffer. If the implants are too high or too bulky, the airflow will change, affecting how your acoustic resonates.
Aesthetics: If the implants have always been placed in a shallow position, the temporary section covering its space between it bridge and the individual's gums may be exposed. This will have a significant impact on the final product's aesthetics.
All on 4 dental implant treatment is a more difficult and detailed treatment method than conventional dental implant treatment. To get best results of All on 4 Dental Implant, it must first be determined whether you are suitable for this treatment. Because every patient may not be suitable for this. It is essential that your jawbone is of sufficient density. Of course, the dentist will decide this. If necessary, the treatment is completed by adding more bone greft.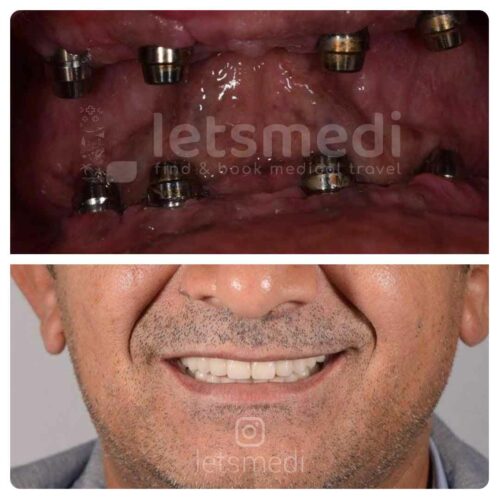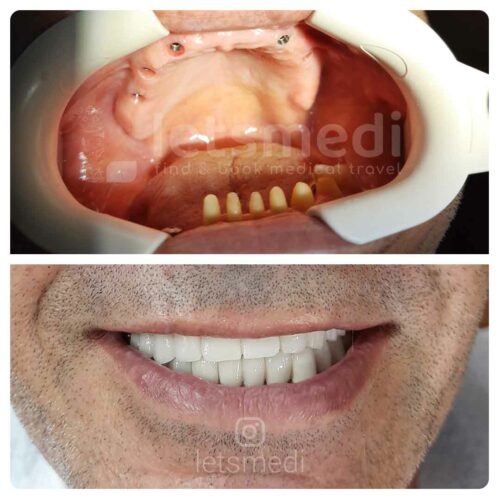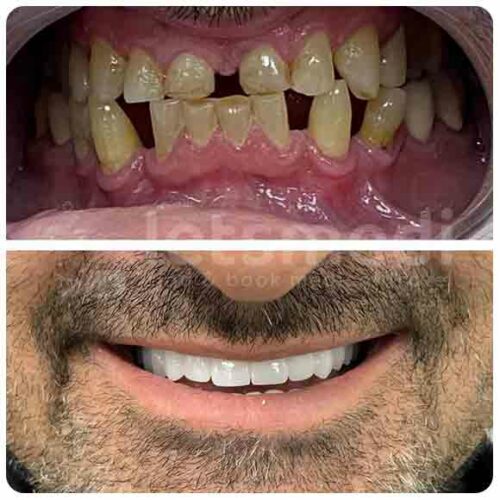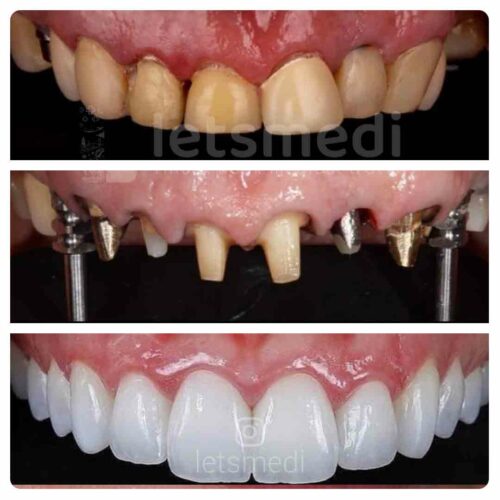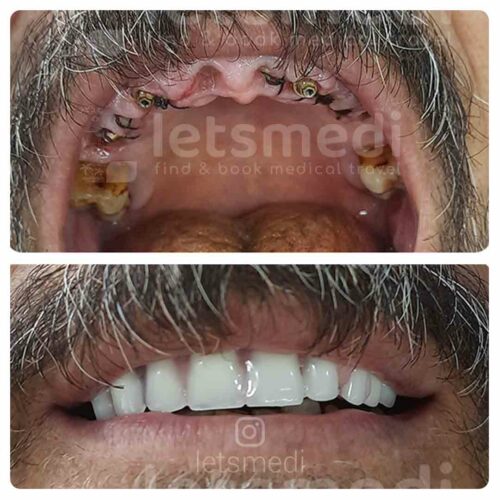 How Much Do All On 4 Dental Implants Cost In Turkey?
Starting from €4650, all on 4 Dental Implant treatment is performed at the most affordable prices in Turkey. This treatment method has been performed by Turkish dentists for many years. The very successful results and the very affordable prices increased the demand from European countries. 
In 2022, thousands of patients are getting all on 4 dental implant treatments in Turkey. Prices may vary depending on the patient's condition, oral structure and the content and quality of the material used.
All On 4 Dental Implant Cost in Turkey vs UK
While you may not want to pay more for an All-on-4 procedure than you would in the UK, there are a few advantages to choosing a clinic in Turkey for the procedure. 
All-on-4 implants are titanium screws that replace the roots of missing teeth. Afterwards, they are covered by synthetic teeth or bridges made of specially adapted materials. You may even have a brand-new set of teeth in a few days!
You'll pay 3.150£ for an All-on-4 procedure in Turkey. In fact, the cost for the same procedure in the UK can be as much as 50% higher. In Turkey, the cost of an All-on-4 procedure is 50% lower. 
The difference is more than worth the extra cost. The Turkish clinics offer high-quality dental care at lower prices. Dental tourism is popular in Turkey, and the process of booking a trip to the country can be completed online. You'll need to pay a nominal processing fee, but the benefits far outweigh the costs.
All-on-four dental implants are applied in Turkey as a fast and painless way to restore a full arch of teeth. In Turkey, the same-day process doesn't take too long. Furthermore, the fixed jaw reproduces the appearance of natural teeth, even up close. The result is a better quality of life for the patient, and the cost is much lower than in the UK.
Best All on 4 Implant Dentists in Turkey
Turkey has the best all on 4 implant dentists. The surgeons at Turkey are experienced and have achieved international recognition. Their training, expertise, and experience all contribute to a positive result for patients.
All on 4 Dental Implant Reviews Turkey
Turkey is the most well-known and ideal site for All on 4 Dental Implants, and it is one of the most preferred spots in the world. The country is a European and Asian focus for elevated dental procedures due to its blend of competent dentists and decent health care facilities. 
Turkey is also very close to other countries, so even if you live in a remote country, you can buy an affordable flight to Turkey at any time. The most compelling cause for Turkey's high ranking is that traveling there will save you some cash. For the best All on 4 Dental Implant, you can choose Turkey.

Harry Cox
I had 20 zirconium crowns, the overall service was 10/10, the clinic is nice, clean and professional. All the staff from the patient coordinators, the driver, the dentist, assistants were very helpful and friendly. If you are thinking to come here don't think about it just come!

Robert Cow
Everyone at the clinic is very helpful and makes you feel comfortable as you are at hometown. They really do their job very well and professional. Now I have amazing teeth and not embarrassed anymore to smile. So pleased and grateful! Great price great holiday I couldn't ask for more!

Allison Erik
Perfect service from start to finish! I had 4 dental implants, sinus lift, root canal treatment on my first visit. Every single tooth was covered with zirconium crowns for a complete smile design. I'd highly recommend this place! In the UK prices are way out of my range, here you get the affordable prices and the best service!
Paula Entwistle
I had 12 implants and complete new top and bottom teeth, price and quality of service was amazing! Be sure that you will get the best treatment here. So far I had no problem with my new teeth. Thank you all guys!
Fatima Abdjul
I got my dental implant work done through Letsmedi Group and although I was extremely nervous for the procedure, my worries pretty much fade away shortly after arrival. They take me from airport directly to the hotel. After 1 day resting they took me to the dental clinic for my zirconium crown treatment. Everything was quite perfect, i had 2 extra tooth to be extracted. They done it for free. I was so glad about it. They are so clear about the price, there is no hidden costs. I'm very grateful to the team and would highly recommend them.