All on 8 Dental Implants in Turkey are one of the most popular operations for living people in abroad that comes to Turkey for dental treatment.
All on 8 dental implants are a one stage procedure with instantaneous loading. This procedure is best suited for full edentulism. 8 to 12or 14 dental implants are required for a dental arch. This type of implant is manufactured in Turkey, and your prostheses are attached within a few days. This allows users to easily return to your daily life. You can have your implant done in Turkey.
The average cost of All on Eight Dental Implants in Turkey 6.000 USD (4.370£) which is an affordable option compared to other European countries. We are doing All on 8 Dental Implants in İstanbul, Antalya and İzmir, you can choose best option for you.
Here you can find out and discover All on Eight Dental Implants journey in Turkey. Check all the details about All on 8 Dental Implants costs, our clinic's patients reviews, before & after photos from the best doctors, all-inclusive packages for All on Eight Dental Implants in Turkey.
You can get in touch with us for All on 8 Dental Implant packages in Turkey via Whatsapp or options below.
Treatment Details
Placement
Attached to titanium implants in the jaw bone
Eligibility
Completely toothless,patients who cannot use removable prostheses
Processing time
3-4 hours
Surgical procedure
Yes
Anesthesia type
Local
Prosthesis
Yes
Implant brand
NucleOSS
Durability
At least 10 years
Warranty
10 years
Recovery time
3 months
Appearance
Like natural teeth
Cleaning
Can be cleaned like normal teeth
Accommodation
First visit:3 days Second visit:14 days
All-on-8 Dental Implant Packages
The reason that dental care in Turkey is so inexpensive in comparison to countries such as the United Kingdom or the United States is largely owing to the government's encouragement and support of medical tourism. As a result, Turkish dental prices are roughly 60% lower than those in the United States and the United Kingdom.
The economy is another cause for the lower prices for "All on 8 Dental Implants." The Turkish currency is steadily losing value versus the USD and Euro, therefore anyone carrying those currencies will be much wealthier when visiting Turkey. And, eventually, their lives would be less expensive!
All On 8 Dental Implant Cost In Turkey
GBP
USD
EURO
Price
£4.370
$6.000
€5.100,00
Our Clinic in Istanbul, Turkey
All-on-8 Dental Implants Procedure
The first and most important stage of All on 8 Implant application is systemic and oral examination and examination of panoramic X-rays and, if necessary, volumetric tomography.
In this first examination, it is determined whether the person has any systemic diseases, allergies to anything, and in the in-mouth examination, the number of missing teeth, the region and the prosthesis options that can be applied are determined.
If the treatment method includes dental implants, since the implants will be placed in the jawbone, various measurements will be made on the X-rays taken from the jaws to determine the suitability of the area to be implanted for the implant. After it is decided that the implant is a suitable treatment option for the patient, the next issue is to decide how many implants to apply.
The number of missing teeth and the number of implants to be applied are decided according to the region of the missing tooth. In cases of total toothlessness, it is decided how many implants will be needed according to the prosthesis to be made on the implants. This number varies from 2 to 8- 14-16.
| | |
| --- | --- |
| Recovery Period: | 2 days after treatment stitches will be checked 1.5-2 weeks later stitches will dissolve Implant integration time: 3-6months |
| Length of Procedure: | First visit: total:4 hours Second visit total: 6 hours |
| Duration in Turkey: | First Visit: 3 days Second Visit: 14 days |
| Pain: | Numbing injections will be performed. During the process patient won't feel any pain. After process first day we advise to take painkillers and press ice bag on face to prevent swelling. |
| Average Cost: | 5600 EUR Single Jaw |
| Types: | All on 8 |
| İnsurance: | Implants Life Time Crowns 5 years |
| Finance / Payment Plan: | Cash Card Payments (%11 commission) Online Payment |
What are the All-On-8 Dental Implants Risks?
All on 8 dental implants involve some risks. It is critical to understand the benefits, drawbacks, risks, and rewards associated with this procedure.
Infection and Inadequate Healing:

Receiving dental is a surgical procedure. All aseptic and sterile techniques will be used by the dentistry staff, resulting in a low risk of infection from the procedure itself. However, the nose is full of bacteria, and you could get an infection.

Healing Is Affected by a Medical Condition:

You may experience delayed healing if you have cancer, gum disease, or diabetes. This is also true for those who smoke, consume alcohol, or take pills for other ailments.

Surgical Procedure:

Dentists will understand the significance of aseptic but instead sterile techniques. They will be aware of the necessary procedures and guidelines. This lowers your chances of infection and some other dental implant complications.

The Dental Implant's Micromovement:

To allow osseointegration to occur, dental implants would have to be immobile for several weeks. Any disruption to this process would also result in unstable implants.

Bone deficiency:

When an implant fuses only with bone on all sides, it is considered successful. If your bone is less dense or inadequate in any way, your dentist may need to take extra precautions to ensure adequate bone growth around the implant.

Failure to Obey Doctor's Orders:

Failure to follow doctor's orders may result in internal fixation or problems. The instructions will be simple, such as limiting physical activity but instead keeping the site clean. You must also adhere to dietary needs and take your medication as directed.

Bisphosphonate Complications:

Bisphosphonates are a type of medication used to treat bone loss, also known as osteoporosis. These medications work by inhibiting osteoclastic activity. This means they keep osteoclast cells from breaking down bone.
All-on-8 Dental Implant Before & After
All on 8 dental implant treatment is not performed in every country. Turkey is the first country to apply this treatment. To get best results of All-on-8 Dental Implants in Turkey, you can start the treatment process by getting information from some clinics operating in Turkey. 
Only in this way can you find out if you are suitable for this treatment. If you want us to help you with this, you can call us. We can give you clear information after the inspection.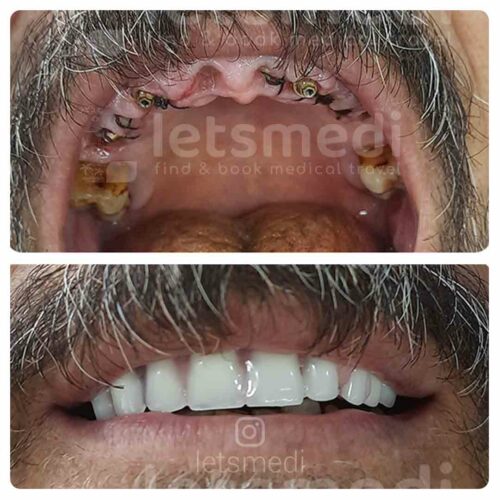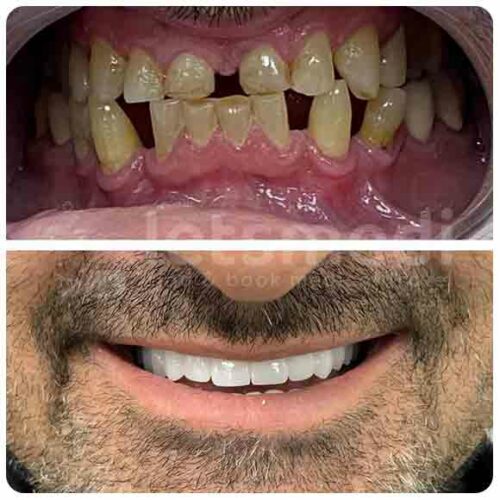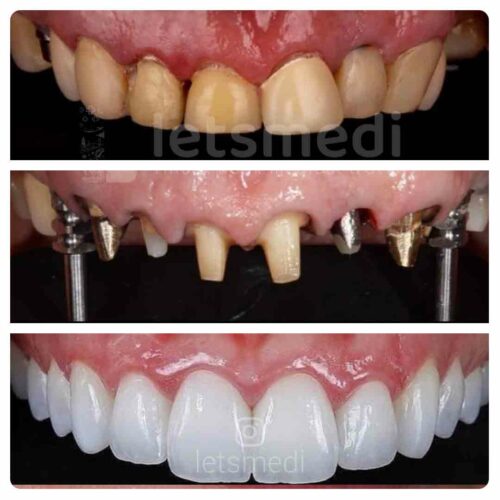 How much do all on 8 dental implants cost in Turkey?
Starting from €5,600, All-on-8 Dental Implant Packages in Turkey offers very economical opportunities. The fact that this treatment is very comprehensive and the process works perfectly during the treatment makes the procedures easier. 
You can complete your treatment in the most economical way with All-on-8 Dental Implant Packages. This treatment is one of the most difficult treatments among implant treatments. But it is quite easy and practical for experienced dentists in Turkey.
All-on-8 Dental Implants Cost in Turkey Vs UK
There are several reasons why you should consider All-on-8 Dental Implants Cost in the UK compared to Turkey. The first and most obvious reason is the lower cost. In the UK, an All-on-8 dental implants can cost anywhere from 10.000£ to 25.000£. Turkey, however, can offer the same dental treatment at a significantly lower price. You can get a full-mouth reconstruction for 77% less than the UK price, while a single dental implant can cost up to 80 percent less.
Dental implant costs in Turkey are 70% less than in the UK. Turkey has some of the world's most highly-regarded dental surgeons and facilities. Patients are treated in luxury clinics that boast. And they can rest easy after their surgery in a picturesque setting. 
Dental implant in Turkey can cost as little as 4.730£, which is less than half of what it would cost in the UK. Getting to Turkey is relatively easy, too. Budget airlines offer several flights a day, making it possible for you to travel to Turkey without having to worry about the cost of the treatment.
Turkish dentists are aware that oral health is closely linked to overall health. This means that they take preventative and corrective measures to ensure that their patients' smiles remain beautiful for many years to come. 
They also take the time to assess your situation for several months before the procedure and give you a professional review. The clinics in Turkey are sanitary, clean, and neat. And the price is competitive as well.
Best All on 8 Implant Dentists in Turkey
Turkey has the best all on 8 implant dentists. The surgeons at Turkey are experienced and have achieved international recognition. Their training, expertise, and experience all contribute to a positive result for patients.
All-on-8 Dental Implants Reviews
Dentists in Turkey understand that oral and dental health are intertwined with general health, and they take appropriate preventative and corrective measures.
Consequently, All-On-8 Dental Implants are completed successfully. Typically, your Turkish clinic will assess your scenario over the next several months using the photographs you provide, supplying you with any recommendations or professional review you may demand. Turkish clinics are also neat and sanitary.
Also, in this country, you are guaranteed to receive satisfaction not only for medical but also for touristic purposes. Most importantly, you will receive all of this at a reasonable cost. For the best All-On-8 Dental Implants, you can choose Turkey.

Harry Cox
I had 20 zirconium crowns, the overall service was 10/10, the clinic is nice, clean and professional. All the staff from the patient coordinators, the driver, the dentist, assistants were very helpful and friendly. If you are thinking to come here don't think about it just come!

Robert Cow
Everyone at the clinic is very helpful and makes you feel comfortable as you are at hometown. They really do their job very well and professional. Now I have amazing teeth and not embarrassed anymore to smile. So pleased and grateful! Great price great holiday I couldn't ask for more!

Allison Erik
Perfect service from start to finish! I had 4 dental implants, sinus lift, root canal treatment on my first visit. Every single tooth was covered with zirconium crowns for a complete smile design. I'd highly recommend this place! In the UK prices are way out of my range, here you get the affordable prices and the best service!
Paula Entwistle
I had 12 implants and complete new top and bottom teeth, price and quality of service was amazing! Be sure that you will get the best treatment here. So far I had no problem with my new teeth. Thank you all guys!
Fatima Abdjul
I got my dental implant work done through Letsmedi Group and although I was extremely nervous for the procedure, my worries pretty much fade away shortly after arrival. They take me from airport directly to the hotel. After 1 day resting they took me to the dental clinic for my zirconium crown treatment. Everything was quite perfect, i had 2 extra tooth to be extracted. They done it for free. I was so glad about it. They are so clear about the price, there is no hidden costs. I'm very grateful to the team and would highly recommend them.
Although the All on 8 dental implant is a newly popular form of treatment, very successful results are obtained in Turkey. The treatment fee is very affordable, and the results are excellent. Turkey is one of the most ideal countries for this. You can safely have your treatment in Turkey.
All on 8 dental implants are more expensive than other implant treatments. However, due to the affordable and high quality of health services in Turkey, treatment fees are very affordable. By purchasing the all-inclusive package, you can get treatment even more affordable.
The first stage of your treatment is implant treatment, the second stage is expected to boil the implant into your bone between 3-6 months, and then porcelain is made to come on top of the implant within a week Dec. An Implant is a surgical procedure. It is performed under local anesthesia, and the construction time of a single implant is about 10-15 minutes.