Full Mouth Dental Implants in Turkey are one of the most popular operations for the people who lives in USA and UK that comes to Turkey for dental operations.
We provide a broad range of dental implant treatments based on the sufficiency of the jaw bones to patients who come to our clinics in Turkey with edentulous lower and upper jaws. Furthermore, different full mouth dental implant package options are available in Turkey based on people's implant tastes and needs. The choice of implant and the individual conditions of the person's operation are factors influencing the pricing and package offers of full mouth dental implants in Turkey.
The cost of Full Mouth Dental Implants in Turkey starts from 8.450 USD (6.200 £) which is the most affordable option compared to other countries. We are doing All on 6 Dental Implants in İstanbul, Antalya and İzmir, you can choose best option for yourself.
Here you can reach out and discover Full Mouth Dental Implants journey in Turkey. Check all the details about Full Mouth Dental Implants costs, our clinic's patients reviews, before & after photos from the best doctors, all-inclusive packages for Full Mouth Dental Implants in Turkey.
You can get in touch with us for Full Mouth Dental Implant packages in Turkey via Whatsapp or options below.
Treatment Details
Placement
Attached to titanium implants in the jaw bone
Eligibility
Completely toothless,patients who cannot use removable prostheses
Processing time
3-4 hours
Surgical procedure
Yes
Anesthesia type
Local
Prosthesis
Yes
Implant brand
NucleOSS
Durability
At least 10 years
Warranty
10 years
Recovery time
3 months
Appearance
Like natural teeth
Cleaning
Can be cleaned like normal teeth
Accommodation
First visit: 3 Second visit:12 days
Full mouth dental implants Turkey package deals
The prices which are offered by Turkish clinics for a "Full Mouth Dental Implants"  prices is more affordable than USA and UK for several reasons.
The primary reason for these low prices derives from monetary and economic considerations. Running a dentistry practice, for example, is less expensive in Turkey, and raw materials are plentiful. As a result, dental clinics that provide high-quality, safe, and dependable services do not need to raise their pricing because their services are in high demand due to their low operating expenses.
As one can see, there are no issues with the quality of the services. You are free to select a reputable clinic in Turkey for your full mouth dental implants.
Full Mouth Dental Implant Cost In Turkey
BRANDS
GBP
USD
EURO
Zinedent
£6.200,00
$8.450,00
€7.150,00
Nucleos
£6.500,00
$8.850,00
€7.510,00
Osstem
£7.220,00
$9.850,00
€8.350,00
Medentika
£7.700,00
$10.500,00
€8.925,00
Megagen
£10.100,00
$13.750,00
€11.650,00
Straumann
£12.620,00
$17.200,00
€14.600,00
Our Clinic in Istanbul, Turkey
Full Mouth Dental Implants Procedure
It is said that one of the best alternatives in case of complete toothlessness is implant application. However, according to the way the implant is made, the shape of the tooth that will be placed on it is also different. The doctor will decide which option is right for you in accordance with the clinical examination and your wishes and needs. 
First of all, it is necessary to know that the superstructure options for implant treatment for a complete toothless mouth can be done in two different ways, as a movable implant prosthesis or a fixed implant dental bridge. 
Although an implant is recommended to talk about the discomfort of the full palate that can be inserted and removed, you can also say why to use a dental prosthesis that is inserted and removed with an implant and again. 
If there is not enough bone in the jawbone, this type of prosthesis may be preferred if there are fewer implant application areas, especially when implant application is not possible in the back molars area.
| | |
| --- | --- |
| Recovery Period: | 2 days after treatment stitches will be checked 1.5-2 weeks later stitches will dissolve Implant integration time: 3-6months |
| Length of Procedure: | First visit: total:4 hours Second visit total: 6 hours |
| Duration in Turkey: | First Visit: 3 days Second Visit: 10 days |
| Pain: | Numbing injections will be performed. During the process patient won't feel any pain. After process first day we advise to take painkillers and press ice bag on face to prevent swelling. |
| Average Cost: | 7150 EUR |
| Types: | Full Mouth Implants |
| İnsurance: | Implants Life Time Crowns 5 years |
| Finance / Payment Plan: | Cash Card Payments (%11 commission) Online Payment |
What are the Full Mouth Dental Implants Risks?
There are risks in every operation, these operation risks are below:
The implant is not adhering to the bone: The titanium posts fuse toward the bone after a few months of being in place, which is why tooth implants are so stable but instead function like natural teeth. When the implant and bone do not bond, is the most widely accepted dental implant complication.

Peri implantitis: This is a disease that can affect all around it gum and bone, increasing the likelihood of dental implants failing. Peri implantitis can cause bone loss and implant loosening over time.

Other diseases: As with any type of surgery, there is a chance that implants, and surrounding tissue will become infected. Illnesses from dental implant surgery, on the other hand, are extremely rare due to the sterile conditions under which they are performed.

Damage to the nerves: Because dental implants are surgically implanted into one's jaw, there is a slight risk that they will cause nerve damage during your procedure. Pain, numbness, or tingling in your lips, teeth, gums, or chin may result from this uncommon dental implant complication.

Periodontal disease: You are more likely to experience dental implant method complications if you have gingivitis prior to surgery. Periodontitis, the most advanced form of gum disease, could really cause bone deterioration, reducing the likelihood of your treatment working.

Perforation: Some of the neighboring anatomic structures are occasionally injured during the procedure to put a dental implant in the jaw. Puncture of the axilla, inferior eastern boundary, language plate, labial plate, paravertebral canal, or gingiva is an example of this.

Implant fracture or breakage: A broken or fractured dental implant abutment shaft is a severe condition that is not easily repaired. It can sometimes be saved by removing the screw and replacing the dental implant, but in some cases, the remainder bone may not be enough to support a new implant.
Full mouth dental implant treatment is one of the most complex treatments. It is the most sensitive treatment among dental implant treatments. To get best results of Full Mouth Dental Implants, detailed tests and analyzes must be done first. Because your mouth and jaw structure should be suitable for this. Not every patient is suitable for this treatment. Then different and alternative treatments can be applied.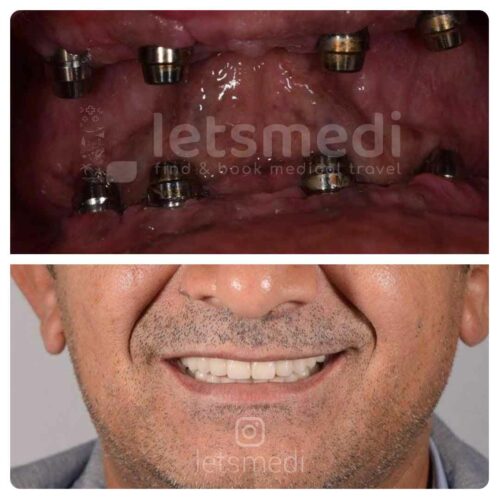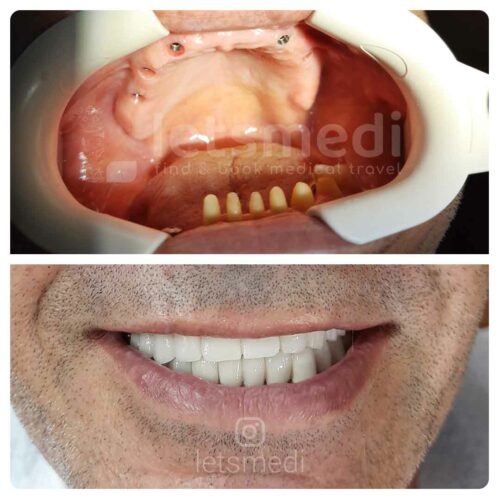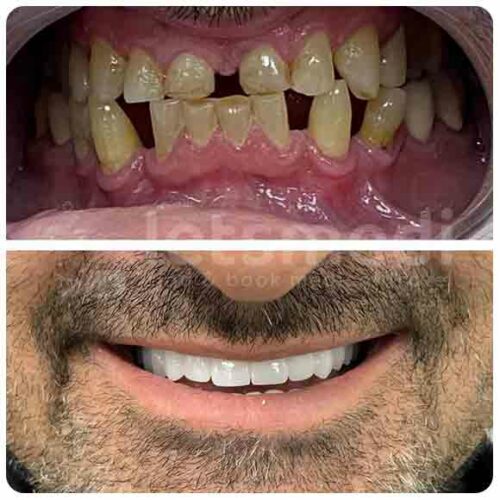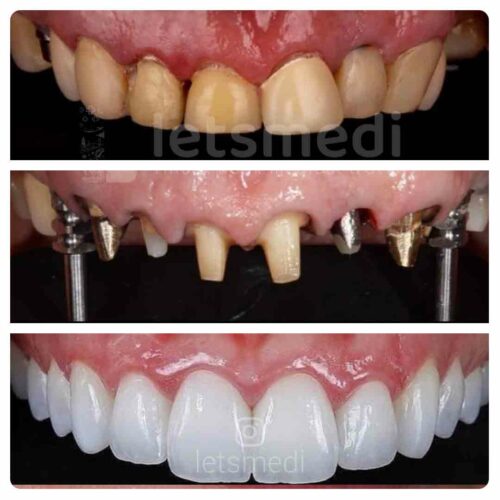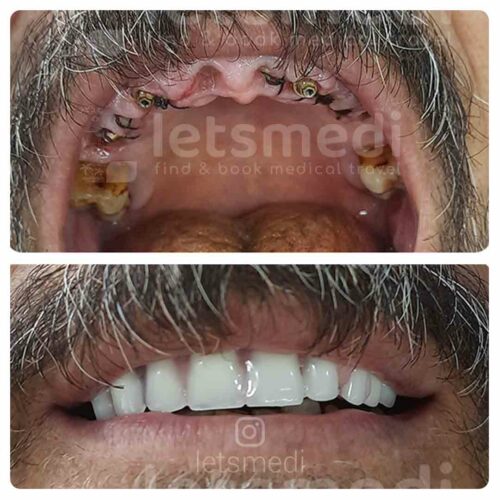 How much does a full set of teeth implants cost in Turkey?
As you know, full mouth dental implant treatment is one of the most expensive implant treatments. But Full Mouth Dental Implant Cost in Turkey, which starts at $8,450, is very advantageous for patients. Prices up to $17,200 vary depending on the number of implants and the patient's condition. Implant brand and quality are also one of the factors affecting prices.
All implant materials in this price range are of very high quality. It does not mean that the most affordable is the poorest. Having full mouth dental implants in Turkey will provide you with many advantages.
Full Mouth Dental Implants Cost in Turkey vs UK
Comparing the costs of Full Mouth Dental Implants in Turkey and the UK, we have found some differences in both countries. In the UK, dental implants cost 30.000£, while in Turkey, the same procedure costs 6.200£. 
Dental implants are artificial teeth that replace a missing tooth root. They can either be bridges or synthetic teeth. The difference in cost is not insignificant. Turkey is a great place to undergo this procedure as the cost is lower in Turkey than in the UK.
In Turkey, full mouth rehabilitation costs are substantially lower. A single implant can cost 300£ to 400£, depending on the complexity and type of the procedure. That is equivalent to saving on 4-5 dental implants in the UK. 
This is one of the major reasons why people choose to travel to Turkey for dental work. With the cost difference, dental clinics in Turkey are able to offer the same quality of care as dentists in the UK.
Another key difference is the exchange rate. Dental implants in Turkey cost up to 70% less than the same procedures in the UK and EU. For international patients, Turkish dental clinics are far more affordable than their counterparts. 
Foreigners can also benefit from the stronger currency by comparing the costs of the same procedures. And Turkish dentists are more experienced, so you can rest assured that your dental work will be in good hands.
Best Full Set of Teeth Implant Dentists in Turkey
Turkey has the best full set of teeth implant dentists. The surgeons at Turkey are experienced and have achieved international recognition. Their training, expertise, and experience all contribute to a positive result for patients.
Full Mouth Dental Implant Reviews Turkey
Patients from all over the world travel to Turkey for Full Mouth Dental Implants due to the Turkish staff's decades of training and cutting-edge technology. On average, Turkish clinics offer their visitors a free dental evaluation and treatment program. In addition, as compared to Europe, the United States, and other nations, the prices are far lower.
So, you are guaranteed to save money in this country. Furthermore, you will notice that the staff and your dentist speak a variety of languages, ensuring that communication is not a problem. For the best Full Mouth Dental Implants, you can choose Turkey.

Harry Cox
I had 20 zirconium crowns, the overall service was 10/10, the clinic is nice, clean and professional. All the staff from the patient coordinators, the driver, the dentist, assistants were very helpful and friendly. If you are thinking to come here don't think about it just come!

Robert Cow
Everyone at the clinic is very helpful and makes you feel comfortable as you are at hometown. They really do their job very well and professional. Now I have amazing teeth and not embarrassed anymore to smile. So pleased and grateful! Great price great holiday I couldn't ask for more!

Allison Erik
Perfect service from start to finish! I had 4 dental implants, sinus lift, root canal treatment on my first visit. Every single tooth was covered with zirconium crowns for a complete smile design. I'd highly recommend this place! In the UK prices are way out of my range, here you get the affordable prices and the best service!
Paula Entwistle
I had 12 implants and complete new top and bottom teeth, price and quality of service was amazing! Be sure that you will get the best treatment here. So far I had no problem with my new teeth. Thank you all guys!
Fatima Abdjul
I got my dental implant work done through Letsmedi Group and although I was extremely nervous for the procedure, my worries pretty much fade away shortly after arrival. They take me from airport directly to the hotel. After 1 day resting they took me to the dental clinic for my zirconium crown treatment. Everything was quite perfect, i had 2 extra tooth to be extracted. They done it for free. I was so glad about it. They are so clear about the price, there is no hidden costs. I'm very grateful to the team and would highly recommend them.
Full mouth dental implants are one of the most detailed and important implant treatments. Not every dentist can do this treatment. For this, you need to be treated in an experienced and professional dental clinic. It is more expensive than other implant treatments in terms of price and duration. Having full mouth dental implants treatment in the country you live in can be a bit costly. Therefore, full mouth dental implants are more reasonable abroad. By calculating the transportation and accommodation costs, you can find a country that fits your budget. Countries like Turkey will be very economical for you. Turkey is the most preferred country for full mouth dental implants treatment abroad. You may need to stay in that country for the duration of treatment. You should choose an economical and touristic country. All these features are available in Turkey.