Dental Veneers in Turkey are the most popular dental operations for people that come to Turkey from abroad for smile makeover treatment.
Veneers are a cosmetic option that can be used to treat a variety of tooth diseases that have a negative impact on your appearance. To provide a more aesthetically pleasing finish, a thin layer, or leaf, of specially prepared porcelain is applied to the front surface of the tooth. 
This is how it is done all over the world. In Turkey, these processes are done in this order. Apart from that, the reason for being the best is because all the professionals are here.
The average cost of Dental Veneers in Turkey is 6.000 USD (4.850£) which is an affordable option compared to other countries. We are doing Dental Veneers in Istanbul, Antalya and Izmir, you can choose the best option for you. 
Here you can find out and discover more information about Dental Veneers journey in Turkey. Check all the details about Dental Veneers costs, our clinic's patients reviews, before & after photos from the best doctors, all-inclusive packages for Dental Veneers in Turkey.
You can get in touch with us for Dental Veneers in Turkey via WhatsApp or options below.

Dental Veneer Packages in Turkey
All types of surgeries and cosmetic procedures are significantly less expensive in Turkey than in any other country, particularly the United Kingdom and the United States. Nonetheless, the quality is the same, if not greater. 
As a result, it has become a difficult question among those who are about to undergo surgery or a cosmetic process in Turkey, particularly those who are candidates for the technique of dental veneers.
There are three main reasons why dental veneer prices in Turkey are lower or more affordable than in the United States and the United Kingdom.
First of all, the surgeons use domesticated materials which are produced in their own country, and secondly, the overall life is much more affordable for an out comer who has Euro or Dollar in his or her pocket, because of the currency exchange rates. Last but not least, the competition between the clinics.
Thus, the prices are lower and more affordable for anyone!
Veneers Cost In Turkey
 
 
GBP
USD
EURO
x20 Porcelain Veneers
£ 4200
$ 6000
€5.000,00
x20 Laminate Veneers
£ 4200
$ 6000
€5.000,00
Our Clinic in Istanbul, Turkey
Molds are prepared and temporarily placed on the tooth to form the shape necessary for the tooth veneer. In order to understand whether the tooth is suitable for the mold, the patient lives with the mold placed for a temporary period of time. If there is a problem in this process, the mold is removed and the solution treatment is applied to the problem. 
Dental veneer treatment is a fairly popular and effective method of treatment that is used to restore the former function and aesthetic appearance of a damaged tooth. Veneers can be fixed on a natural tooth, as well as used as a fixed prosthesis on an implant. 
Veneers cover and cover the damaged tooth along its visible surfaces, usually to restore the original shape and function of the tooth. The main purpose of the veneer is to strengthen the tooth and improve dental aesthetics. 
Tooth veneer application can be completed in a single session on the same day depending on the preferred type of tooth veneer and the number of teeth to be applied, as well as in a treatment process lasting up to 10 days. After the necessary examination by the dentist, the type of veneer suitable for the patient's complaints and wishes is determined.
What are the Veneers Risks?
Veneers are an operation that requires attention, and there are risks related to the operation as well as its own risks.
Non reversible: Veneers are not removable; they are applied with the intention of never being removed. Although most people who choose veneers do so because they want a long term solution to their cosmetic problems, don't be fooled into thinking you can have them removed at any time and be back to square one.

Destructive: To some extent, the front texture of your teeth will need to be filed down, removing a small amount of enamel to make way for the veneer in nearly all cases. Even minimal prep or no prep veneers usually necessitate some drilling. While they are less damaging to a tooth (more conservative) than a dental crown, they are more damaging than tooth adhesion or composite veneers.

Cracking: When you eat and drink hot and cold foods, your teeth shrink and expand slightly, and these thermal changes can cause cracking of the veneer over time.

Decay: While porcelain or filling material cannot decay, dental caries it around margins of the veneer can lead to them falling off if proper oral hygiene is not maintained.

The gum has shrunk.: As you get older, your gums shrink. This can be ramped up by gum disease or toothbrush abrasion, but it happens naturally at a rate of 1-2mm every 10 years. This means that the margins of your veneers, which were previously hidden or at the gum line, will just become visible in the future, which you may or may not find acceptable.

Chipping and fracturing of breaks: This are more likely if you grind your teeth or have an unfavourable bite (edge to edge). Wearing a splint is critical for protecting your veneers if you are a bruxism.
Dental Veneer Before & After
Dental veneer treatment is now an easily performed treatment in all dental clinics and dental hospitals. But to get best results of Veneers depends on you making the right decision. 
We recommend that you stay away from affordable treatment methods. For the treatment to be successful, it must be determined whether you really need this treatment. Maybe your tooth can be saved with different and simpler treatments.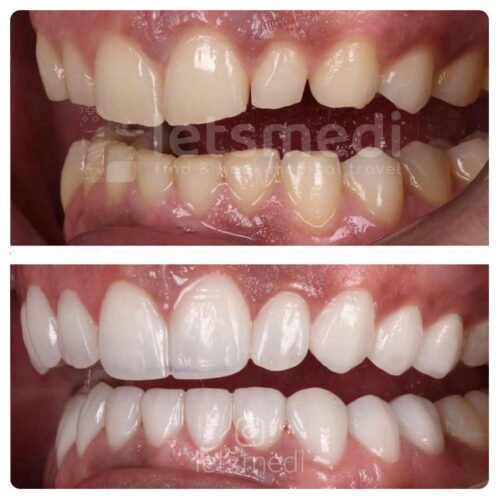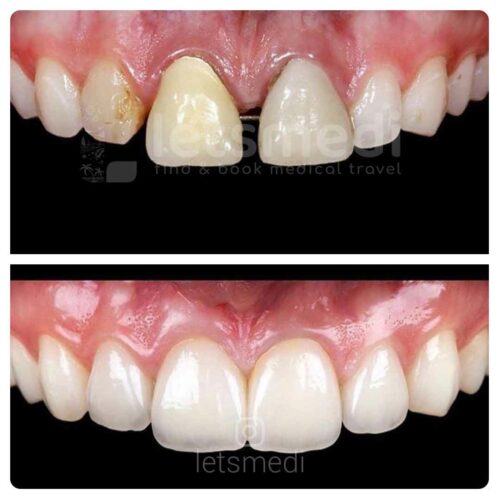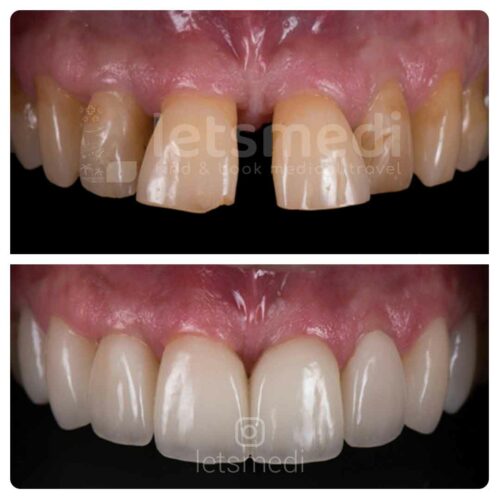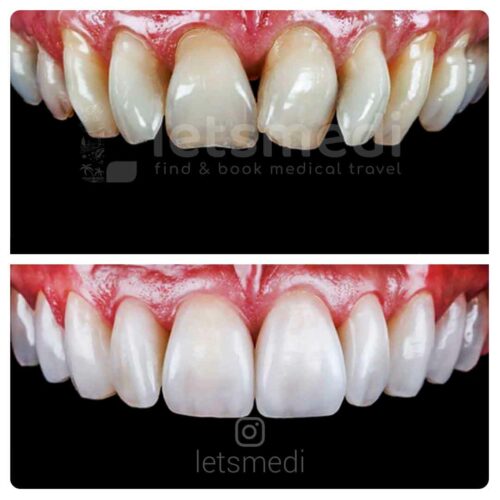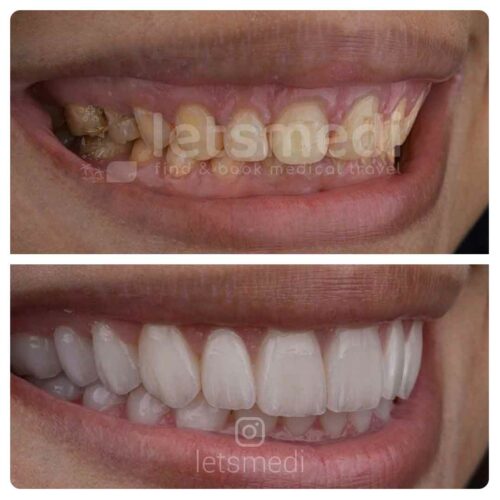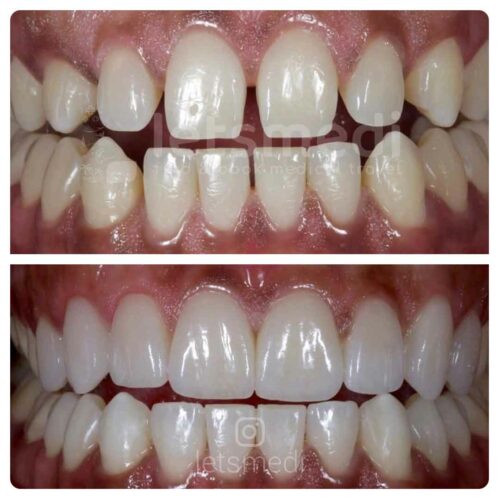 How much does dental veneers cost in Turkey?
Dental veneer treatment has become one of the most preferred aesthetic dental treatments in recent years. The very affordable prices of dental veneers in Turkey started to attract demand in this direction. Starting from $6000, veneers cost in Turkey is the most affordable in Europe in this sense. 
The fact that it is both affordable and high quality has made this treatment method popular. You do not need to spend a lot of time for veneer treatment in Turkey. Your treatment will be completed in the shortest and fastest way.
Dental Veneers Cost in Turkey Vs UK
You may be wondering what veneers cost in Turkey compared to the UK. Well, this article is written with your needs in mind. If you're considering dental treatment in Turkey, you'll need to consider the following factors. 
The first thing you'll need to decide is how much you're willing to spend. While most dental clinics charge their services separately, most will offer a package deal. You may also want to consider if your preferred dental clinic offers any extra services.
In addition to the cost of the veneer treatment itself, other factors can increase the overall cost. For instance, you may want to visit a prominent dental clinic, if you want the highest quality. 
You may want to choose a clinic that is preferred by a celebrity. You'll also want to know that a high-profile doctor will not work for free, so don't expect to find an exceptional quality for a low price. Turkish dentists offer packages that will save you money on your treatment, and many even offer a discount if you place ten or more units with them.
When you compare veneer costs in UK vs Turkey, you will find that the procedure will cost you less in Turkey. In Turkey it can cost you around 4.850£. In UK it can cost you around 8.000£ – 20.000£ which is much more higher than Turkey. Veneers are a permanent fixture that can improve the overall appearance of your smile. 
These veneers are typically made of porcelain or composite materials and are intended to correct a variety of health problems. The recovery period is also significantly shorter than it would be with a standard dental procedure. Most people can resume normal eating habits immediately after their surgery.
Best Dental Veneer Dentists in Turkey
Dental Veneer Reviews in Turkey
Turkey is known for its high-quality, low-cost dentistry. From Istanbul to Izmir, this nation is a place of residence to some of the top dentists and facilities in the world. Turkey is a good alternative if you're seeking the most affordable veneers in the world. Generally, pricing is 50-70 percent lower than in the United Kingdom, with eight veneer bundles starting at under £1,000. 
It's very simple to get there from the UK, with affordable carriers offering frequent flights at reasonable prices. All in all, you will get top-quality veneers for a reasonable price. For the best Dental Veneers, you can choose Turkey.

Harry Cox
I had 20 zirconium crowns, the overall service was 10/10, the clinic is nice, clean and professional. All the staff from the patient coordinators, the driver, the dentist, assistants were very helpful and friendly. If you are thinking to come here don't think about it just come!

Robert Cow
Everyone at the clinic is very helpful and makes you feel comfortable as you are at hometown. They really do their job very well and professional. Now I have amazing teeth and not embarrassed anymore to smile. So pleased and grateful! Great price great holiday I couldn't ask for more!

Allison Erik
Perfect service from start to finish! I had 4 dental implants, sinus lift, root canal treatment on my first visit. Every single tooth was covered with zirconium crowns for a complete smile design. I'd highly recommend this place! In the UK prices are way out of my range, here you get the affordable prices and the best service!
Paula Entwistle
I had 12 implants and complete new top and bottom teeth, price and quality of service was amazing! Be sure that you will get the best treatment here. So far I had no problem with my new teeth. Thank you all guys!
Fatima Abdjul
I got my dental implant work done through Letsmedi Group and although I was extremely nervous for the procedure, my worries pretty much fade away shortly after arrival. They take me from airport directly to the hotel. After 1 day resting they took me to the dental clinic for my zirconium crown treatment. Everything was quite perfect, i had 2 extra tooth to be extracted. They done it for free. I was so glad about it. They are so clear about the price, there is no hidden costs. I'm very grateful to the team and would highly recommend them.