Composite Veneers in Turkey are one of the most favorable veneer treatment for especially American and British people that comes to Turkey for smile makeover treatment.
Composite veneering is a single-visit, minimally invasive bedside technique. Turkish dentists prepare the anterior surface of the tooth before applying multi-layer composite fillings. In most circumstances, dentists don't even need to undertake any tooth preparation other than 20 seconds of acid etching. 
Composite veneers are appropriate for anterior teeth but should not be applied in high-load locations. This is done in Turkey, and it is the greatest.
The average cost of Composite Veneers in Turkey starts from 65 USD (50£) and the prices vary depending on the number of teeth which is the affordable price for patients compared to other countries. We are doing Composite Veneers in İstanbul, Antalya and İzmir, you can choose best option for you.
Here you can find out and discover Composite Veneers journey in Turkey. Check all the details about Composite Veneers costs, our clinic's patients reviews, before & after photos from the best doctors, all-inclusive packages for Composite Veneers in Turkey.
You can get in touch with us for Composite Veneers makeover in Turkey via Whatsapp or options below.
Treatment Details
Placement
It is used to fill the gaps in the front teeth, correct the shape and size.
Eligibility

It is suitable for patients who are not satisfied with the appearance of their anterior teeth.

Processing time
1-2 hours
Surgical procedure
No
Anesthesia type
Local
Prosthesis
No
Durability
5 years
Warranty
1 year
Recovery time
1 day
Appearance
Like natural teeth
Cleaning
Can be cleaned like normal teeth
Accommodation
3 days
Composite Veneer Packages
There are mainly three reasons why the procedure of composite veneers is much more affordable in Turkey, especially compared to the USA and UK.
The first reason is the economy. Because there are a lot of clinic in Turkey, there is a competition among them and they are doing their bests to lure the patients to do their jobs and eventually to earn money.
The country's monetary issues are the second cause. Anyone with a euro or a dollar in their pocket is ten times more powerful than they are in their home country. There is a significant currency exchange rate between Turkish liras and the aforementioned currencies.
The last reason of these lower prices of composite veneers is more affordable in Turkey than US and UK is the overall life cost is slightly more affordable in Turkey.
To summarize, they are the primary reasons for these lower pricing; as you can see, there are no quality concerns; instead, all of the aspects are primarily economic.
Composite Lamine Veneer Cost in Turkey
GBP
USD
EURO
Composite Lamine Veneer
£ 50
$ 65
€55
Our Clinic in Istanbul, Turkey
Composite Veneers Procedure
Composite veneer is also called composite lamina application by taking the name of the material from which they are made. Composite veneers are a practical method applied to give an aesthetic appearance to the surface and the teeth. It is a preferred treatment method for teeth that are usually slightly curved, have a notch on the surface, or show discoloration. 
In the application of composite lamina, there is almost no etching from the surface of the tooth. After etching, which is gently rubbed into the surface, bonding is applied. The main thing for the success of the process is the correct use of materials and their good quality. 
After the surface etching or roughening process, acid is applied to the surface first, then bond or one-stage acid-bonding is applied. After this procedure, the necessary area for holding the composite material to the tooth surface is created. 
When aesthetic composite material is applied to the surface, the patient gets the desired image in accordance with the experience, art and design of the physician.
What are the Composite Veneers Risks?
Of course, there are certain risks with these types of veneers. Some of them are as follows.
During dental abrasion, causing tooth damage.

Allergic reactions in the gingiva or other complications

Difference in color tone between veneers but instead natural teeth.

Composite veneers are not the most durable option. They are more likely to chip over time than porcelain, but more composite can really be added to restore it. Composite is also more porous, so staining may affect the color of the veneer over time, making it appear different from the other teeth. Composite veneers typically have a life span of four to eight years, though as previously stated, they may not look particularly appealing at this point.

Composite veneers both stains easily, so patients must modify their diets to avoid foods such as coffee, red wine, or tobacco, which could discolor the resin.

The quality and appearance of composite veneers are determined by the skill and experience of the person who creates them. It is not enough to be one good dentist to create a good-looking composite veneer.

Whitening composite veneers is not possible. However, this is true for all types of dental restorations, including porcelain veneers. The patient should whiten their teeth first, followed by composite veneers. The veneers' color can then be matched to the shiny hair.

Durability: Composite veneers should be replaced within 5 years as the stuff begins to wear, chip away, and stain.

Suitability: Good for a chipped tooth or two, but not so good for larger smile makeovers.

Time: You may be required to lie back in the chair for an extended period of time while the dentist thoughtfully applies the layers of fibres and then polishes them. Some "no prep" veneer options require less time in the chair.
Composite Veneer Before & After Photos
Composite Veneers are an easy treatment without damaging your teeth. To get best results of Composite Veneers, you should really choose a precision dentist. The quality of the composite material used on the tooth surface is also very important. 
These criteria are important for the aesthetic appearance of the tooth. Some teeth may not be suitable for this treatment. You must be examined before the treatment.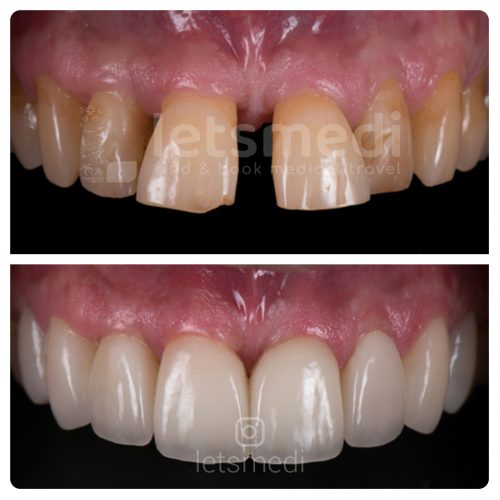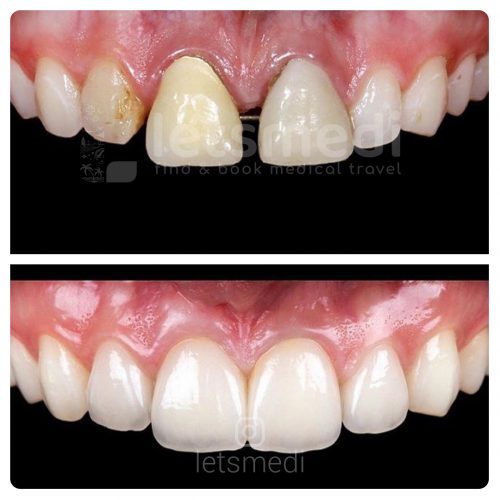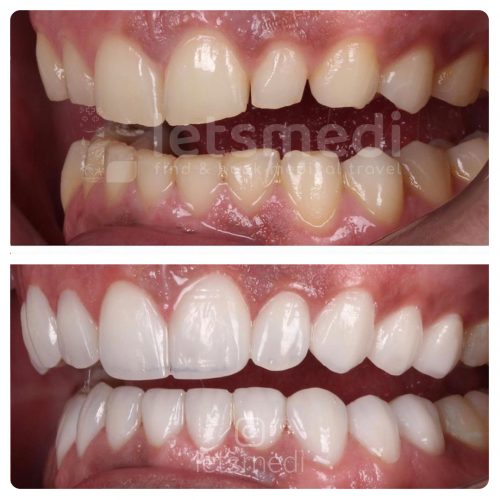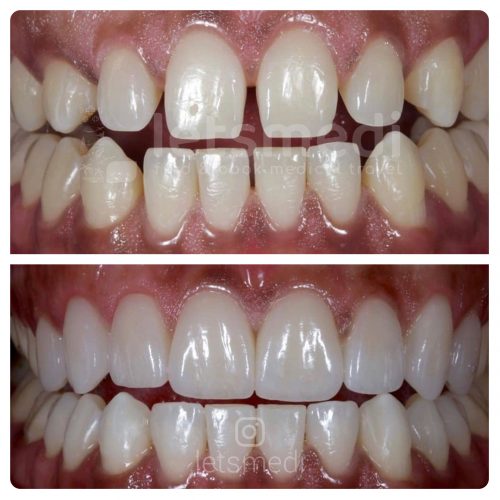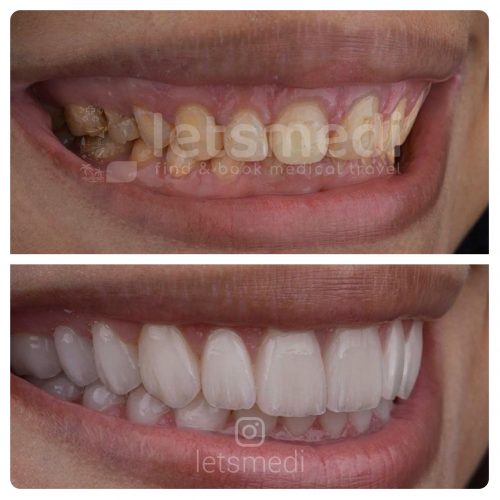 How much do composite veneers cost in Turkey?
Composite Veneer Prices in Turkey, ranging from €1.100 to €1.400, is one of the most suitable treatments in this sense. One of the most important reasons why prices are variable is the number of teeth. 
Composite veneer treatment applied to 6-8-12 teeth changes the price according to the number of teeth applied. For how many teeth it will be applied, the price is determined accordingly. If you want to have composite veneer treatment at the most affordable price in Turkey, you can call us and get information.
How Much Do Composite Veneers Cost in Turkey Vs UK?
A full set of composite veneers can cost between 1.000£ and 1.250£ in Turkey, but you can expect to pay less than 3.500£. Costs vary by dentist, type of veneer, and duration. 
Generally, porcelain veneers cost more than composite veneers and take more time to apply. However, the price range is still significantly lower than that of the UK. Depending on the type of veneers, the cost will fall anywhere from 50£ to 65£ per tooth.
Although the price of composite veneers in Turkey is considerably lower than in the UK, it's important to remember that the quality of materials used and the number of teeth to be replaced will determine the final cost. 
Also, keep in mind that there may be underlying health conditions, so be sure to let your dentist know about them before your appointment. Many clinics in Turkey accept payment in cash, as long as it's not in a foreign currency.
The location of a clinic will affect the cost. Cosmetic dentistry in the UK is only available on the NHS when clinical need exists. It's not affordable, and it takes up to three weeks to complete.
Best Composite Veneer Dentists in Turkey
Composite Veneer Reviews Turkey
Turkey boasts one of Europe's best healthcare facilities. This is no exception in terms of composite veneers, with dental facilities teeming with cutting-edge techniques and infrastructure. If you're looking for the least expensive composite veneers in the globe, Turkey is a great choice.
Cost is generally less than that of the USA, with almost 200 dollars. It's easy to get there from the Us, especially with low companies that offer daily flights at reasonable costs, along with the beautiful cultural places and delicious meals to experience.
Ultimately, you will receive quality veneers at a reasonable cost, and you will enjoy your trip culturally. For the best Dental Veneers, you can choose Turkey.

Harry Cox
I had 20 zirconium crowns, the overall service was 10/10, the clinic is nice, clean and professional. All the staff from the patient coordinators, the driver, the dentist, assistants were very helpful and friendly. If you are thinking to come here don't think about it just come!

Robert Cow
Everyone at the clinic is very helpful and makes you feel comfortable as you are at hometown. They really do their job very well and professional. Now I have amazing teeth and not embarrassed anymore to smile. So pleased and grateful! Great price great holiday I couldn't ask for more!

Allison Erik
Perfect service from start to finish! I had 4 dental implants, sinus lift, root canal treatment on my first visit. Every single tooth was covered with zirconium crowns for a complete smile design. I'd highly recommend this place! In the UK prices are way out of my range, here you get the affordable prices and the best service!
Paula Entwistle
I had 12 implants and complete new top and bottom teeth, price and quality of service was amazing! Be sure that you will get the best treatment here. So far I had no problem with my new teeth. Thank you all guys!
Fatima Abdjul
I got my dental implant work done through Letsmedi Group and although I was extremely nervous for the procedure, my worries pretty much fade away shortly after arrival. They take me from airport directly to the hotel. After 1 day resting they took me to the dental clinic for my zirconium crown treatment. Everything was quite perfect, i had 2 extra tooth to be extracted. They done it for free. I was so glad about it. They are so clear about the price, there is no hidden costs. I'm very grateful to the team and would highly recommend them.