Full Set of Veneers in Turkey are very safe and the most affordable veneer treatment for people that comes to Turkey for smile makeover treatment.
A full set of veneers in Turkey is the appropriate choice for people who seek a total smile makeover and full mouth restoration. A full set of veneers in Turkey will provide you with veneers on all of your frontal teeth, often between 16 and 20 veneers, using high quality materials, innovative technology, worldwide health standards, and an affordable pricing. In Turkey, you'll simply need one week or less to obtain your new veneers.
The average cost of Full Set of Veneers in Turkey is starting from 1.500 USD (1.100£) which is the most affordable price for patients compared to other countries. We are doing Full Set of Veneers in Istanbul, Antalya and Izmir, you can choose best option for you.
Here you can find out and discover Full Set of Veneers journey in Turkey. Check all the details about Full Set of Veneers costs, our clinic's patients reviews, before & after photos from the best doctors, all-inclusive packages for Full Set of Veneers in Turkey.
You can get in touch with us for Full Set of Veneers makeover in Turkey via Whatsapp or options below.

Full Set of Veneer Packages in Turkey
As you may be aware, any type of surgery or cosmetic process, including veneer operations, is less expensive in Turkey, particularly when compared to pricing in the United States and the United Kingdom.
The primary reason for this affordable prices is the economy itself. For instance, if you have any kind of currency that out grades Turkish lira, the life would be much more affordable for you to afford, because Turkish lira is constantly losing its power.
To summarize, there is no need to be hesitant to fly to Turkey; the clinics are sanitized at all times, and the surgeons are so competent that you can look up the clinics' success statistics on the internet.
Full Set Of Veneers Cost in Turkey
GBP
USD
EURO
Metal Porcelain Crowns- Full Veneers x20
£1.100,00
$1.500,00
€1.275,00
Zirconium Porcelain Crowns Full Veneers x20
£2.650,00
$3.550,00
€2.990,00
E-max Crowns- Full Veneers x20
£4.200,00
$5.700,00
€4.850,00
Our Clinic in Istanbul, Turkey
Full Set of Veneers Procedure
The Full Set of Veneers Procedure is known as an empress veneer. Empress veneers are porcelain types whose durability rate is further increased by placing glass ceramics on a ceramic piece without using any metal materials and reinforcing it. The content structure consists of ceramics. 
These types can be called porcelain teeth. This type of veneer is known for its fairly good transmission of light. Empress veneers, which are almost no different from your natural teeth, are produced in a laboratory environment; using computer-aided, sensitive devices, using special techniques. 
Due to the absence of metal in its substructure and the fact that it contains full ceramics, it perfectly transmits light and looks more natural. The color control of the veneer is provided quite easily. Empress veneers have all the characteristic features of natural teeth. 
Empress dental veneers can be applied safely primarily on the incisors of the anterior region, where dental aesthetics are important, and on small molars that are not subjected to much force, with single missing teeth in these areas. It is not recommended to use it on large molars and in the posterior regions of the mouth, where it can be subjected to high chewing force, on long bridges.
What are the Full Set of Veneers Risks?
All full set of veneers have certain risk ratios.
Dental Sensitivity Increase: Dentists must detach a layer of enamel to place customary and most minimal prep veneers. Although your dentist will work closely and precisely to remove only a small amount of enamel, there is a small chance that your dentin will be damaged during the procedure. This may cause increased sensitivity to hot and cold temperatures, which is a fairly common side effect that should fade with time.

Inadequate Fit: Your dentist will perform several thorough assessments prior to placing your veneers to ensure they fit properly and do not adversely affect your bite. However, a lack of training or inferior materials can contribute to an unsatisfactory outcome.

Breakage and chipping: Veneers, on the other hand, may not be a nice choice if you clench and grind your teeth, as the pressure can lead them to crack, wear, or fall off. Certain habits, such as nail biting, chewing pen caps, and eating ice on a regular basis, can also cause your veneers to break prematurely, necessitating costly retreatment.

Color Changes: While veneers are sweat, the cement used to attach them to your teeth is not. This material can turn white over time, making your smile appear gray or discoloured. When your veneers are replaced, you can correct discoloration by applying new cement.

Risks Associated with Replacement: Although advancements in science and materials have increased the lifespan of porcelain veneers to ten years or more, they will need to be replaced at some point. Your dentist will need to disable an additional layer of enamel when replacing your veneers. If you do not have enough healthy enamel to support veneers, you might have to consider other treatments such as dental bonding or porcelain crowns.
For full set of veneers treatment, your mouth and jaw structure should be examined. Accordingly, the decision is made and the treatment is started. 
To get best results of Full Set of Veneers, it is imperative that you have sufficient bone density in your mouth and jaw. If not, bone transplantation is performed and the treatment is completed only in this way. The success rate of treatment depends on it.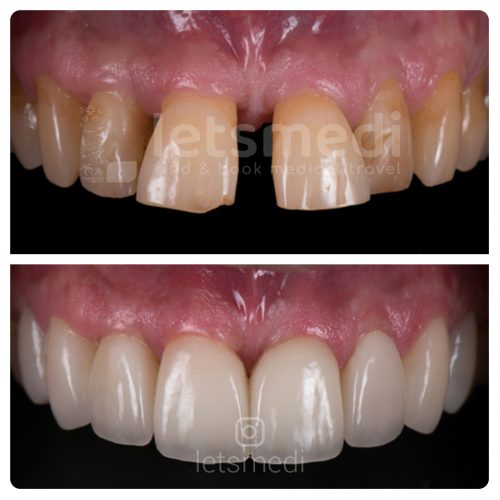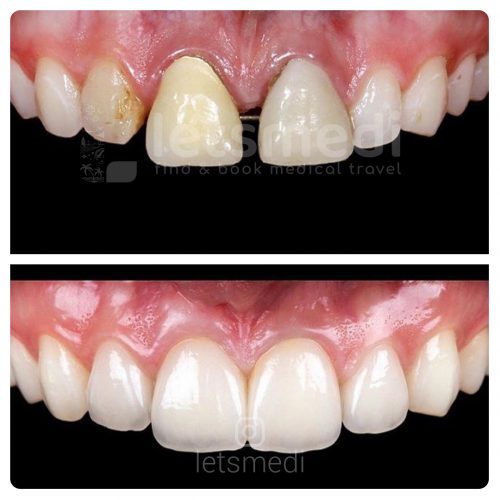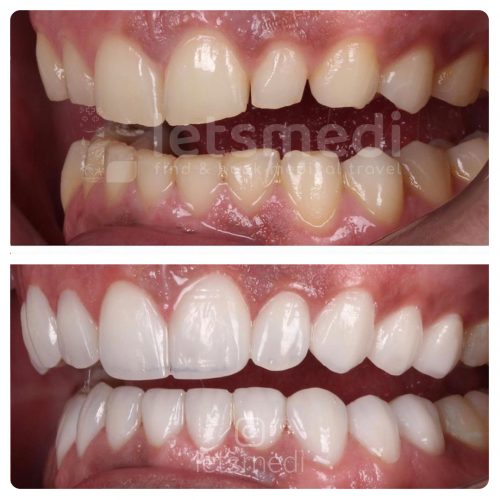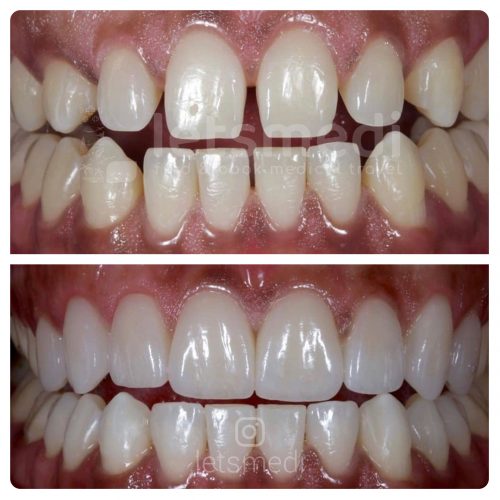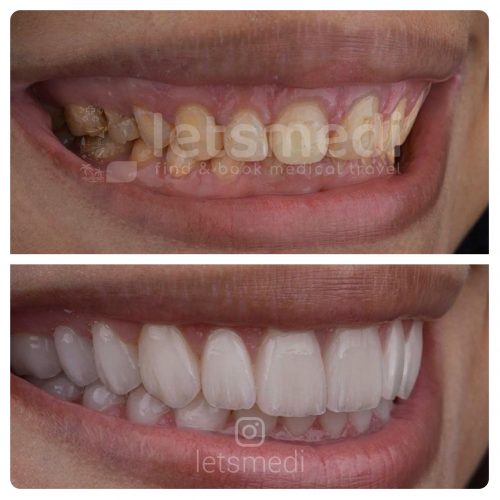 How much does a full set of veneers cost in Turkey?
Full set of veneer, which is one of the most common treatment methods among veneer treatments, is among the most frequently applied aesthetic dental treatments in Turkey. 
Full set of veneers prices in Turkey, starting from €1275, are very economical. In order to get a clear price before the treatment, you must be examined. The duration of this treatment may be slightly longer than other veneer treatments. You can have perfect teeth and smile with full set of veneer treatment in Turkey.
How Much Does a Full Set of Veneers Cost in Turkey Vs UK?
Getting a full set of dental veneers is not affordable. The price of veneers varies greatly, depending on the condition of your teeth, the number of teeth that need replacing, and the materials used. Thankfully, Turkey is quickly becoming one of the top destinations for veneers. Turkey dental clinics provide the same high quality care as UK clinics, as well as safety and professionalism.
Veneers are thin custom-made shells that cover the front of the teeth. They can be made from composite resin or porcelain. In Turkey, a full set of veneers costs around 1.100£, which includes transfers and hotel accommodations. The cost depends on the number of veneers needed and the width of the smile line. Compared to the UK, veneers in Turkey cost up to 70% less.
Veneers are one of the most common dental procedures in Turkey. Veneers are artificial crowns placed over the teeth to create a perfect smile line. The cost of a full set of veneers in Turkey is approximately 50% lower than the UK. It depends on the number of teeth that need to be covered, as well as the type and size of the veneers. Turkey has some of the most affordable dental procedures, so it is a good option for people who cannot afford expensive dental procedures.
Another important factor in comparing costs is the quality of the work performed. Some dental centers in Turkey offer high-quality work and the cost of veneers can be much lower. Several dental centers in Turkey also offer free hotel stays for patients after their treatment. For the best results, it is best to check out a few dental centers before booking. If you plan on traveling long distances to get your dental treatment, it may be a better option to choose a Turkey dental clinic.
Best Full Set of Veneer Dentists in Turkey
Full Set of Veneers Reviews in Turkey
The cost of a Full Set of Veneers in Turkey is the primary reason for traveling there. Patients report that traveling to Turkey reduces costs by roughly 60% compared to the United Kingdom and the United States. Naturally, the more thorough and expensive the procedure, the more money you'll save.
Turkey also offers a wealth of heritage, entertainment, shopping, and resorts. As a result, some dental patients opt to turn their stay into a dental vacation in order to maximize their time in the nation. For the best Full Set of Veneers, you can choose Turkey.

Harry Cox
I had 20 zirconium crowns, the overall service was 10/10, the clinic is nice, clean and professional. All the staff from the patient coordinators, the driver, the dentist, assistants were very helpful and friendly. If you are thinking to come here don't think about it just come!

Robert Cow
Everyone at the clinic is very helpful and makes you feel comfortable as you are at hometown. They really do their job very well and professional. Now I have amazing teeth and not embarrassed anymore to smile. So pleased and grateful! Great price great holiday I couldn't ask for more!

Allison Erik
Perfect service from start to finish! I had 4 dental implants, sinus lift, root canal treatment on my first visit. Every single tooth was covered with zirconium crowns for a complete smile design. I'd highly recommend this place! In the UK prices are way out of my range, here you get the affordable prices and the best service!
Paula Entwistle
I had 12 implants and complete new top and bottom teeth, price and quality of service was amazing! Be sure that you will get the best treatment here. So far I had no problem with my new teeth. Thank you all guys!
Fatima Abdjul
I got my dental implant work done through Letsmedi Group and although I was extremely nervous for the procedure, my worries pretty much fade away shortly after arrival. They take me from airport directly to the hotel. After 1 day resting they took me to the dental clinic for my zirconium crown treatment. Everything was quite perfect, i had 2 extra tooth to be extracted. They done it for free. I was so glad about it. They are so clear about the price, there is no hidden costs. I'm very grateful to the team and would highly recommend them.