Laminate Veneers in Turkey are one of the most popular makeover treatment for especially American and British people that comes to Turkey for smile makeover treatment.
Veneers are the most common dental procedure today and one of the most cost effective ways to improve the appearance of your teeth. Veneers are a little prosthetic device that creates a natural looking grin by using thin material. 
We understand that you do not want a fake looking smile, which is why we only use top brands for the best results. Veneers in Turkey is the place to go if you want high-quality but low cost dental veneers.
The average cost of Laminate Veneers in Turkey is 6.000 USD (4.200£) which is the most affordable option compared to other countries. We are doing Laminate Veneers in Istanbul, Antalya and Izmir, you can choose best option for you.
Here you can discover more information about Laminate Veneers journey in Turkey. Check all the details about Laminate Veneers costs, our clinic's patients reviews, before & after photos from the best doctors, all-inclusive packages for Laminate Veneers in Turkey.
You can get in touch with us for Laminate Veneers makeover in Turkey via WhatsApp or options below.

Turkey is a well-known country that offers lower-cost dental veneers than other countries. This, however, does not suggest that the clinics or services are unqualified, or that their quality is low or average. Because dental veneers in other countries are so expensive, the ones in Turkey appear to be less expensive.
As a result, the low cost of effective dental veneers operations, including E-mac laminate veneers, can be attributed to a variety of factors such as currency exchange rates, the competition between the clinics, and the low cost accommodation prices of the clinics.
To summarize, all of the reasons why and E-max Laminate Veneers in Turkey are less expensive than in the United Kingdom and the United States stem from monetary considerations rather than quality-related factors.
Laminate Veneers Cost In Turkey
GBP
USD
EURO
x20 Laminate Veneers
£ 4200
$ 6000
€5.000,00
Our Clinic in Istanbul, Turkey
Laminate Veneers Procedure
E-max Laminate Veneers are the most aesthetically developed veneers made of porcelain that has reinforced porcelain in its substructure and is completely reinforced as a block. There is no metal substructure or zirconium in this type of veneer as in other veneers. The laboratory stages are carried out entirely with computer-aided scanner and printer systems. 
As a rule, the front group of teeth, where aesthetics is the most important, is also preferred over single tooth veneers, or short bridges with two missing teeth, as well as teeth with too much substance loss to be made of lamina, according to the materials to be used. 
The most commonly applied method among the white teeth with an aesthetic sequence applied recently is emax tooth decking. Most often it is applied to the incisors in front. It is applied not for teeth that have lost their health, but for people who are unaesthetic and feel uncomfortable when they are looked after. 
E-max Laminate Veneer is the same as dental applications made. Emax is measured for the tooth and these measurements are sent to the laboratory. The laboratory and measurement process are very important in this sense. For those who want to have Emax, the process of patients begins with an examination. 
He is informed by the doctor about how the procedure will be performed. The size of the teeth is taken by the doctor. The measurements taken from the computer system create more accuracy. After the measurements are taken for the teeth, the physical transformation of the teeth is sent to the Chinese laboratory environment. 
Complete decontamination of teeth usually takes from 3-5. During this process, temporary teeth can be installed so that patients do not become victims. You can use these teeth in this process.
What are the Laminate Veneers Risks?
Here are the risks of laminate veneers:
Sensitivity of the Teeth: To place veneers on your teeth, the dentist will detach some of the enamel. The procedure is less disruptive than a full crown. This procedure is required for proper bonding of your top teeth and veneers.

Color irregularities: One important reason why people deem porcelain veneers is to change the color of their teeth. Several factors, however, may influence the final color of your dental veneers.

It may take some time for gum tissues to adjust: Your gums do not adjust automatically to any foreign material that you place in your teeth. That is why it is critical that you not only expect but also prepare yourself for such fact that it may take some time before they do. Gum tissue swelling or discomfort is always a possibility, and if left untreated, it can lead to gum disease, as one's gums can be a little hard headed when it comes to adjusting self around foreign objects.

Discomfort: Dental veneers are an excellent way to achieve the smile of your dreams, but it may take a bit of time for your mouth and mouth to adjust. Although most patients experience little to no discomfort, some require a day or two to alter after receiving their dentist veneers.

A Greater Risk of Trauma: Dentin removal is critical to the function or aesthetic appeal of your teeth. This delicate procedure can be dangerous if not performed correctly by a cosmetic dentist. There are numerous possibilities! For example, when enamel is removed from tooth surfaces, an inherent layer known as dentine may be damaged.

Concerns Regarding Veneer Misplacement: Aside from staining, the veneers are prone to chipping and cracking due to veneer misalignment. Misplacement can also be seen in rough edges and overhangs.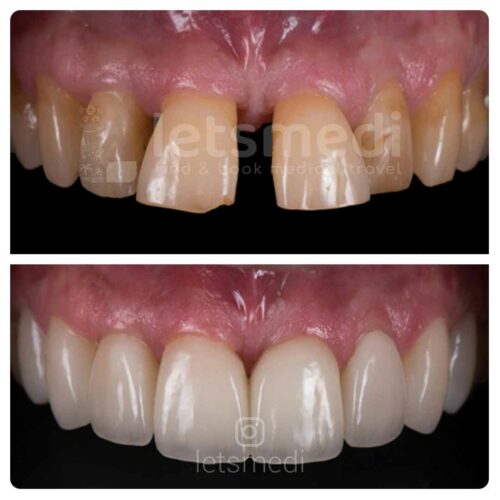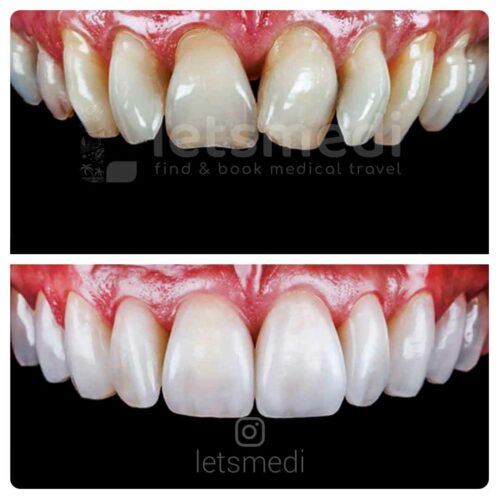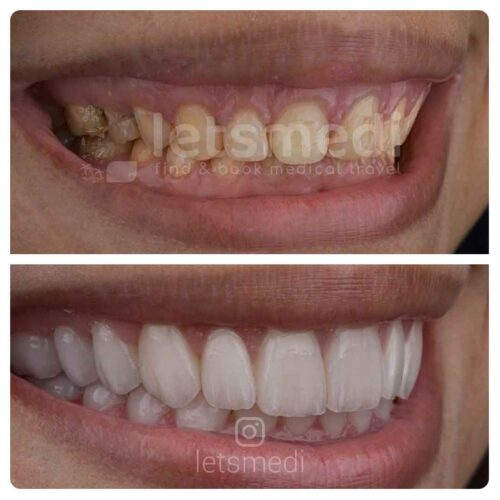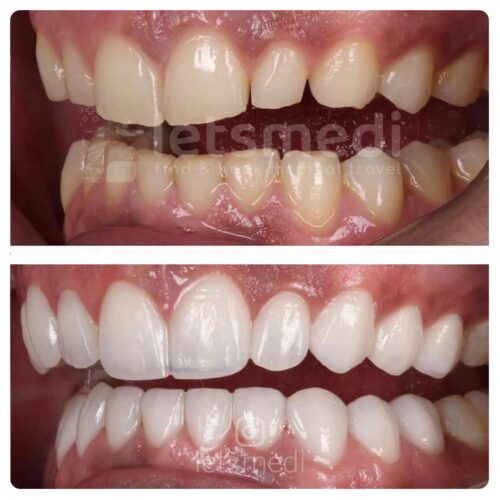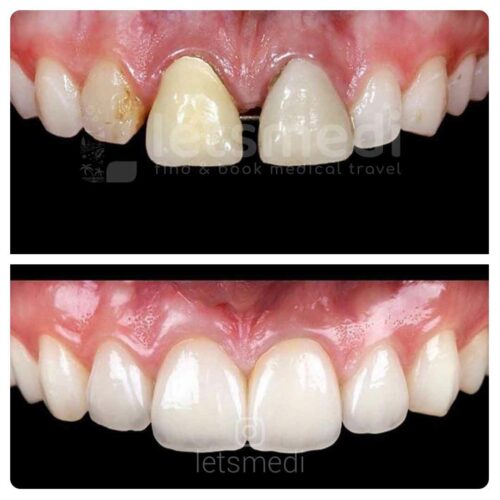 How much does laminate veneers cost in Turkey?
Laminate veneer treatment, which is one of the most expensive veneer treatments, is performed at a very affordable price in Turkey. Laminate veneer price in Turkey is around $6000. 
This price varies according to the content of the treatment. Laminate veneer treatment, which is determined according to the number of teeth, is carried out professionally in fully equipped dental clinics. This treatment, which has an average lifespan of 20 years, will allow you to have perfect teeth for a lifetime.
How Much Do Laminate Veneers Cost in Turkey Vs UK?
You might be wondering, "How much do Laminate Veneers cost in Turkey compared to the UK?". There are a few reasons to choose Turkey for your veneer procedure. First of all, it's more affordable there. That's because Turkey's government supports medical tourism. Second, it has much lower laboratory and operational costs than other countries. But, that doesn't mean that the quality is any less than that of other countries.
The cost of veneers is influenced by many factors, including the condition of your teeth, the number of teeth that need replacing, and the material used. Travel arrangements also play a large role in the cost of veneers abroad. 
However, Turkey has become a popular destination for patients looking for low-cost veneers. Turkish dental clinics offer the same safety, quality, and professionalism as those in the UK.
In Turkey, the cost of veneers is approximately 70 percent lower than the price in the UK. A complete set of veneers costs around 4.200£. This cost is much lower than in the UK, where the procedure costs around 7.000£. 
You'll receive a beautiful, functional smile without compromising on your budget. You'll be pleased with the results. With a price range as low as 4.200£, the procedure is a great option for many people.
Although the UK is still a successful country in terms of health care, you can get veneers for a fraction of the price by going to Turkey. Turkish dentists don't need visas, and they are generally more successful than their UK counterparts. And the prices are lower than those in the UK, too! The main difference is that Turkish clinics offer better service for the same price.
Best Laminate Veneer Dentists in Turkey
Laminate Veneer Reviews in Istanbul, Turkey
The primary motivation for traveling to Turkey for E-Max Laminate Veneers is affordability. But even so, the expansion of the dental tourist industry in Turkey is not solely due to cost; the sector also depends on its doctors' upholding professionalism in order to preserve a positive reputation.
Every year, more than half a million visitors come to the nation for dental assistance, such as dental treatment and cosmetic procedures. As a result, you will not only receive a high-quality service, but also a fair price. For the best E-Max Laminate Veneers, you can choose Turkey.

Harry Cox
I had 20 zirconium crowns, the overall service was 10/10, the clinic is nice, clean and professional. All the staff from the patient coordinators, the driver, the dentist, assistants were very helpful and friendly. If you are thinking to come here don't think about it just come!

Robert Cow
Everyone at the clinic is very helpful and makes you feel comfortable as you are at hometown. They really do their job very well and professional. Now I have amazing teeth and not embarrassed anymore to smile. So pleased and grateful! Great price great holiday I couldn't ask for more!

Allison Erik
Perfect service from start to finish! I had 4 dental implants, sinus lift, root canal treatment on my first visit. Every single tooth was covered with zirconium crowns for a complete smile design. I'd highly recommend this place! In the UK prices are way out of my range, here you get the affordable prices and the best service!
Paula Entwistle
I had 12 implants and complete new top and bottom teeth, price and quality of service was amazing! Be sure that you will get the best treatment here. So far I had no problem with my new teeth. Thank you all guys!
Fatima Abdjul
I got my dental implant work done through Letsmedi Group and although I was extremely nervous for the procedure, my worries pretty much fade away shortly after arrival. They take me from airport directly to the hotel. After 1 day resting they took me to the dental clinic for my zirconium crown treatment. Everything was quite perfect, i had 2 extra tooth to be extracted. They done it for free. I was so glad about it. They are so clear about the price, there is no hidden costs. I'm very grateful to the team and would highly recommend them.