Porcelain Veneers in Turkey are one of the most economical porcelain veneer treatment in the world for people that comes to Turkey for smile makeover treatment.
Porcelain crowns with metal supports can be used to replace a single tooth or as a bridge. The metal alloy used in the tooth production infrastructure is incredibly robust, although it has a limited light transmission. 
Crowns are sturdier and lasting in Turkey, and are typically placed on posterior teeth (molars) that are subjected to pressure when chewing. In Turkey, metal supported porcelain crowns are commonly utilized in conjunction with implants.
The average cost of Porcelain Veneers in Turkey starts from 1.950 USD (1.365£) which is the most affordable option for patients compared to European countries. We are doing Porcelain Veneers in Istanbul, Antalya and Izmir, you can choose best option for you.
Here you can reach out and discover more information about Porcelain Veneers journey in Turkey. Check all the details about Porcelain Veneers costs, our clinic's patients reviews, before & after photos from the best doctors, all-inclusive packages for Porcelain Veneers in Turkey.
You can get in touch with us for Porcelain Veneers makeover in Turkey via WhatsApp or options below.
Treatment Details
Placement
Teeth surface will be prepared for veneers.
Eligibility
Patients with shape, color, bite and size problems in their teeth.
Processing time
3-4 hours
Surgical procedure
No
Anesthesia type
Local
Prosthesis
No
Durability
10 years
Warranty
5 years
Recovery time
10 days
Appearance
Like natural teeth
Cleaning
Can be cleaned like normal teeth
Accommodation
10 days
Porcelain Veneer Packages
There are several explanations why your porcelain veneers may be less expensive in Turkey. The fundamental explanation for a cost decrease for cosmetic dentistry clinics that provide a high quality, safe, and respectable service is that entire operational expenses, including lab and dental fees, are lower in Turkey.
The second major factor is the country's economy; the country's currency, the Turkish lira, is constantly losing value against the USD and Euro, thus anyone with those currencies in his or her pocket is significantly richer when visiting Turkey. And, eventually the life would be more affordable for them!
To conclude, the lower cost of porcelain veneer processes in Turkey compared to the United Kingdom and the United States is due to monetary considerations rather than quality-related reasons.
Porcelain Veneers Cost In Turkey
GBP
USD
EURO
x20 Porcelain Veneers
£ 4200
$ 6000
€5.000,00
Our Clinic in Istanbul, Turkey
Porcelain Veneers Procedure
In the process of veneer porcelain teeth, the teeth are first rasped in accordance with the thickness of the veneer. If we look closely at the stages of porcelain tooth veneer, we see that the first stage begins with the fact that the surfaces of the teeth undergo a thorough cleaning.
Your dentist will begin treatment to remove a thin layer of plaque from the top of the teeth that will be treated. This layer of plaque may differ depending on the individual needs of the patient and what kind of porcelain veneer will be made of it. In the absence of any additional problems, the amount of sheet taken as a standard varies between 0.5 and 0.7 millimeters.
After the first stage is completed, it's time to get images of the teeth that will be coated with porcelain teeth. Your dentist can do this in the traditional way, by taking the mold from your teeth, as well as by using CEREC technology in a three-dimensional way.
The images obtained from the mold or through CEREC are sent to laboratories specializing in this subject and it is requested to start the production of porcelain teeth according to the desired dimensions. The desired veneer can usually take up to 2 weeks for the teeth to arrive.
During this time, your dentist may give you short-term porcelain dental veneers to use temporarily to prevent damage to your teeth that have been removed from the outer layer.
After the permanent porcelain teeth arrive, the third stage, that is, the placement of porcelain dental veneers, is started. Porcelain veneers, which are placed one by one using a special porcelain veneer dental adhesive, can be rasped and reshaped where necessary. After this stage is completed, the porcelain tooth veneer process is completed.
What are the Porcelain Veneers Risks?
Some risks of this process are as follows:
Porcelain veneers are also not removable: To bond the veneer to the tooth's surface, a thin layer of enamel must be removed before the veneer can be placed. When enamel is forced to remove, it cannot be repaired and is lost forever. As a result, the porcelain varnish procedure is irreversible.

Porcelain veneers can wear down or break off, necessitating their replacement: Even if porcelain veneers are built to last, they would not last a lifetime and will need to be replaced at some point. Porcelain veneers can deteriorate over time, breaking, chipping, or falling off.

Increased tooth sensitivity but also possible trauma: Some clients report increased tooth sensitivity after receiving porcelain veneers. Sensitivity usually goes away after about a week of treatment.

Preparation Work Hurt: Before dental laminates can be bonded, some prep work on the natural teeth is required. The dentist must remove a few layers of enamel in order for the veneers to attach to the teeth and fit properly. Because the nerves are already closer to the tooth's surface, there is a risk of increased sensitivity.

Veneer deterioration: Veneers, like natural teeth, can become worn, chipped, or cracked. Some people have a habit of slogging their teeth at night, which can cause tooth wear. A mouth guard can help protect your eyes while you sleep. 

De-Bonding: The dental layer may de-bond but rather fall off in rare cases. Poorly fitted veneers can change the patient's bite congruency and cause sensitivity while eating, as well as jaw discomfort and irritation.

Discoloration: To promote even colours and overall harmony, dental veneers will be colored to complement the remainder of the patient's teeth. Patients who want whiter teeth should have them whitened before getting veneers because the appearance of the veneers can really be changed once they have been place.
Porcelain veneers are one of the most sensitive dental veneers. Aesthetically it is very elegant but delicate. To get best results of Porcelain Veneers, material quality is important. Because there are first, second and third quality porcelain materials in the market. Especially porcelain made in China can break quickly and damage your tooth structure. Turkish material is used in porcelain veneer treatment in Turkey.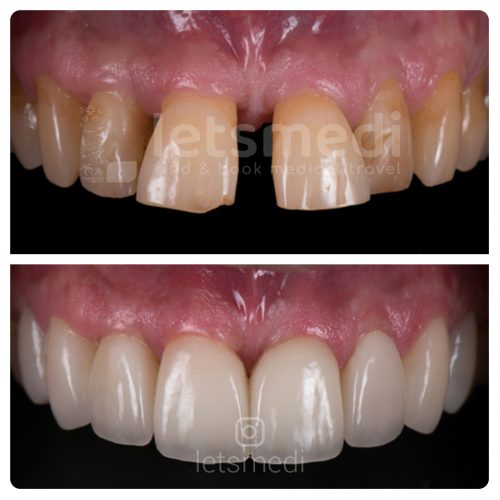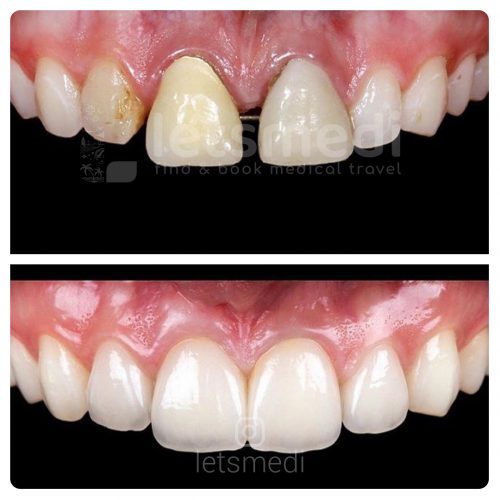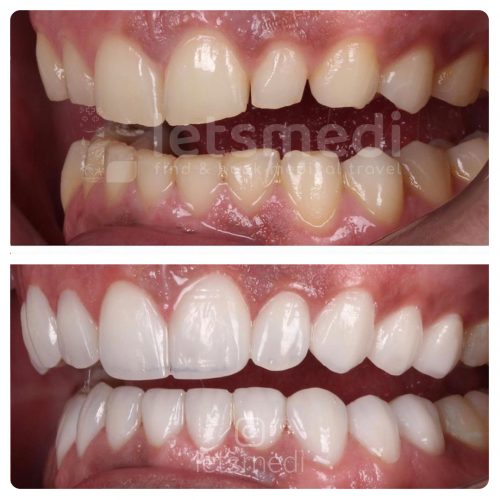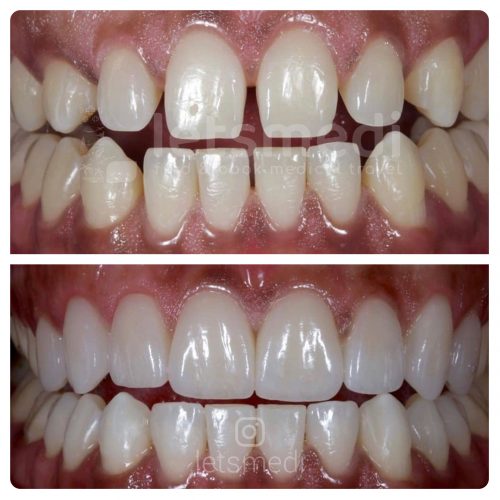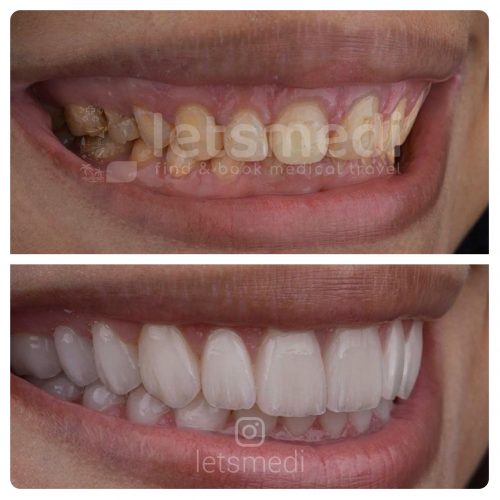 How much does porcelain veneers cost in Turkey?
Choosing Turkey for porcelain veneer treatment, which is the most economical method of veneer treatments, is the right decision. Because porcelain veneer prices in Turkey start from €5000. It is not possible to have this treatment at these prices in any other country in Europe. 
The fact that the prices are so economical in Turkey gives you many advantages. Porcelain veneer prices vary according to the number of teeth. Generally, standard quality material is used. So the material quality is excellent.
Porcelain Veneers Cost in Turkey Vs UK
The cost of porcelain veneers differs in different countries. Turkey has lower medical costs, as compared to Western Europe. Also, the Turkish government is more open to foreign cosmetic surgery patients. 
The cost of training dentists in Turkey is much more affordable than in the West. The Turkish government has also invested heavily in the private healthcare sector, making dental veneers of high quality affordable and accessible. This difference in cost may seem small, but it has many benefits.
In the UK, the price of porcelain veneers varies between 13.000£ and 19.000£. In Turkey, single porcelain veneers start at 70£. In addition, composite veneers can cost up to 13.000£ in the UK. Turkey is one of the more affordable destinations for veneers, with prices starting as low as 1.365£. And the cost of living in Turkey is low. 
A dinner by the sea with a friend will cost you about 100£, while a bottle of beer will cost about 3£. Grocery prices will also be more affordable, thanks to the low value of the Turkish Lira.
As with any cosmetic procedure, it is important to find a dentist with experience in this field. He should be able to explain the process thoroughly to you, and make sure you understand all the costs involved. The type of material used to create the veneers is also important, as it affects the final cost. Generally, veneers are made from three main materials: composite, porcelain, and metal.
Best Porcelain Veneer Dentists in Turkey
Porcelain Veneer Reviews in Istanbul, Turkey
The main encouragement for flying to Turkey is to save money on porcelain veneers. In comparison to the Great Britain and the United States, patients say that going to Turkey saves them about 60%.
Obviously, the more extensive and costly the surgery, the more cash you'll save. Turkey also has a lot to offer in terms of history, music, leisure, and hotels. As a consequence, some dental patients decide to turn their appointment into a medical holiday to be satisfied both culturally and medically. For the best Porcelain Veneers, you can choose Turkey.

Harry Cox
I had 20 zirconium crowns, the overall service was 10/10, the clinic is nice, clean and professional. All the staff from the patient coordinators, the driver, the dentist, assistants were very helpful and friendly. If you are thinking to come here don't think about it just come!

Robert Cow
Everyone at the clinic is very helpful and makes you feel comfortable as you are at hometown. They really do their job very well and professional. Now I have amazing teeth and not embarrassed anymore to smile. So pleased and grateful! Great price great holiday I couldn't ask for more!

Allison Erik
Perfect service from start to finish! I had 4 dental implants, sinus lift, root canal treatment on my first visit. Every single tooth was covered with zirconium crowns for a complete smile design. I'd highly recommend this place! In the UK prices are way out of my range, here you get the affordable prices and the best service!
Paula Entwistle
I had 12 implants and complete new top and bottom teeth, price and quality of service was amazing! Be sure that you will get the best treatment here. So far I had no problem with my new teeth. Thank you all guys!
Fatima Abdjul
I got my dental implant work done through Letsmedi Group and although I was extremely nervous for the procedure, my worries pretty much fade away shortly after arrival. They take me from airport directly to the hotel. After 1 day resting they took me to the dental clinic for my zirconium crown treatment. Everything was quite perfect, i had 2 extra tooth to be extracted. They done it for free. I was so glad about it. They are so clear about the price, there is no hidden costs. I'm very grateful to the team and would highly recommend them.