Implants can remain stable, but over time, for example, prostheses may become obsolete, depending on the use, it may be necessary to replace prostheses made on them every 5-10 years, but implants are one of the methods of lifelong treatment. An implant applied by an experienced doctor to a patient who has a healthy jawbone and gums and does not neglect daily care remains in the mouth for a lifetime.
Prosthetic teeth made on the implant do not require extra care above normal. With daily routine care, you can live with them for a long time without any problems in your mouth.
Dental implants are long-lasting if it is made in accordance with the rule, if there is good planning in advance if there was enough support bone tissues, the patient, for example, doesn't smoke, if you smoke more than five cigarettes per day or, if you have a bad habit, if you pay attention to oral hygiene, implants after a routine checkup in 6 months then every 3 months, if it is going to the dentist, is one of the methods that can be used for the lifetime of the implant treatment.
It is not right to give a lifetime to the use of the implant. With regular check-ups, the implant is used for many years. Good oral hygiene is very important for the life of the implant so as not to disrupt the doctor's checks.
Tips for using dental implants for a long time
You may have heard that dental implants have a service life of 25 years or more, this is true if you take care of the care of your implants. There are many factors that affect whether implant teeth can last a long time. When all these conditions are met, and the connection between implant and bone is not a threat to clinical appreciate that the implant remains in the mouth for very long periods of time, and of course, it is possible.
Patients who use implant dental prostheses should give double value to their dental health. That is why the brushing process should not be disrupted and the teeth should be brushed 2 times a day. The more cleanliness of the implant dental prosthesis is provided, the longer its service life will be. Patients who do implant care well can use implants for 30 or more years. The implant life depends on the patient's care in general.
If it is desired to extend the period of use of the implant, the teeth should be brushed with soft toothbrushes and regularly, the teeth and the surrounding area should be cleaned, the teeth should be thoroughly cleaned with dental floss and dec mouthwashes should be performed.
In addition to routine tooth brushing, cleaning of the implant area should be provided using special ropes, interface brushes, and mouth showers recommended by the doctor. Another important point is that regular check-ups are carried out. The recommended control process is to go to the controls every 6 months for the first two years and then every year. The most accurate referral will be made by your doctor.
References:
https://www.asird.org/are-dental-implants-permanent/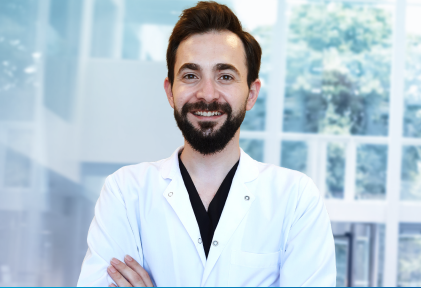 Dentist Yasin Yılmaz was born in 1994 in Kayseri. In 2017, he graduated from Hacettepe University Faculty of Dentistry with a successful degree. In 2017, he began working as a dentist and medical director at a private clinic. In September 2018, he joined Ersoy Hospital Dental Department team where he still works