ILasik in Turkey is the most prevalent vision repair procedure for people that come to Turkey for eye surgeries. Individuals are represented by the I in iLasik. All steps of the procedure can be tailored to the patient using the ILasik approach.
Turkey is an excellent choice for this venture. It's even better than the finest. Because both the price and the quality are excellent. In this regard, it is the best choice for you. All of the specialists have arrived. Therefore, this is the best place.
The average cost of ILasik in Turkey starts from 1.350 USD (1.100£) which is the most affordable price compared to other European countries. We are doing ILasik Surgery in Istanbul, Antalya and Izmir, you can choose best option for you.
Here you can find out and discover more information about ILasik surgery journey in Turkey. Check all the details about Ilasik costs, our clinic's patients reviews, before & after photos from the best doctors, all-inclusive packages for ILasik in Turkey.
You can get in touch with us for ILasik in Turkey via WhatsApp or options below.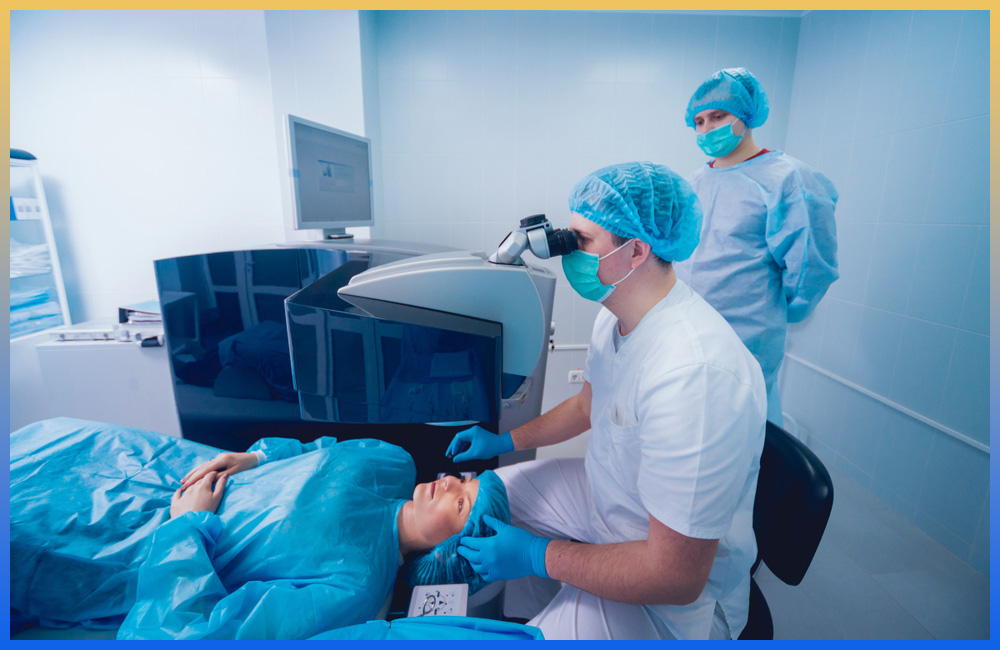 iLasik is the most prevalent vision repair procedure in the world. Individual is represented by the I in iLasik. All steps of the procedure can be tailored to the patient using the ilasik approach. 
We each have our own card since our eyes are as unique as our fingerprints. A wavefront 3D measurement analysis is used to assess the genetic imprint of the eye. It comprises all of the information regarding your cornea's curvature, the presence of dioptric faults, and so on. These are considered when treating the cornea.
The ilasik process is based on the collaboration of two laser instruments. The femtosecond laser, also known as Intralayer, first generates a lamella, or lobe, on the corneal surface. After that, the flap is folded back to reveal the underlying corneal tissue. The exposed corneal tissue is then sculpted with an excimer laser to rectify refractive faults.
For over 20 years, iLasik surgery has been employed as one of the most prevalent treatment options for getting rid of glasses used in eye problems. With this procedure, almost 50 million people worldwide have acquired the convenience of a new life without glasses.
The iLasik eye laser therapy method employs the Femtosecond Laser (IntraLase) approach, a cutting-edge bladeless laser procedure. The flap is created without making an incision in the cornea using the Femtosecond Laser (IntraLase) technology. 
When the Femtosecond Laser (IntraLase) approach is used, the wound heals more faster since the corneal flap is produced without the need of a knife, incisions, or touch.
The Femtosecond Laser (IntraLase) approach is used to generate a continuous corneal flap after developing a specific visual profile of the patient in the form of a 3-dimensional corneal map using Wavefront technology. Following that, it is intended to improve your eyesight as part of the iLasik eye laser treatment using the Advanced CustomVue technology. 
Automatic iris identification and spot scanning, which are employed in Wavefront-Excimer Laser Therapy, are also steps in individualized treatment.
Before undergoing iLasik eye laser treatment, the patient's overall health is assessed. The patient specific treatment technique is selected and information about potential hazards is provided during the full preliminary examination performed by our qualified and expert ophthalmologists prior to the operation. Finally, the right decision on the operation is made.
What are the ILasik Risks?
There are some risks in ILasik surgery.
Eyes that are dry. Tear production is temporarily reduced after LASIK surgery. Your eyes may feel unusually dry for the first six months or so after surgery as they heal. Your vision may suffer as a result of dry eyes.

Glare, halos, and double vision are all symptoms of glare. After surgery, you may have difficulty seeing at night, which usually lasts several days to a few weeks. Increased light response, glare, halos across bright lights, or double vision are all possible symptoms. Even if you have a good visual result under standard controlled circumstances, your vision in poor lighting conditions (such as at dusk or in cloud) may be reduced to a greater extent after surgery than before.

Under corrections: If the laser removes only enough tissue from your eye, you will not achieve the clearer vision you desired. Near sighted people are more likely to have under corrections. Within a year, you may require another LASIK procedure to remove more tissue.

Overcorrections: It's also possible that the sensor will remove too much eye tissue. Overcorrections may be harder to correct than under corrections.

Astigmatism: Uneven tissue removal can result in astigmatism. Additional surgery, glasses, or contact lenses may be required.

Flap issues: During surgery, folding back but rather removing the flap from the front of your eye can result in complications such as infection and excessive tears. During the healing process, the outer surface corneal tissue layer may grow abnormally beneath the flap.

Regression: Regression occurs when your vision gradually returns to your original prescription. This is a less common problem.

Changes or loss of vision: In rare cases, morbidities can result in vision loss. Some people may not be able to see as steeply or clearly as they used to.
Our Clinic in Istanbul, Turkey
Should iLasik Be Made in Turkey or in the UK?
Our patients' visual acuity after iLasik treatment, which uses cutting edge technology, is extraordinarily high in visual problems that are also treated in Turkey. The iLasik application has been made available to patients in Turkey as a result of technical advancements over the last ten years. 
iLasik is an iLasik application that has brought together the most recent discoveries and advancements in laser technology from around the world in the most effective manner. 
The iLasik application, which is also utilized at eye hospitals in Turkey to do eye surgery, is a technology that provides outstanding outcomes, is patient-approved, has shown effectiveness, and has FDA approval. After learning these, we do not think that you will choose the UK. While there is wisdom, you do not prefer new, beginner physicians.
Why is Turkey More Affordable?
People frequently select this procedure as a remedy to visual problems since it is an effective method in the treatment of eye impairments. They want to know the cost of iLasik surgery before making a decision. In Turkey, iLasik surgery is rather inexpensive.
Reasonable iLasik surgery costs should not lead individuals to choose centers that employ subpar materials and are untrustworthy in terms of health. A successful iLasik surgery without complications will help the person's social life if performed by a specialist and knowledgeable physician.
It is not only the most reliable approach for eradicating eye problems, but it is also one of the most often utilized treatment procedures all over the world, including in our country. Patients' remarks on the prices of iLasik surgery are similarly encouraging, and the number of people who can afford it is relatively high.
The main issue is to establish the person's suitability and to attain healthy eyes by using the proper treatment procedures.

Harry Cox
I've recently had my surgery with Çağıl Meriç and his team, i must admit I am very pleased and i will highly recommend them. Absolutely amazing experience. From start to finish I felt safe and comfortable in everyone's hands. I would highly recommend this to anyone. I am almost 2 weeks post op and I feel great!

Robert Cow
Everything went well. I had liposuction surgery, they took very good care of me. The doctor speaks great English and put me in ease. The hospital staff are really friendly and the room was really comfortable and clean. Hotel and vip transfer was perfect. Thanks Letsmedi.

Allison Erik
I had gastric sleeve operation with you 1.5 years ago and I have lost 60 kg. It changed my life, as expected I had saggy skin which needs operation. I wanted to continue with this team. Its been already 2 months, I had a breast reduction, tummy tuck and liposuction, I cannot express enough how happy I am with my results after having my procedures. I got rid of from the saggy skin and finally have the good body shape. I want to say a huge thanks.
Paula Entwistle
I had tummy tuck and 360 liposuction in December. I am satisfied with the results. Everytime i need something they did their best to help. I was sore first couple days as I have been told but after the third day I started to feel better and after 3 weeks I was ok to get back to normal.
Fatima Abdjul
The clinic with the Doctors and there nurses are excellent I have done a tummy tuck Lipo 360 and breast lift and they were very supportive and had a excellent team my results were looking good from day 1 I would recommend this clinic to everyone.
Reference:
Lasik, W. H. Y. N. H., Consultation, F. L., Step, L. S. B., Accounts, L. F. S., County, L. V. O., Step, P. S. B., … & Elsewhere, L. D. iLASIK-Fifth Generation iLASIK Technology The Pinnacle of LASIK Technology.