Laser Implantation in Turkey is the most prevalent vision repair procedure for people that come to Turkey for eye surgeries. An intraocular lens implant is a man made replacement for your eye's lens. It is a component of cataract surgery. It is critical to appropriately identify the patient's correction for a successful surgery. Otherwise, if the tests are not performed correctly, the patient will be required to wear glasses following the treatment.
Turkey is an excellent choice for Laser Implantation. It's even better than the finest. Because both the price and the quality are excellent. In this regard, it is the best choice for you.
The average cost of Laser Implantation in Turkey starts from 1.650 USD (1.345£) which is the most affordable price compared to other European countries. We are doing Laser Implantation in Istanbul, Antalya and Izmir, you can choose the best option for you.
Here you can find out and discover more information about the Laser Implantation journey in Turkey. Check all the details about Laser Implantation costs, our clinic's patients reviews, before & after photos from the best doctors, all-inclusive packages for Laser Implantation in Turkey.
You can get in touch with us for Laser Implantation in Turkey via WhatsApp or options below.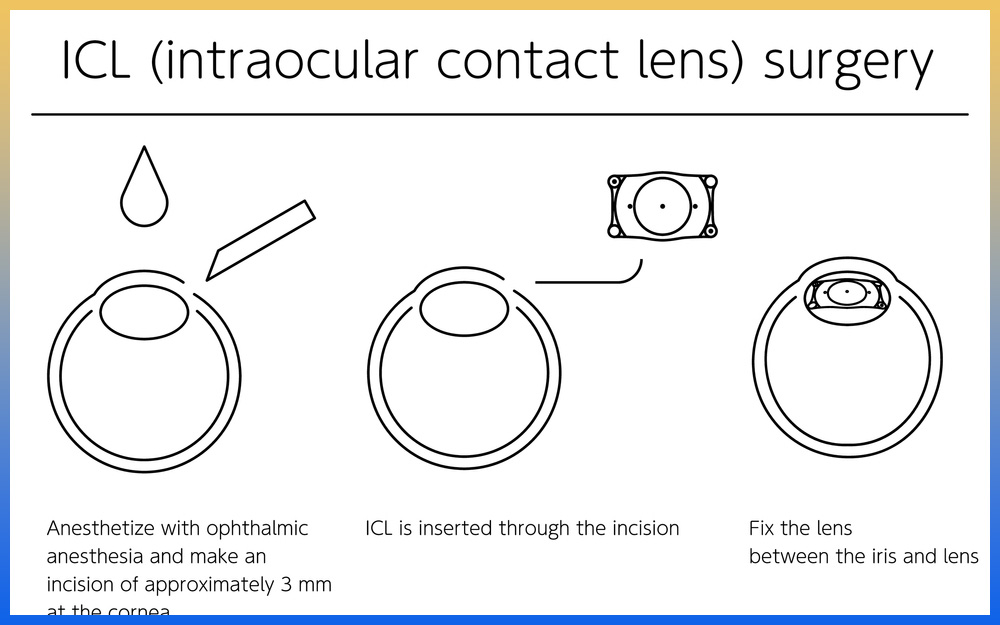 Each eye has a lens, which is a transparent window formed of protein and water that sits behind the pupil. The lens directs light to the retina, which transmits it to your brain. 
Proteins alter as you age, and sections of your lens become clouded. This is referred to as a cataract. It can cause things to appear hazy or brownish. Cataracts are a leading cause of blindness, particularly among the elderly. They can, however, be rectified with surgery, which is performed more than 2 million times per year in the United States.
How to do Lens Implantation?
A lens implant, often known as an Intraocular lens, is a perspex device about the size of a dime. There are various varieties:
The most prevalent type of IOL is the monofocal IOL. Unlike your normal lens, which may stretch or bend to assist your eyes focus, this implant is set in place. If yours focuses at a distance, you may be able to see things from a distance but require glasses to read or see up close.
Multifocal implant: This lens, like spectacles with bifocal or progressive lenses, has regions that help you see objects at different distances. It may take several months for your brain to adjust so that your eyesight appears natural. It may produce more halo or glare around lights than a monofocal lens.
Accommodating IOL: This versatile choice functions more like your natural lens and can focus at multiple distances. Reading glasses are no longer required.
Toric IOL: You'll just get it if you do have astigmatism or a football-shaped cornea rather than a round one. This can cause hazy vision all over, not just close up or far away. Because this lens lowers astigmatism, you will not need glasses to correct it after surgery.
The Operation: You'll see an ophthalmologist if you have a cataract. This doctor is an expert in eye surgery and disorders. They'll usually guess you that it's best to wait until the cataract interferes with your daily life before having it removed. The procedure can be performed in a hospital or even an outpatient facility.
Our Clinic in Istanbul, Turkey
What are the Lens Implantation Risks?
Lens implantation operations are of great importance. Because otherwise, great risks and consequences may be encountered.
You might lose your vision. Some patients experience vision loss as a result of phakic lens surgeries that cannot be fixed with glasses, contact lenses, or another surgical procedure. The degree of vision loss could be severe.

You could experience debilitating visual symptoms. Some patients experience glare, halos, double sense of direction, and/or decreased vision in low-light situations, which can make performing tasks like driving difficult, especially at night or in foggy conditions.

Additional eye surgery may be required to reposition, replace, or remove the phakic lens implant. These surgeries may be required for their safety or to improve your vision. If the lens power is incorrect, a phakic lens interaction may be required. 

You could be under or overtreated. Many surgically patients taking do not achieve 20/20 vision. The implanted phakic lens's power may be too strong or too weak. This is due to the difficulty in evaluating exactly what electric lens you require.

You may experience an increase in intraocular pressure. Following surgery, you may experience increased intraocular pressure, which may necessitate additional surgery or therapy to control. You may require long-term glaucoma medication treatment. If the pressure is too great for an extended period of time, you may lose your vision.

It is possible that your cornea will become cloudy. Your cornea's endothelial cells are a thin layer of cells liable for pumping fluid out of the conjunctiva to keep it clear. If there are too few endothelial cells, the endothelium pump fails and the cornea becomes cloudy, resulting in vision loss. You are born with a certain number of cells, and this number gradually decreases as you age because these cells are not replenished.
Should Lens Implantation be Done in Turkey or in the UK?
Specialist ophthalmologists in private health institutes in Turkey can undertake intraocular lens implant surgery. Aside from that, in Turkish applications, it is possible to improve the combination of hyperopia, myopia, astigmatism, and various visual impairments in the patient's eye with a single procedure, in conjunction with the intraocular lens implant.
Today, like in the most industrialized countries throughout the world, very modern technology is used in lens implantation in Turkey. In Turkey, very successful and practical doctors may execute these operations in less than five minutes. Even though it is a brief operation, it is critical.
Why is Lens Implantation More Affordable?
Lens implantation, in addition to laser lasik, is available in Turkey. This is one of the most common surgical procedures in Turkey. Whether you have cataracts, near or farsightedness, or irregularity, an artificial lens that you wear, either in place of or in addition to your natural lens, will offer you knew sharp vision.
You can get this type of surgery more affordable in Turkey. In addition to being such a good surgery, it is also very affordable. This is why it is the most preferred. Prices in other countries are higher than necessary. Turkey is economically more affordable for individuals in this regard. As such, the demand is very high.
Lens Implantation Reviews in Turkey

Harry Cox
I've recently had my surgery with Çağıl Meriç and his team, i must admit I am very pleased and i will highly recommend them. Absolutely amazing experience. From start to finish I felt safe and comfortable in everyone's hands. I would highly recommend this to anyone. I am almost 2 weeks post op and I feel great!

Robert Cow
Everything went well. I had liposuction surgery, they took very good care of me. The doctor speaks great English and put me in ease. The hospital staff are really friendly and the room was really comfortable and clean. Hotel and vip transfer was perfect. Thanks Letsmedi.

Allison Erik
I had gastric sleeve operation with you 1.5 years ago and I have lost 60 kg. It changed my life, as expected I had saggy skin which needs operation. I wanted to continue with this team. Its been already 2 months, I had a breast reduction, tummy tuck and liposuction, I cannot express enough how happy I am with my results after having my procedures. I got rid of from the saggy skin and finally have the good body shape. I want to say a huge thanks.
Paula Entwistle
I had tummy tuck and 360 liposuction in December. I am satisfied with the results. Everytime i need something they did their best to help. I was sore first couple days as I have been told but after the third day I started to feel better and after 3 weeks I was ok to get back to normal.
Fatima Abdjul
The clinic with the Doctors and there nurses are excellent I have done a tummy tuck Lipo 360 and breast lift and they were very supportive and had a excellent team my results were looking good from day 1 I would recommend this clinic to everyone.