Multifocal lenses, as the name implies, allow you to have more than one prescription incorporated into the lens, allowing you to just require one pair of glasses for numerous purposes. There are various types, including bifocal, trifocal, and varifocal or progressive lenses. People with varied vision needs have several options. Some people, for example, use their usual distance contact lenses and only use reading glasses when necessary; others have two sets of monovision contact lenses (one eye for distance and one eye for near tasks). 
Contact lenses that are bifocal or multifocal are a more practical and natural solution. They usually necessitate a period of adjustment. Nonetheless, your eyes will quickly learn to distinguish between prescriptions and will begin to use the correct prescription at the correct distance on their own. When these lenses are properly fitted, you will not require eyeglasses for most everyday routines.
Multifocal Contact Lens Types
There are three types of multifocal contact lenses in general:
Multifocal lenses with a focus. Concentric circles on the lens of these lenses enable for a gentle transition from one prescription to the next. The rings alternate between near and far corrections, similar to a bull's eye pattern.
Multifocal aspheric lenses Aspheric lenses, like progressive lenses, are designed to provide a smooth transition between prescriptions. However, one of the prescriptions will be in the middle and will progressively shift outward.
Bifocal lenses with segmentation. All bifocal contact lenses employ rigid gas permeable contact lenses. They look like bifocal eyeglass lenses, with the close prescription in the bottom half and the distant prescription in the top half. To keep these lenses in place on the eye, the lower region is flattened.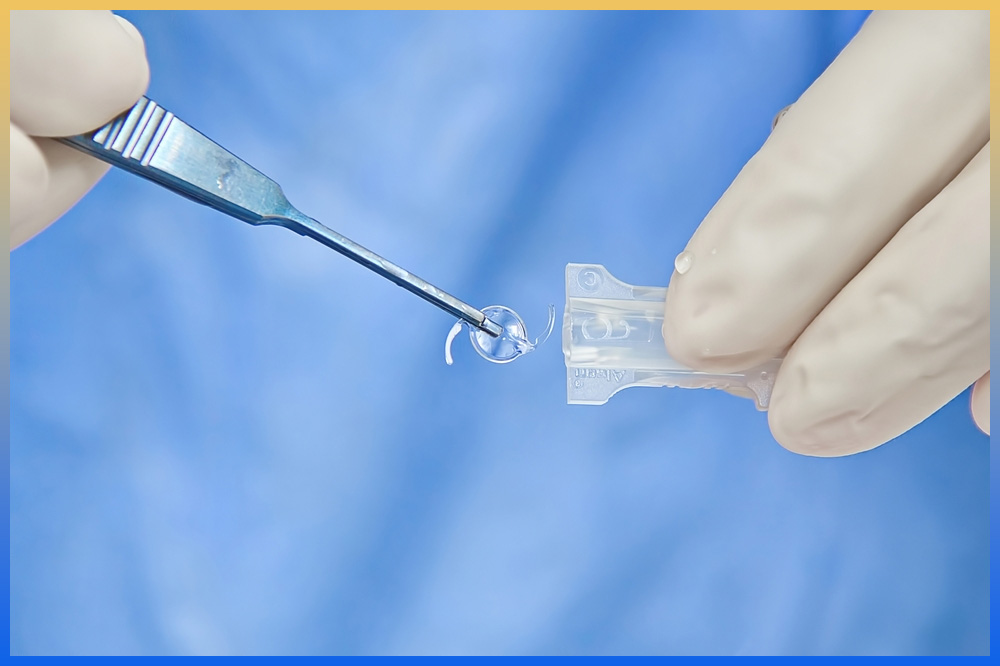 How to Make Multifocal Lenses?
The properties of the lenses to be used must first bear the CE mark (European Standards Certificate). These should have been used frequently and with success. A specific injector should also be injected into the eye via the 2 mm incision. If the lens shapes itself in the eye, the breadth should be 13 mm and the length 6 mm.
Anesthesia and surgical technique:
Lens implantation is a completely painless procedure. Anesthesia is administered by the use of specialized eye drops. Topical anesthetic is another name for this type of anaesthesia. The phacoemulsification technique (phaco folklore laser method) is used after the drops.
Surgery timetable: Approximately 10 minutes Depending on the patient, it can be shorter or longer. 
Is there any discomfort during or after the operation? Because the surgery is conducted under anaesthetic, it is absolutely painless. You will not experience any pain even after the operation.
What exactly is the postoperative procedure? How quickly can you return to your regular daily routine?
The patient's treated eye is kept closed for a night. The patient can instantly resume his regular daily routine, including bathing, after receiving 2 drops 4 times per day the next day. The eye that also was operated on following the other eye operation is fully functional. After both lenses have really been implanted, the lens adjustment becomes much more comfortable.
Our Clinic in Istanbul, Turkey
What are the Risks of Multifocal Lenses?
Difficulties seeing at close range. This can be a difficulty for persons who have multifocal IOLs. Reading glasses, on the other hand, frequently remedy this issue. Some multifocal lens types focus on intermediate and distant vision, necessitating reading glasses for closely held reading material, whereas others focus on close near vision, necessitating glasses for intermediate vision.
Halos, glares, and night vision After dark, some patients experience halos and glares around lights, as well as decreased night time vision. However, for the vast majority of patients, this disappears over time, with only approximately 1% experiencing persistent night vision issues that necessitate lens exchange on occasion
Should Multifocal Lenses be Made in Turkey or in the UK?
We can see both near and vast distances with multifocal lenses. These lenses feature circles inside that assist the light to be reflected at the proper angle for clear vision. Another advantage of this technique is that if the patient has cataracts, both vision and cataract problems can be corrected in the same procedure. There are certain crucial things to consider when picking which lens to use; for example, yellow spots (macula) or corneal illnesses can be an impediment to using smart lenses. Your doctor will explain everything to you.
In countries other than Turkey, doctors generally do not talk to their patients. This lack of communication is not a good thing either. There should always be communication between the patient and the doctor. That's why you should choose Turkey a little bit. There is an endless communication between the patient and the doctor. Before and after your procedure, doctors will constantly check you. Therefore, if you ask the UK or Turkey, we recommend that you choose Turkey.
When compared to the United States and Europe, the cost of cataract surgery in Turkey provides significant savings, potentially up to 50%. Furthermore, the cost of lenses for cataract treatment is lower in Turkey. Hospitals in Turkey are clean and modern, comparable to those in more industrialized countries; several Turkish hospitals have international accreditation. Turkey has made substantial investments in its health facilities, mostly to lure medical tourists. Traveling to Turkey for a multifocal lens implant for cataract surgery provides a once in a lifetime opportunity to explore a fascinating nation with a rich cultural past.
Why Multifocal Lenses Turkey is Cheaper?
Turkey has recently become very popular in multifocal lenses surgeries in the field of health. The reason for this is both its success and its price. Compared to other countries, the amount you will pay here is very, very low. So, we can say that Turkey is cheap. You may be wondering why. Let us explain to you why. We can call the economy created by money in the world. Economic fluctuations affect the currencies of countries. Currencies also have a certain value and order among themselves. Therefore, they can dominate each other.
Multifocal Lenses Reviews in Turkey

Harry Cox
I've recently had my surgery with Çağıl Meriç and his team, i must admit I am very pleased and i will highly recommend them. Absolutely amazing experience. From start to finish I felt safe and comfortable in everyone's hands. I would highly recommend this to anyone. I am almost 2 weeks post op and I feel great!

Robert Cow
Everything went well. I had liposuction surgery, they took very good care of me. The doctor speaks great English and put me in ease. The hospital staff are really friendly and the room was really comfortable and clean. Hotel and vip transfer was perfect. Thanks Letsmedi.

Allison Erik
I had gastric sleeve operation with you 1.5 years ago and I have lost 60 kg. It changed my life, as expected I had saggy skin which needs operation. I wanted to continue with this team. Its been already 2 months, I had a breast reduction, tummy tuck and liposuction, I cannot express enough how happy I am with my results after having my procedures. I got rid of from the saggy skin and finally have the good body shape. I want to say a huge thanks.

Paula Entwistle
I had tummy tuck and 360 liposuction in December. I am satisfied with the results. Everytime i need something they did their best to help. I was sore first couple days as I have been told but after the third day I started to feel better and after 3 weeks I was ok to get back to normal.

Fatima Abdjul
The clinic with the Doctors and there nurses are excellent I have done a tummy tuck Lipo 360 and breast lift and they were very supportive and had a excellent team my results were looking good from day 1 I would recommend this clinic to everyone.