In minutes, you will be free of your glasses or contact lenses thanks to PRK Laser Eye Surgery. The PRK Laser technology claims to improve your vision practically indefinitely and painlessly. Furthermore, PRK laser treatment is the most traditional type of excimer laser treatment. Many people find it difficult to function without glasses or contact lenses. Even if you don't realize they're on your face, your glasses create headaches from time to time. Waking up and being unable to see anything can often be discouraging. If you wear contact lenses, you must always have a pair on hand, in addition to your contact lens solution.
It is not possible to stay over at your friends' houses on the spur of the moment if you do not bring them with you. However, there is a procedure that will free you from your glasses, and it has been used for years. Despite the fact that new treatments exist, PRK surgery is acknowledged to be less expensive than other methods. It is not the sole reason it is preferred; specific medical problems may induce surgeons to prefer PRK over other procedures since the dangers are lower for those diseases.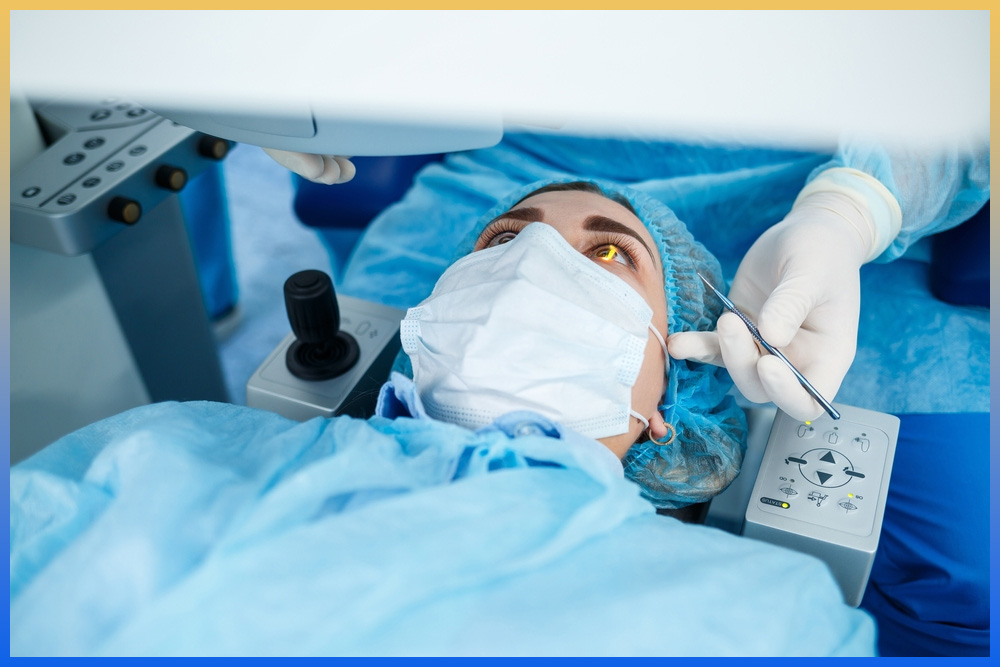 Lasek works on the premise of eliminating epithelial tissue from the eye using alcohol. The epithelium returns to its original position when the laser is administered. Although these two surface procedures produce safe results, patients may feel burning, stinging, and wetness for 2-3 days. On average, vision improves in 1 week to 10 days.
The uppermost epithelium layer of the cornea, which is the layer on which the laser is placed, is softened, and removed from the upper section of the cornea in the PRK procedure. This cell layer acts as a shield, shielding the cornea from outside effects. The stroma layer, which is the primary tissue of the cornea, is located just under the cell layer. The laser technique is used on the stroma layer here.
The cornea is sculpted, and the refractive power is altered via laser treatment to the stroma layer. This PRK laser procedure is completed in seconds. A contact lens is inserted in the patient's eye before the operation is completed. In roughly 2-3 days, the cell layer removed at the start of the surgery divides rapidly and closes the excised open area. 4-5. On days, the patient is summoned for control, and the protective contact lens is removed from the patient's eye.
After
A bandage lens will be placed over each eye to protect and repair it. After the procedure, you will be transported to a recovery room and asked to relax for a short length of time. During this period, your surgeon may do some eye tests to ensure that the surgery went as intended. You will be given anti-pain medicine as well as topical antibiotics to apply to your eyes in order to avoid infection and maintain them clean.
Your surgeon will provide you with post-operative care recommendations that you must follow to ensure a smooth recovery from PRK surgery. You will not be able to drive shortly after surgery, so you must find other transportation home.
In the week following the treatment, you will need to see your surgeon for a follow-up appointment. During this session, your surgeon will check on you're healing and ensure that you are happy with the results of the surgery.
Our Clinic in Istanbul, Turkey
What are the Risks of PRK?
PRK, like any operation, has risks and complications that you should be aware of. These are some examples:
Glare and halo effects surrounding lights, especially at night

Corneal scarification

Haziness of the cornea (called corneal haze)

Infection of the cornea
Furthermore, with PRK, your eyesight may be under corrected or overcorrected. These issues are frequently alleviated by spectacles, contact lenses, or more laser surgery. Most issues can be managed without causing vision loss. However, very uncommon issues may include:
Even with glasses or contacts, having worse vision than before PRK (called loss of best corrected vision)

Blindness
If you are content with your contacts or glasses, you may not have to have refractive surgery. You and your ophthalmologist can consider the risks and benefits of PRK together.
Should it be Done in Turkey or in the UK?
The average cost of PRK surgery in the UK is around £1,780 per eye, though prices vary depending on clinic. There aren't many facilities in the UK that provide this treatment right now. This is because surgeons favour newer and more technologically advanced kinds of laser eye surgery, such as LASIK eye surgery, due to their reduced recovery period. Nonetheless, the chart below indicates the cost of PRK surgery from some of the most reputable eye surgery clinics: It is not a very healthy situation for you to have your surgery there, as the UK has not developed much in this regard. We think that you should entrust your eye health to specialists who know their job well. Are we wrong? Therefore, it would be better for you to choose Turkey, where all its doctors are experts.
Why is Turkey Cheaper for PRK?
The cost of PRK varies based on the eye surgeons and hospital's experience. Furthermore, the cost changes when there are other charges such as lodging, transportation, or if the patient is having eye laser surgery for the second time. Most people prefer PRK surgery because it is less expensive than other techniques of excimer laser surgery. The cost of PRK surgery is low since you will have better eyesight and will no longer need to buy glasses or contacts.
Your health insurance does not cover eyesight corrective surgery. If you cannot afford surgery in the UK, you may choose to consider having it done in another country where the cost is lower. Because the doctors and hospitals in Turkey are highly experienced, individuals from all over the world travel there to have surgery.
As in every surgery, Turkey is cheaper in this surgery compared to the countries abroad. There is only one reason for this and that is today's economy.

Harry Cox
I've recently had my surgery with Çağıl Meriç and his team, i must admit I am very pleased and i will highly recommend them. Absolutely amazing experience. From start to finish I felt safe and comfortable in everyone's hands. I would highly recommend this to anyone. I am almost 2 weeks post op and I feel great!

Robert Cow
Everything went well. I had liposuction surgery, they took very good care of me. The doctor speaks great English and put me in ease. The hospital staff are really friendly and the room was really comfortable and clean. Hotel and vip transfer was perfect. Thanks Letsmedi.

Allison Erik
I had gastric sleeve operation with you 1.5 years ago and I have lost 60 kg. It changed my life, as expected I had saggy skin which needs operation. I wanted to continue with this team. Its been already 2 months, I had a breast reduction, tummy tuck and liposuction, I cannot express enough how happy I am with my results after having my procedures. I got rid of from the saggy skin and finally have the good body shape. I want to say a huge thanks.

Paula Entwistle
I had tummy tuck and 360 liposuction in December. I am satisfied with the results. Everytime i need something they did their best to help. I was sore first couple days as I have been told but after the third day I started to feel better and after 3 weeks I was ok to get back to normal.

Fatima Abdjul
The clinic with the Doctors and there nurses are excellent I have done a tummy tuck Lipo 360 and breast lift and they were very supportive and had a excellent team my results were looking good from day 1 I would recommend this clinic to everyone.