One of the most prevalent ways for treating vision impairment is corneal refraction laser surgery. The need for constant improvement has spurred advancement in this field, as it does in other sectors of life.
The PRK technology is the earliest of the laser vision correcting applications. As a result, laser vision correction l. is known as the progeny. It is also known as excimer laser surface ablation treatment of the cornea. It is still commonly used today. LASIK is another laser vision correction application that involves reshaping the cornea with an excimer laser. Flap (valve excision from the corneal surface) surgery is used to correct vision.
A successful treatment with the smiling laser approach is feasible up to 10 in astigmatism and -5 in astigmatism. These aspects of the smile laser procedure give both the patient and also the surgeon with a high level of comfort. Among the benefits of the smile laser method are:
Offers protection in corneal biomechanics.
It is appropriate for thin corneal structures.
It is a one stage procedure.
The closed surgery approach is used.
It is a procedure with a little incision (2mm).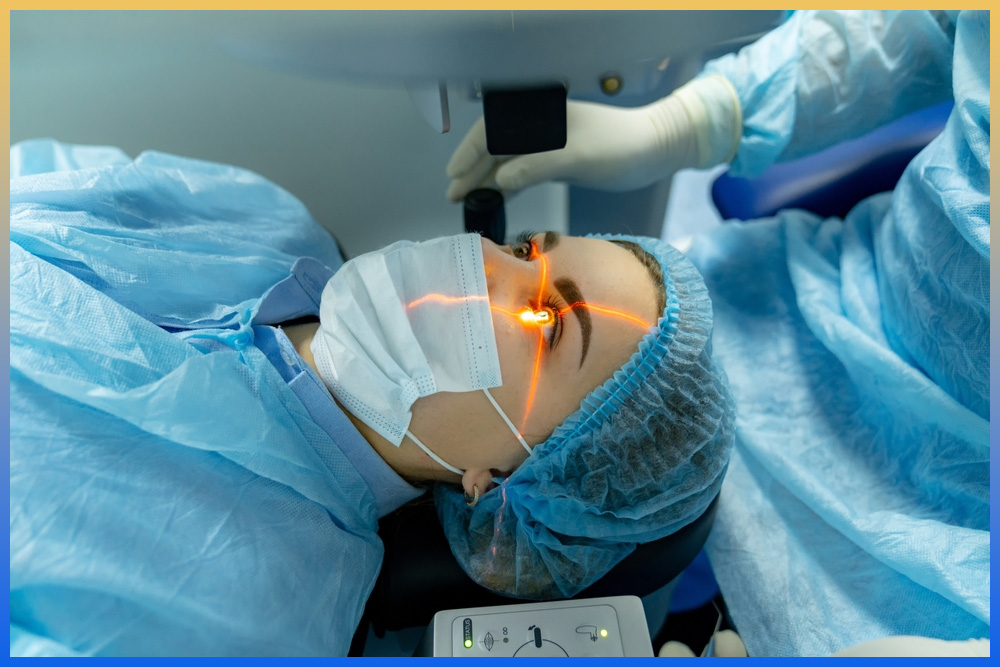 Who Applies to Relex Smile?
In order to have the surgery, you must first meet certain conditions. Because this is a difficult operation. Because Relex Smile Laser treatment is a 3rd generation method for treating, it allows speedy treatment and recovery from developing living conditions. This approach is a new application designed for people who lead an active lifestyle.
We may list the people who can benefit from the Relex Smile Laser procedure, which produces a viable treatment choice, particularly for those who live an active lifestyle and participate in sports professionally.
Patients who have not had a change in eye number in the previous year, refraction stabilization
People over the age of 18
Patients with myopia ranging from -1 to -10
Patients having an astigmatism of less than -5 degrees
People who have good corneal and overall eye health
The smile procedure is a lenticule removal technique that uses a tiny (3mm) incision. This technique, which employs a completely femtosecond laser, is carried out by making a 3 millimetre incision in the cornea. Because the smile approach uses a smaller incision than other treatments, infection, dry eye, and ingrowth of corneal epithelial tissue, which are rare side effects that may occur after the operation, are less common.
Our Clinic in Istanbul, Turkey
What are the Risks of Relex Smile?
The most prevalent risk is that during the process, when the patient is looking at the small green blinking light, there is a slight movement of the eye, resulting in suction loss. Because the laser generates such modest suction on the surface of the eye that it is imperceptible. However, if the suction fails, the process must be stopped. The surgeon must then decide whether or not to proceed on that particular day.
Over half of the patients can be restarted and progressed. However, depending on how far along we are in the treatment, this is not always doable. If we are unable to proceed, no harm is done because the laser just creates a few bubbles in the eye. Those bubbles vanish in a matter of hours. So, after a few weeks, perhaps 2-4 weeks, someone can return and finish the operation.
The most dangerous smile consequence is the possibility of infection. This has yet to be reported in smile. Infection in laser eye surgery. Infection is possible with LASIK. It's serious, but in the vast majority of cases, it's treatable. To put things in context, I've been performing laser eye surgery for over 20 years and have only seen one infection. We treated that guy, and he fared incredibly well, recovering completely visually.
Should it be Done in Turkey or in the UK?
Doctors undertake a thorough eye check up and assessment before to Smile laser surgery. If the patient's eye anatomy is suitable for smile laser surgery, she is given the essential information and an appointment. The technique is a 27 second laser operation. During the procedure, a vacuum ring is installed to prevent you from moving your eyes, and then laser treatment begins. Through the 2 mm incision, the doctor removes the area inside the cornea. Your doctor may advise you to relax the day following surgery.
This surgery is performed in many different countries. But where is it actually applied? This is what we call the important point here. That's why what we're going to tell you here is about that. It is often asked whether it is Turkey or the United Kingdom for this subject.
But we will recommend Turkey to you. Because Turkish experts or doctors have more experience in this field. Therefore, we think that we are right to recommend this country to you. Turkey has developed itself a lot in terms of both travel and treatment, which we call medical tourism. Patients from all over the world have come to Turkey for Relex Smile.
Turkey has a large number of eye clinics. They offer the greatest quality service at extremely low prices for eye surgeons. The price of Relex Smile in Turkey ranges between 1900 and 2400 Euro. However, the price of Relex smile can increase by 4 to 6 times in Europe. In Turkey, this pricing is also all-inclusive. So, for this amount, you receive your therapy as well as a vacation. Many factors influence Relex smile pricing, which vary from person to person. When you begin your search, you may come across either high or extremely low costs. Prior to considering the price of Relex smile, you should consider your options for an eye clinic.
Smile Relex is significantly less expensive in Turkey than in most other nations. If you choose us for your Smile Relex transaction, we will arrange for your lodging, transfer, and interpreter. If you want to get cutting edge therapy at a low cost, Turkey is the place to go.
Relex Smile Reviews in Turkey

Harry Cox
I've recently had my surgery with Çağıl Meriç and his team, i must admit I am very pleased and i will highly recommend them. Absolutely amazing experience. From start to finish I felt safe and comfortable in everyone's hands. I would highly recommend this to anyone. I am almost 2 weeks post op and I feel great!

Robert Cow
Everything went well. I had liposuction surgery, they took very good care of me. The doctor speaks great English and put me in ease. The hospital staff are really friendly and the room was really comfortable and clean. Hotel and vip transfer was perfect. Thanks Letsmedi.

Allison Erik
I had gastric sleeve operation with you 1.5 years ago and I have lost 60 kg. It changed my life, as expected I had saggy skin which needs operation. I wanted to continue with this team. Its been already 2 months, I had a breast reduction, tummy tuck and liposuction, I cannot express enough how happy I am with my results after having my procedures. I got rid of from the saggy skin and finally have the good body shape. I want to say a huge thanks.

Paula Entwistle
I had tummy tuck and 360 liposuction in December. I am satisfied with the results. Everytime i need something they did their best to help. I was sore first couple days as I have been told but after the third day I started to feel better and after 3 weeks I was ok to get back to normal.

Fatima Abdjul
The clinic with the Doctors and there nurses are excellent I have done a tummy tuck Lipo 360 and breast lift and they were very supportive and had a excellent team my results were looking good from day 1 I would recommend this clinic to everyone.