In the first 24 hours, do not spit or rinse your mouth for the healing process of the wound area to begin. In the first days, when cleaning the mouth, you need to be careful about brushing and flossing.
It should be applied as slowly as possible. In addition, you can clean the implant areas with a moistened cotton swab or gauze.
During the 24 hours after the implant operation, no care products should be taken into the mouth, that is, the teeth should not be brushed or gargled.
The sensitivity that occurs in the teeth after the implant usually ends after 48 hours, and the teeth can be brushed by taking care not to make hard movements during the continuation of this process. The important point here is that there is no pressure on the tooth during brushing.
Again, avoiding physical activities that can create pressure on the jawbone and therefore on the teeth will affect the healing process, in other words, the success level of the treatment.
You can get the most accurate information about which toothpaste or mouthwash we should use for oral care from the dentist, and you can continue oral care under certain conditions after completing 48 hours after implant treatment in accordance with the doctor's recommendations. 
When to use mouthwash after implants?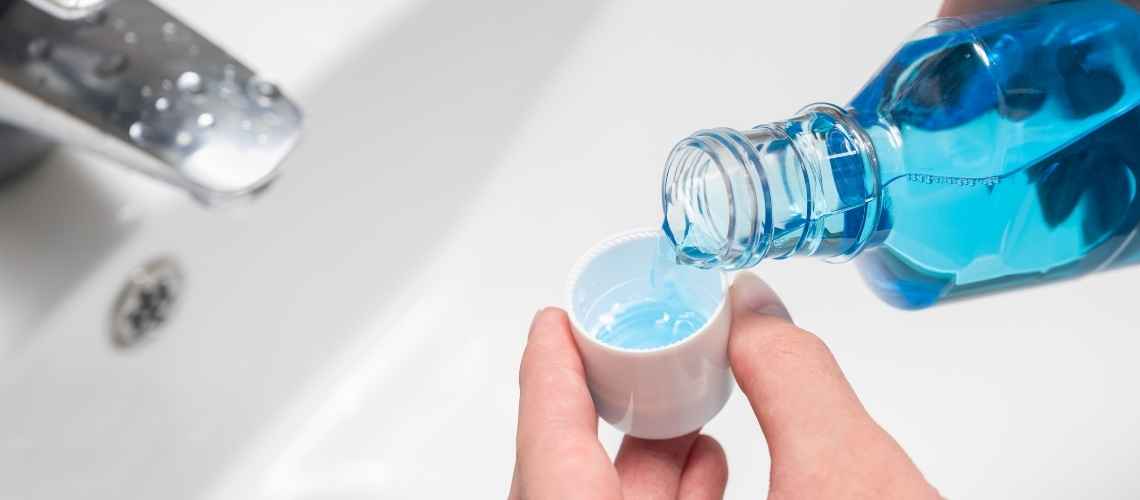 You can apply the usual scrubbing procedures to non-operated areas. Brush the teeth at the surgery site without touching the stitches and gums.
After about two days after the operation, gargle with the mouthwash recommended by your dentist twice a day in the morning and in the evening after brushing your teeth. After implant treatment, oral care should be given attention within the first 2 days.
It is necessary to refrain from movements that will cause pressure in the mouth. For 1 day after the implant is applied, the mouth should not be rinsed and gargle should not be done. It is necessary to throw the saliva accumulated in the mouth out of the mouth as much as possible.
However, it is also necessary to avoid snoring or blowing, which will lead to pressure in the mouth. During the first days of treatment, there are points where care should be taken when brushing and flossing during oral cleaning. it should be applied with movements as slowly as possible.
In addition, it is also possible to clean the implant areas together with a moistened cotton cloth or gauze.
The first 1 day after surgery is considered the appearance of blood. Even when you wake up in the morning, you may even see traces of blood on your pillow, don't worry.
For the first 24 hours, be careful not to spit and rinse your mouth so that the healing process of the wound area begins. Do not brush your teeth or use mouthwash on the evening of the operation.
If you want to use your new teeth efficiently for many years after your implant treatment is completed, you should be very attentive to implant care. As with your natural teeth and gums, a rigorous protection process is required in implant care.
Which Mouthwash is Best for Implants?
We have five suggestions for you which mouthwash is best for implants. Mouthwash is a good way to improve your oral health by preventing cavities and having to clear your mouth of fecal matter that bacteria can feed on.
Listerine Antiseptic Mouthwash 
Listerine is a well known mouthwash for a reason. Antiseptic mouthwash has been shown to combat germs that cause bad breath, gum disease, and plaque. Listerine, a popular brand, recommends rinsing for 30 seconds twice a day, in the mornings and afternoons, for best results.
Total Gum Health by Colgate
Another well known brand with which many of us grew up is Colgate. Colgate has been around for decades, and while it began as a soap brand and then a toothpaste, it has since expanded to include fluoride rinses and other dental supplies.
Mouthwash also helps to fight plaque, kills 99 percent of germs, does not burn when washed thoroughly, and provides 12 hour antibacterial protection against gingivitis.
Crest 3D White Luxury Mouthwash 
Crest 3D Luxe Mouthwash, unlike other fluoride mouthwashes, not only freshens breath but also aids in the whitening of teeth by stripping away and preventing stains. This whitening rinse keeps gums healthy and white by killing bacteria that cause bad breath, giving your smile a boost.
Biotene Mouth Rinse for Dry Mouth
In terms of application, Biotene fluoride mouthwash is different from other mouthwashes. Biotene may be worth considering if you suffer from dry mouth.
Unlike other mouthwashes, which are intended to be used once a day, this mouthwash is intended to provide users with immediate relief that can last up to 4 hours that can be used up to 5 times per day.
References:
http://www.allondentalimplants.com/blog/implants/can-you-use-mouthwash-after-a-tooth-implant/