Yes, it is possible to replace all your teeth with implants but it is not a healthy step. Implant application is possible in cases where the patient has no teeth in his mouth, which we call "total". A dental implant can be made on all teeth in any area where the bone tissue in the patient's mouth is sufficient. In complete toothlessness, that is, in cases where there are no teeth in the jaw, placing 8 implants in one jaw is a suitable amount for the complete treatment of that patient.
This number may vary from patient to patient and depending on the condition of the mouth. The question of whether an implant is made in the mouth that does not have any teeth and the question of whether all the teeth are implanted are two questions that are confused with each other. If there are no teeth, of course, treatment is performed with an implant. But if you are talking about making an implant for each tooth when you say that all teeth are implanted, it will not be a healthy practice, although it is possible.
Because there is a very small amount of bone between the two implants, it will negatively affect the life and health of the implant usually, leaving a 3-5 mm gap between implants contributes to the healthy nutrition of the bone around the implant and longer life. For this reason, it is not appropriate to make an implant instead of all the teeth, that is, for each tooth.
First of all, a detailed clinical and radiological examination of the patient should be carried out. If the teeth have already been removed, the remaining root fragments or formations such as cysts should be carefully evaluated. The all teeth implant application is an application that really wants attention and patience with the knowledge of experience. The complete fulfillment of all the tasks of the patient and the physician will ensure the successful and smiling completion of the result.
Full-Mouth Replacement
Traditional dentures are made from an adhesive acrylic base with a complete set of prosthetic teeth. They are held in place with a combination of natural suction and denture glue and need to be removed and cleaned daily with a special product. It usually takes several months to make an initial set of dentures. First, a print of the existing tooth is taken. Then you have the option of wearing temporary dentures immediately after the extraction is done and while you are fully recovered. Then you can make the dentures permanent.
Dentures are a great choice for many patients, but they have some drawbacks. The jaw begins to contract over time and the denture begins to loosen and move, as it only replaces the crown of the missing tooth, not the root. It is also more difficult to eat sticky or sticky foods such as steaks and corn on the cobs. Implant-holding dentures are very similar to full dentures but are held in place by implants rather than glue.
This provides excellent chewing power, stability, and overall functionality. Dentures can often be fixed with 2-8 implants per arch. It usually takes 3 to 6 months for the implant to heal completely, during which time temporary dentures can be used. However, whether or not you implant traditional dentures or implants to regain your smile, your oral health will soon improve, you will feel more confident, and your smile will look good.
References:
https://www.dentalassociates.com/our-services/dental-implants/procedures/missing-all-your-teeth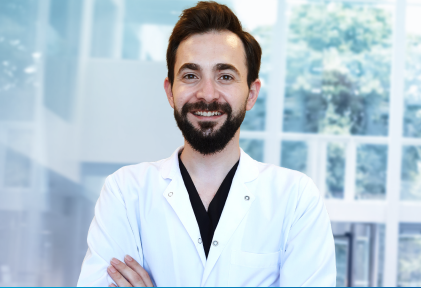 Dentist Yasin Yılmaz was born in 1994 in Kayseri. In 2017, he graduated from Hacettepe University Faculty of Dentistry with a successful degree. In 2017, he began working as a dentist and medical director at a private clinic. In September 2018, he joined Ersoy Hospital Dental Department team where he still works