Trifocal Lenses in Turkey is the most prevalent vision repair procedure for people that come to Turkey for eye surgeries. Trifocal lenses, which have recently become popular, are truly multifocal and trifocal multifocal lenses in ophthalmology. These intraocular lenses, also known as Trifocal Lenses, have long been utilized during cataract surgery for eligible patients. 
Turkey is an excellent choice for Trifocal Lenses. Because both the price and the quality are excellent. In this regard, it is the best choice for you. 
The average cost of Trifocal Lenses in Turkey starts from 1.845 USD (1.500£) per eye which is the most affordable price compared to the other European countries. We are doing Trifocal Lenses in Istanbul, Antalya and Izmir, you can choose the best option for you.
Here you can find out and discover more information about the Trifocal Lenses journey in Turkey. Check all the details about Trifocal Lenses costs, our clinic's patients reviews, before&after photos from the best doctors, all-inclusive packages for Trifocal Lenses in Turkey.
You can get in touch with us for Trifocal Lenses in Turkey via WhatsApp or options below.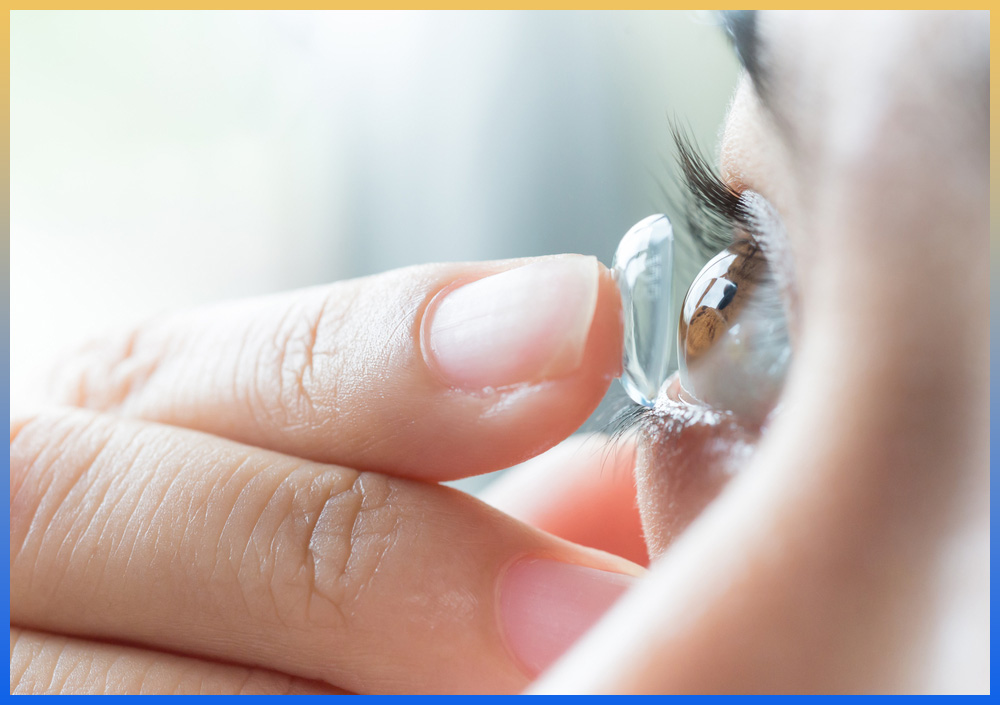 What is the Trifocal Lenses?
Monofocal, multifocal, and trifocal 3 focal intraocular lenses are the three types. Patients who use monofocal lenses after cataract surgery typically do not utilize distant goggles after surgery, instead opting for glasses for near reading.
Wearers with multifocal lenses do not need to wear glasses for both distant and near vision. People with various focus lenses can read without glasses, utilize computers and television, and go about their regular lives after cataract surgery. During cataract surgery, the doctor selects which lens is appropriate for the patient based on the structure of the eye.
Everyone's eyes have a natural lens. This lens is both clear and elastic. Because of its flexibility, this lens focuses on the distance perceived as we move closer and further away. As a result, both distant and close objects are clearly visible.
As we age, the natural lens in our eyes loses flexibility, becomes unable to change shape while gazing close, and becomes impossible to concentrate close. It loses its transparency as it ages, and cataracts form.
Our own lens, which has lost its flexibility after 40 years, may usually be replaced with a new one. The artificial lens, known as the Trifocal Lens, is replaced by the natural lens, which has become distorted due to the loss of its qualities. This redesigned lens can now focus far, midrange, and close, enabling good vision at any distance.
The patient's eye number will no lengthier progress while using the Trifocal Lens. Cataract operation is done only once, and no more cataracts develop in the eye.
How to Make Trifocal Lenses?
Monofocal (monofocal) lenses enable us to see only the long distance, bifocal lenses enable us to see the distance and close distance, and trifocal (trifocal) lenses enable us to view the distant, middle, and close distance. The most appropriate lens is decided based on the patient's eye health status as a result of a thorough examination.
Trifocal lenses, the most recent version of multifocal lenses, enable clear vision in the distance while eliminating the need for glasses in the 20-80 cm range. It is a really convenient way, especially for persons who are constantly on the computer.
On various days, two eyes are operated on. The patient is given a break between the two eyes for a few days or a week, depending on the patient's condition. Each eye takes roughly 10 minutes to perform the process. Eye drops are used to numb the eyes. 
There is no general anesthetic (unless in exceptional circumstances), no stuns, and no overnight hospital stays. It is a painless procedure. A Trifocal intraocular lens is inserted after the normal lens inside the eye is removed. Next the procedure, the eye is bandaged, the patient is discharged, the eye stays bandaged, and the bandage is released by the physician the following day. 
On the same day, the patient recovers to see and returns to regular life. Within a few days, the operation is repeated on the second eye. Except for the usage of drops for a limited time, weekly and monthly checks are undertaken.
How Long Does the Procedure Take?
The procedure takes about 10 to 15 minutes on average. During the operation, the patient feels no pain or discomfort. The patient can resume his social life the next day, although he should avoid strenuous activity for at least 15-20 days.
Our Clinic in Istanbul, Turkey
What are the Trifocal Lenses Risks?
Every health related procedure carries certain risks. These risks occupy a certain size according to the doctor and the patient.
Eye surgery is identical to any other surgery in that there are always risks that vary from patient to patient. The doctor's professional skill, together with the health and anatomy of the patient's eye, are all to be considered. It's also important to keep in mind that its risks must be balanced against the benefits of the surgery.

Fortunately, cataract surgery is one of the common surgeries performed worldwide, and complications were indeed generally extremely low, regardless of whether a routine or laser technique is used. Using a surgeon who deals exclusively in trifocal IOLs and uses cutting-edge technology reduces the risks even further.

The primary risk of trifocal IOLs versus monofocal IOLs is the visual outcome after implantation. Patients may have visual disturbances, especially in low light conditions (e.g. driving at night). Some patients may choose to replace the trifocal IOL with a classic IOL if the desired visual acuity is not achieved.

Surprisingly, Spanish researchers have recently developed a handheld device that simulates visual outcomes with monofocal, bifocal, and trifocal IOLs. If this device becomes commercially available, patients will be able to test drive the various lenses prior to surgery, which should lower the likelihood of explanation.

Other trifocal lenses risks of surgical intervention include posterior capsule opacity, an IOL that is improperly positioned or dislocated, eye inflammation, refractive error or retinal swelling, and ocular hypertension. Infection or aqueous humour haemorrhage can cause severe vision loss in rare cases.

Again, given the success rate of cataract surgery, this is highly unlikely, but careful surgeon choosing can reduce the risk. To achieve a satisfactory outcome, any post-operative concern must be dealt with aggressively.
Should Trifocal Lenses be Made in Turkey or in the UK?
As Turkey has proven to be successful in every surgery, it has proven its success in Trifocal Lenses. For this reason, people prefer Turkey instead of other countries for this process. Turkey is the best country you can see in this regard. 
The UK is slightly behind in this regard. Therefore, it would not be good for you to choose this place. Of course, doctors in the UK are good in their own right. But Turkish doctors are better in this regard. As a result, it is more likely to be preferred. Take this into consideration too.
Why are Trifocal Lenses More Affordable in Turkey?
The cost of trifocal lenses, like any other lens, is determined by the lens manufacturers and the frame type you select. They are less expensive than eye glasses, which may be an alternate choice for those who require trifocals. 
Talking to your doctor is the best approach to acquire a more precise price estimate. However, the most affordable can be found in Turkey. It's because the factors that influence price are less expensive in Turkey.
Trifocal Lenses Reviews in Turkey

Harry Cox
I've recently had my surgery with Çağıl Meriç and his team, i must admit I am very pleased and i will highly recommend them. Absolutely amazing experience. From start to finish I felt safe and comfortable in everyone's hands. I would highly recommend this to anyone. I am almost 2 weeks post op and I feel great!

Robert Cow
Everything went well. I had liposuction surgery, they took very good care of me. The doctor speaks great English and put me in ease. The hospital staff are really friendly and the room was really comfortable and clean. Hotel and vip transfer was perfect. Thanks Letsmedi.

Allison Erik
I had gastric sleeve operation with you 1.5 years ago and I have lost 60 kg. It changed my life, as expected I had saggy skin which needs operation. I wanted to continue with this team. Its been already 2 months, I had a breast reduction, tummy tuck and liposuction, I cannot express enough how happy I am with my results after having my procedures. I got rid of from the saggy skin and finally have the good body shape. I want to say a huge thanks.
Paula Entwistle
I had tummy tuck and 360 liposuction in December. I am satisfied with the results. Everytime i need something they did their best to help. I was sore first couple days as I have been told but after the third day I started to feel better and after 3 weeks I was ok to get back to normal.
Fatima Abdjul
The clinic with the Doctors and there nurses are excellent I have done a tummy tuck Lipo 360 and breast lift and they were very supportive and had a excellent team my results were looking good from day 1 I would recommend this clinic to everyone.
Reference:
Mojzis, P., Peña-García, P., Liehneova, I., Ziak, P., & Alió, J. L. (2014). Outcomes of a new diffractive trifocal intraocular lens. Journal of Cataract & Refractive Surgery, 40(1), 60-69.