Teeth are one of the most important issues for anyone who is concerned about their personal hygiene, whether men or women. However, if the necessary care for healthy and white teeth is not provided in a timely or complete manner, some aesthetic issues may arise. The Veneer Tooth option is used as a solution to these issues, which can result in the tooth's structure deteriorating or complete tooth loss. So, what is the veneer dental procedure that even Kylie Jenner, a household name, has undergone? What are the benefits of veneer teeth? The answers to these questions have been written for you. 
Who is Kylie Jenner?
Born on August 10, 1997, Kylie Jenner is the youngest member of the world-renowned Kardashian Family. Kylie Jenner, who participated in the reality show "Keeping up with the Kardashians", which is followed by the world, at the age of 9 and later introduced herself to the world as one of the main actors of the program, is known as the member of the Kardashians family with the highest financial income. The competence of the famous model in generating income has existed with its great success in the field of social media. Actively using social media, Kylie now has more than 310 million followers on Instagram. The fact that it appeals to such a large audience is also the reason why brands pursue it. Kylie Jenner is married to the world-followed rap star Travis Scott, and she has 2 children from this relationship. It seems that the famous star, who made a great impression on Instagram even with the announcement of the name of her new-born child, will continue to be the most popular member of the Kardashian family.
Does Kylie Jenner have Veneers?
Being a well-known figure who takes part in intense model shoots, shares social media posts, and, most importantly, is concerned about looking good brings with it the pressure to look good. Kylie Jenner must pay extra attention to her personal care because she is a member of the Kardashian family, which is frequently mentioned and followed with great interest around the world. It's easy to find Kylie Jenner photos on the internet that show a significant difference between her old and new selves. It is well known that the well-known name, who has undergone numerous aesthetic procedures, has also had work done on his teeth. Kylie Jenner, who had the crown tooth operation at the age of 18, was unhappy with her natural teeth and decided to have the procedure done by the Kardashian family's only dentist. Although the age of 18 is a young age for Veneer Teeth, due to the pressures and obligations of celebrity, this type of procedure is often preferred by celebrities of all ages.
Why Should You Prefer Veneers?
Before you can understand why you should choose a veneer tooth, you must first understand what a veneer tooth is and how the veneer tooth process works. The veneer method is an aesthetic procedure that is used to solve problems that arise from the loss of teeth due to accidents, congenital unformed teeth, or improper care of their straight teeth. This method, which produces the desired aesthetic results of a brighter smile and whiter teeth, is critical not only for achieving the desired aesthetic appearance, but also for restoring lost functional processes such as chewing in some cases.
The most suitable veneer type for the patient is chosen from a variety of veneer types when making the veneer tooth. Zirconium and Porcelain are the two options available. The light-permeable structure of zirconium veneer is very similar to that of human natural teeth. It has a better harmony with the gums than metal coatings. Because of its naturalness, zirconium is preferred more in front teeth, especially in terms of aesthetics. Porcelain veneers are extremely stained resistant. To put it another way, you can get new teeth that are whiter than your natural teeth. It's also impact and pressure resistant. It should be noted that the dental veneer procedure cannot be used on patients who have caries or gum disease. When compared to another method, the Implant method, dental veneers produce less expensive results. However, as with any procedure involving the tooth, detailed information about the area should be obtained as a result of the doctor's examinations, and the best treatment method should be determined.
Reference:
https://www.the-sun.com/entertainment/4595865/kylie-jenners-fans-think-veneers-teeth-totally-different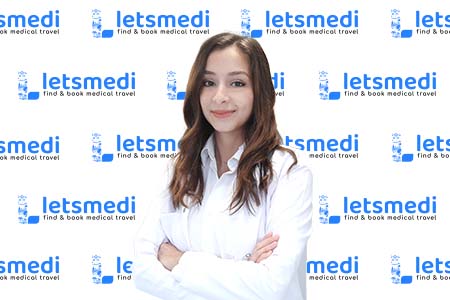 Hatice Şahin, a dentist, was born in Istanbul in 1996. In 2012, she attended English language classes in Canada. She received a certificate of honour from Istanbul Medipol University International School of Dentistry that same year.