Dental Implants in Turkey are one of the most preferred operations for people all around the world that comes to Turkey for dental operations.
Dental implants Turkey are no different from those found elsewhere in the world. Procedures, components, implant types, etc. But why would you choose a deal in Turkey? Patients who had implants in Turkey chose this location mostly because of the extremely low prices and the high quality of the modifications. You will only need to visit Turkey twice, three months apart. Considering that you will do these operations by plane, even the cost will be very affordable for you.
The average cost of Dental Implants in Turkey varies between 700 USD (570 £) – 8100 USD (6.500 £)  which is the most affordable option compared to abroad. We are doing All on 4 Dental Implants in İstanbul, Antalya and İzmir, you can choose the best option for you. 
Here you can find out and discover Dental Implants journey in Turkey. Check all the details about All on 4 Dental Implants costs, our clinic's patients reviews, before & after photos from the best doctors, all-inclusive packages for All on Four Dental Implants in Turkey.
You can get in touch with us for Dental Implant packages in Turkey via Whatsapp or options below.
Treatment Details
Placement
Attached to titanium implants in the jaw bone
Eligibility
Completely toothless,patients who cannot use removable prostheses
Processing time
3-4 hours
Surgical procedure
Yes
Anesthesia type
Local
Prosthesis
Yes
Implant brand
NucleOSS
Durability
At least 10 years
Warranty
10 years
Recovery time
3 months
Appearance
Like natural teeth
Cleaning
Can be cleaned like normal teeth
Accommodation
First visit:3 days Second visit:14 days
Dental Implant Packages in Turkey
The main reason for the low cost of dental implants in Turkey is that the whole operation costs, including laboratory charges and dentist fees, are more affordable than in nations like the United Kingdom or the United States. 
According to some estimations, dentist prices in Turkey are around 45 percent lower than in US and the UK. Obviously, this figure varies, but on general, the expenditures in Turkey are far more manageable.
As a result, the cost savings are passed straight on to patients, who do not have to pay as much as they would in many other countries.
To conclude, the prices of dental implants in Turkey are more affordable than USA and UK just because of the monetary issues.
Dental Implant Cost In Turkey
BRANDS
GBP
USD
EURO
Straumann Original 🇨🇭
£ 570
$ 800
€670
Straumann Medentika 🇩🇪
£ 350
$ 500
€420
Straumann Zinedent 🇹🇷🇩🇪
£ 350
$ 475
€400
Astra 🇸🇪
£ 650
$ 900
€750
Megagen 🇹🇷🇰🇷
£ 350
$ 475
€400
Osstem 🇰🇷
£ 450
$ 625
€530
Mode 🇹🇷
£ 350
$ 500
€420
Nucleos 🇹🇷
£ 250
$ 320
€270
Our Clinic in Istanbul, Turkey
Dental Implants Procedure
A dental implant is an operation to replace the roots of teeth with metal or screw-like nails. The procedure is called intra-bone implant application and requires a surgical intervention. An implant tooth is used to complete missing teeth or replace broken teeth. 
Panoramic film and tomography (three-dimensional) imaging are very important before surgery. Because the structure of the teeth and jaw is clearly displayed with three-dimensional imaging, it is important to have a tomography for the course of the operation. Implants are inserted into the jawbone by dentists in a small surgical procedure in sterile environments. 
After these stages, the implant, which replaces the actual tooth root, becomes able to carry the prosthesis that will be placed on it. In some cases, patients may be prescribed general anesthesia. 
In order for the implant to be applied, first of all, there must be a bone structure to support the implant and the gums must be healthy. In the absence of these, an implant is also performed with additional bone surgery, and the success rate is very high.
What are the Dental Implants Risks?
Dental implants risks are as follows:
Osseointegration failure: Osseointegration occurs when bone grows across your implant. If bone fails, the implant will be insufficiently secure to hold its crown in place. This is referred to as dental implant failure.

Implant placement error: Your dentist may make a mistake when placing your implant. Complications can arise if there is an issue with the implant's location or angle. The implant may fail to fuse properly with the bone, be too close to interproximal, causing discomfort, or become loose or painful.

Sinus damage is a significant risk of dental implants. Your upper jaw is right next to your nasal sinuses. Implants used to replace your top teeth have the potential to penetrate the sinus, causing discomfort or infection.

Infection: Dental implant surgery, like any other oral surgery procedure, carries the risk of infection. Your dentist will instruct you on how to keep your incisions clean as they heal.

Nerve damage: It is possible that implant surgery will cause nerve damage. Before the procedure, your dentist should take X-rays to locate the nerve fibers in your mouth.

In certain cases, implant placement has an impact on the teeth surrounding the implant. If the adjacent teeth have minor issues like decay or root damage, the trauma from dental procedures can exacerbate them.

Gum recession: In some cases, the gum tissue from around implant may begin to recede. This may result in inflammation and pain.

Lethal force or impact can affect a dental insert to breach or become loose, just like any other tooth.

Peri-implantitis is a sort of chewing tobacco disease that causes bone loss around the implant. It develops as a result of inflammation at the implant site.

A dental implant can also be rejected by the body in rare cases. Some people suffer from a rare metal sensitivity, causing their bodies to reject metal implants.
Dental Implant Reviews in Istanbul, Turkey
When compared to other countries, Turkey provides a diverse choice of Dental Implants to meet your demands. Reasonable pricing and super supplies are the most important aspects of obtaining Dental Implants in this country. Turkey is one of the world's greatest and most picturesque countries, with cities such as Istanbul and Izmir. 
Going to Turkey is convenient, flights are economical, and Dental Implants can be obtained as part of an all- treatment program. Ultimately, opting for aesthetic dental care in Turkey will save you both energy and cash. For the best Dental Implants, you can choose Turkey.
Dental Implant Before & After Photos
Dental implant treatment is an easy but important treatment. To get best results of Dental Implants, it is important that the quality of the implant material and the experience of the dentist performing the treatment are good. 
In addition, taking the correct tooth size and placing the implant correctly are important factors in getting the best result. The wrong treatment method and the use of poor quality materials cause the treatment to fail. Please do not prefer affordable treatment methods.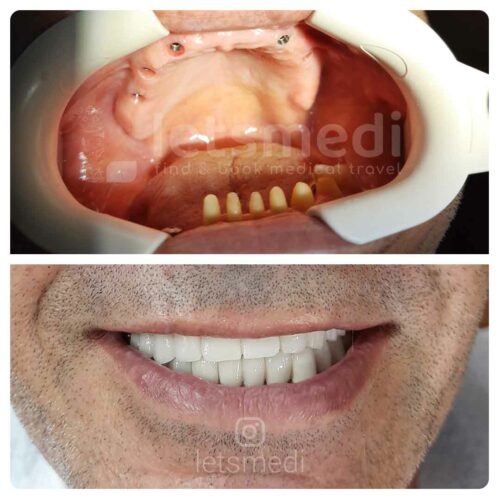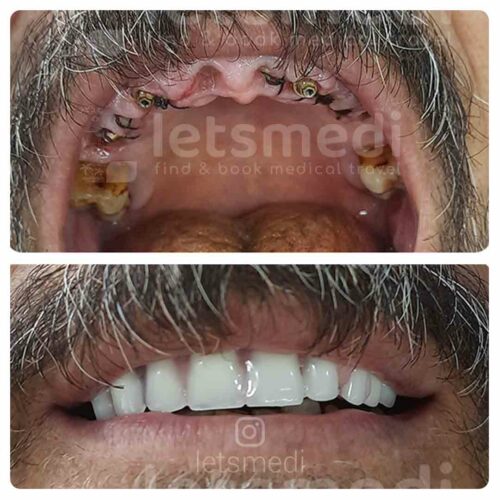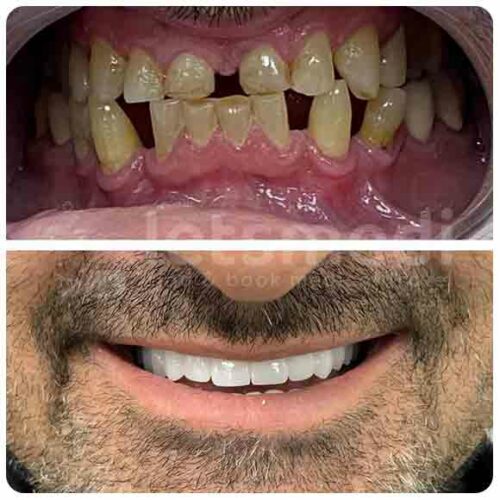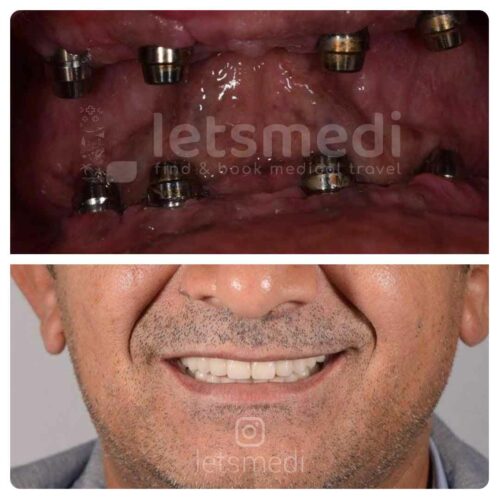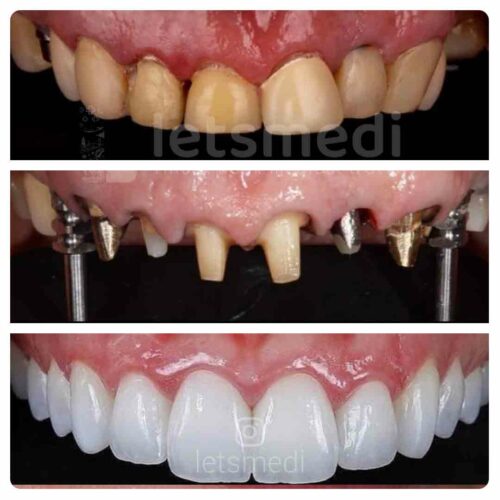 How much do dental implants cost in Turkey?
In Turkey, dental implants prices start from €650 and can go up to €7500. This price range is determined entirely by the type of dental implant treatment. Prices are the best in Europe. The fact that the treatment is done in a short time and the prices are very affordable is also an important reason for preference for patients. 
Your dentist will decide which implant treatment is right for you. After that, the net price is determined. Dental implant treatment is one of the most common dental treatments in Turkey. It is one of the most important steps of dental tourism in Turkey.
How Much Do Dental Implants Cost in Turkey Vs UK?
When considering dental implants abroad, you may be wondering how much they cost in Turkey compared to the UK. You may have heard that the treatment is about four times more affordable in Turkey, but what makes the difference? Here are some reasons to consider dental treatments in Turkey. 
Firstly, you can save on travel costs. Turkey has a lot of medical tourism opportunities, and you can take advantage of the affordable flight tickets and luxurious hotel accommodations.
Another reason to opt for dental implants is the more affordable price. Dental implants in Turkey are highly-professionally made, and the cost of the procedure is up to 75% more affordable. 
These implants are permanently affixed to the jawbone. In addition, they don't damage neighboring teeth. They serve as the root for the dental prosthesis. And because they're manufactured in Turkey, you'll be able to save even more money than in the UK!
The dental implant costs in the UK and Turkey vary according to the procedure. Full acrylic dentures may cost up to 6.000£, while ceramic dentures can cost around 18.000£ to 25.000£. While the cost of dental implants is considerably less in Turkey than in the UK, you should still expect to pay between 570£ and 6.500£ for your dental surgery. Turkey is a world-class medical tourism destination, and its cosmetic dentistry practices are well-known for their quality and value.
You may also want to consider the type of dental implant. You can opt for the all on four dental implant, which is suitable for those with lost most of their teeth. The price of dental implants in Turkey compared to the UK will vary depending on the amount of teeth you need to replace. For one tooth replacement, the cost of the dental implant in Turkey is considerably lower than the UK.
Best Implant Dentists in Turkey
Turkey has the best implant dentists. The surgeons at Turkey are experienced and have achieved international recognition. Their training, expertise, and experience all contribute to a positive result for patients.
Dental Implant Reviews in Turkey

Harry Cox
I had 20 zirconium crowns, the overall service was 10/10, the clinic is nice, clean and professional. All the staff from the patient coordinators, the driver, the dentist, assistants were very helpful and friendly. If you are thinking to come here don't think about it just come!

Robert Cow
Everyone at the clinic is very helpful and makes you feel comfortable as you are at hometown. They really do their job very well and professional. Now I have amazing teeth and not embarrassed anymore to smile. So pleased and grateful! Great price great holiday I couldn't ask for more!

Allison Erik
Perfect service from start to finish! I had 4 dental implants, sinus lift, root canal treatment on my first visit. Every single tooth was covered with zirconium crowns for a complete smile design. I'd highly recommend this place! In the UK prices are way out of my range, here you get the affordable prices and the best service!
Paula Entwistle
I had 12 implants and complete new top and bottom teeth, price and quality of service was amazing! Be sure that you will get the best treatment here. So far I had no problem with my new teeth. Thank you all guys!
Fatima Abdjul
I got my dental implant work done through Letsmedi Group and although I was extremely nervous for the procedure, my worries pretty much fade away shortly after arrival. They take me from airport directly to the hotel. After 1 day resting they took me to the dental clinic for my zirconium crown treatment. Everything was quite perfect, i had 2 extra tooth to be extracted. They done it for free. I was so glad about it. They are so clear about the price, there is no hidden costs. I'm very grateful to the team and would highly recommend them.